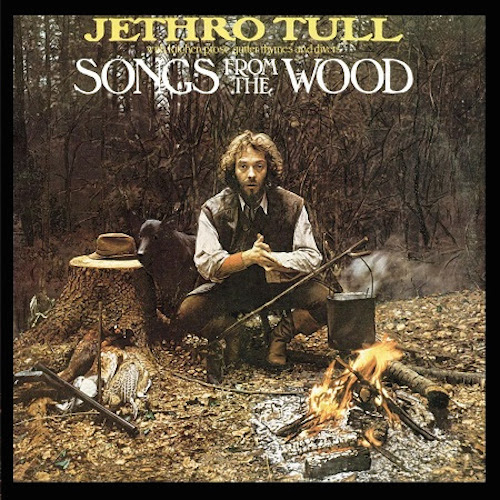 A new deluxe version of Jethro Tull's 10th album will be available as a limited edition 3-CD/2-DVD set on May 19. (Pre-order is available here.) Highlights from Songs from the Wood: The 40th Anniversary Edition include:
Original album remixed in stereo by Steven Wilson on CD.
Unreleased tracks and alternate versions on CD.
96/24 LPCM and 5.1 DTS, AC3 Dolby Digital surround mixes of the original album by Steven Wilson on DVD.
Unseen footage from the live concert at the Capital Centre in Landover, Maryland on November 21, 1977.
96/24 LPCM flat transfers of the original stereo masters on DVD.
DTS/DD 4.0 Surround flat transfers of the quadrophonic master on DVD.
An 80-page booklet featuring an extensive history of the project, a film script synopsis, track-by-track annotations by Ian Anderson, plus rare and unseen photographs.
Songs From The Wood was inspired, according to a press release, by singer/flutist/guitarist/songwriter Ian Anderson's "departure to a more rural environment in a transition which bore clear influence on the writing and recording process, with the band notably doffing a cap to British folklore and countryside."
The first disc of the set contains the Steven Wilson remix of the original studio album, accompanied by associated recordings. This includes the tracks "Old Aces Die Hard" and "Working John, Working Joe," which are being released here for the first time on any format. "Old Aces Die Hard," a title Anderson recently gave the track in a subtle nod to Motörhead's Lemmy Kilmister, is, according to Anderson, "an extraordinary find, because it's a long piece, and quite evolved, and one that sounds like it is pretty much complete – it doesn't sound as if it was waiting for me or anyone else in the band to go back and redo vocals or guitars or whatever."
Discs 2 and 3 include 22 live tracks recorded on the Songs from the Wood Tour across two dates: Boston Garden, Boston, on December 6, 1977, and Capital Centre, Landover, Maryland, on November 21, 1977. These tracks have been reconstructed as a complete set and then remixed to stereo by Jakko Jakszyk and are completely unheard.
Related: Ian Anderson Celebrates the 'real' Jethro Tull
DVD 1 contains 5.1 DTS, AC3 Dolby Digital Stereo Surround and 96/24 LPCM stereo versions of the original album mixed by Steven Wilson, along with selected associated tracks and various quad mixes and flat transfers.
The final disc in the package is the video footage taken live at the Capital Centre, Landover, Maryland, on November 21 1977, mixed to 16/48 stereo LPCM and 5.1 DTS, AC3 Dolby Digital surround by Jakko Jakszyk. This footage has never been publicly seen before.
Completing the set is a 96-page book that contains extensive writing on the history of the album and how it came to be. Martin Webb reflects on the writing, recording and touring of the album while Anderson gives a track-by-track annotation of the album and associated recordings. Alongside lyrics, there's an interview with assistant engineer Trevor White, relevant photos and imagery and a full recording and touring chronology.
Songs from the Wood—40th Anniversary Edition Track Listing
CD 1:
Stereo Steven Wilson Mixes:
1. Songs From The Wood
2. Jack-In-The-Green
3. Cup Of Wonder
4. Hunting Girl
5. Ring Out, Solstice Bells
6. Velvet Green
7. The Whistler
8. Pibroch (Cap In Hand)
9. Fire At Midnight
Associated Recordings:
10. Old Aces Die Hard [previously unreleased]
11. Working John, Working Joe [previously unreleased]
12. Magic Bells (Ring Out, Solstice Bells)
13. Songs From The Wood (Unedited Master)
14. Fire At Midnight (Unedited Master)
[previously unreleased]
15. One Brown Mouse (Early Version)
16. Strip Cartoon
17. The Whistler (US Stereo Single Mix)
CDs 2 & 3:
Live in Concert 1977- Disc 1
1. Wond'ring Aloud
2. Skating Away On The Thin Ice Of The New Day
3. Jack-In-The-Green
4. Thick As A Brick
5. Songs From The Wood
6. Instrumental
7. Drum Solo Improvisation
8. To Cry You A Song
9. A New Day Yesterday
10. Flute Solo Improvisation interpolating –
God Rest Ye Gentlemen/Bourée
11. Living In The Past/ A New Day
Yesterday (reprise)
Live in Concert 1977- Disc 2:
1. Velvet Green
2. Hunting Girl
3. Too Old To Rock 'n' Roll: Too Young To Die
4. Minstrel In The Gallery
5. Cross-Eyed Mary
6. Aqualung
7. Instrumental Improvisation
8. Wind-Up
9. Back Door Angels / Guitar Improvisation /
Wind Up (reprise)
10. Locomotive Breath
11. Land Of Hope And Glory / Improvisation /
Back Door Angels (reprise)
DVD 1:
96/24 LPCM Stereo (Steven Wilson Remix):
1. Songs From The Wood
2. Jack-In-The-Green
3. Cup Of Wonder
4. Hunting Girl
5. Ring Out, Solstice Bells
6. Velvet Green
7. The Whistler
8. Pibroch (Cap In Hand)
9. Fire At Midnight
10. Old Aces Die Hard
11. Working John, Working Joe
12. Magic Bells (Ring Out, Solstice Bells)
13. Songs From The Wood (Unedited Master)
14. Fire At Midnight (Unedited Master)
15. One Brown Mouse (Early Version)
16. Strip Cartoon
96/24 LPCM Flat Transfer – Original Stereo Master:
1. Songs From The Wood
2. Jack-In-The-Green
3. Cup Of Wonder
4. Hunting Girl
5. Ring Out, Solstice Bells
6. Velvet Green
7. The Whistler
8. Pibroch (Cap In Hand)
9. Fire At Midnight

Flat Transfer of Original Quad Master
DTS/DD 4.0 Surround
1. Songs From The Wood
2. Jack-In-The-Green
3. Velvet Green
4. The Whistler
Flat Transfer of Original Quad Master
DTS/DD 4.0 Surround
1. Songs From The Wood
2. Jack-In-The-Green
3. Velvet Green
4. The Whistler
DD/DTS 5.1 Surround (Steven Wilson Remix):
1. Songs From The Wood
2. Jack-In-The-Green
3. Cup Of Wonder
4. Hunting Girl
5. Ring Out, Solstice Bells
6. Velvet Green
7. The Whistler
8. Pibroch (Cap In Hand)
9. Fire At Midnight
10. Old Aces Die Hard
11. Working John, Working Joe
12. Magic Bells (Ring Out, Solstice Bells)
13. One Brown Mouse (Early Version)
14. Strip Cartoon
DVD 2:
Live at The Capital Centre, Landover,
Maryland, 21st November 1977:
1. Wond'ring Aloud
2. Skating Away On The Thin Ice Of The New Day
3. Jack-In-The-Green
4. Thick As A Brick
5. Songs From The Wood
6. Instrumental/ Drum Solo Improvisation
7. To Cry You A Song
8. A New Day Yesterday
9. Flute Solo Improvisation interpolating – God Rest Ye Gentlemen/Bouree/A New Day Yesterday
10. Living In The Past /A New Day Yesterday (reprise)
11. Second half of concert – Introduction
12. Velvet Green
13. Hunting Girl
14. Too Old To Rock 'n' Roll: Too Young To Die
15. Minstrel In The Gallery
16. Cross-Eyed Mary
17. Aqualung
18. Instrumental Improvisation
19. Wind-Up
20. Back Door Angels / Guitar Improvisation /Wind Up (reprise)
21. Locomotive Breath
22. Land Of Hope And Glory/ Improvisation / Back Door Angels (reprise)
Beethoven's Ninth (with original audio)
The Whistler (promo footage)(mono)
Watch Jethro Tull perform "Songs from the Wood" in 1977

Latest posts by Best Classic Bands Staff
(see all)