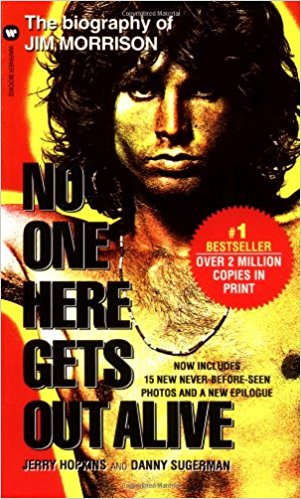 The author of early, critically acclaimed biographies of Elvis Presley and Jim Morrison, Jerry Hopkins, passed away today (June 3) in Camillian Hospital in Bangkok, Thailand, after a long illness. Hopkins, who lived in Bangkok with his wife and son, was 82.
Hopkins' death was reported by the Bangkok Post and confirmed on his Facebook page.
Born Nov. 8, 1935, in Camden, N.J., Hopkins—whose full name was Elisha Gerald Hopkins—published 39 books in all, and more than 1,000 articles. He spent more than 20 years as a correspondent and contributing editor for Rolling Stone magazine.
Hopkins' writing career began in Winston-Salem, N.C., and he was then published by New York's Village Voice. After serving as a writer-producer for TV host Mike Wallace he moved to Los Angeles, where he served in similar capacities for Steve Allen and humorist Mort Sahl.
Related: When the Doors defied Ed Sullivan
In the mid-'60s Hopkins opened L.A.'s first head shop, emceed a love-in and, beginning in 1967, became one of the first writers for the then-new Rolling Stone, while also writing for the Los Angeles Free Press and other publications. In 1968 he edited a collection, in book form, called The Hippie Papers. In 1970, he followed that volume up with The Rock Story, an early history of the music.
In 1969, Hopkins took leave from Rolling Stone to author Elvis: A Biography, the first comprehensive biography of the singer, published in 1971. Hopkins began work on his Morrison biography, No One Here Gets Out Alive, following the singer's death in 1971. The book, co-authored by Morrison's assistant and confidant Danny Sugerman, was rejected by more than two dozen publishers before finally being published in 1980. The bio, the first of Morrison, became a best-seller and has been reprinted several times in different formats. The book was published in 23 countries (in 16 languages) in all; Hopkins' website says it has sold more than four million copies.
Hopkins later wrote other books book on Elvis (including The Final Years), as well as titles on Jimi Hendrix, David Bowie, Yoko Ono and other topics, including life in Thailand.
Watch a video interview with Jerry Hopkins on Morrison, Elvis and more

Latest posts by Best Classic Bands Staff
(see all)