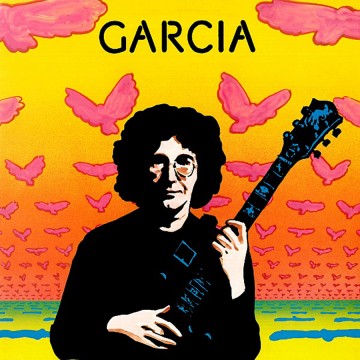 Few American rock musicians have achieved the iconic stature of the guitarist, singer and songwriter of the Grateful Dead, Jerry Garcia, viewed by many as the band's leader (a role he eschewed) and figurehead, as well as the musical embodiment of the 1960s counterculture. He died of a heart attack at age 53 on August 9, 1995, at the Serenity Knolls treatment center in Forest Knolls, Calif., where he was undergoing treatment for addiction to heroin and cocaine.
His 30-year career with the Grateful Dead established Garcia as one of the best known and most widely beloved figures in classic rock music. But his talents on guitar, banjo and pedal steel – despite losing most of the middle finger on his right hand in a childhood wood-chopping accident – as well as his voice and songs were also heard in a plethora of side projects and collaborations, including the country-rock band New Riders of the Purple Sage, the bluegrass band Old and In the Way, the Garcia-Saunders Band (with keyboard player Merl Saunders), an acoustic duo with mandolinist David Grisman and his own Jerry Garcia Band, to name some but hardly all. He also enjoyed a side career as a visual artist, with some of his lines being used for a line of Jerry Garcia neckties.
Related: A 1976 encounter with the Dead's figurehead
Garcia is thought to be the most-recorded guitar player in music history. Some 15,000 hours of his music have been preserved thanks to the many sessions he played as well as the tapes of his live performances collected by avid Grateful Dead fans. Evidence of his stature in popular culture can be found in many realms: Ben & Jerry's introduced the Cherry Garcia ice cream flavor in 1987, one of its most popular offerings. On the popular TV series Roseanne, a child born to its main character in 1995 was named Jerry Garcia Conner. An amphitheater in McLaren Park in San Francisco's Excelsior District, where Garcia grew up, is named for him; the Santa Barbara Bowl designated a spot on its grounds Jerry Garcia Glen, and Port Chester, New York's Capitol Theater (where the Dead and many other Garcia projects played) named its lobby bar Garcia's. The San Francisco Giants baseball team has an annual Jerry Garcia Tribute Night.
Garcia's spirit remains as alive as ever.
Watch an interview with Garcia, just months before he died
Related: Review of the Dead's Long Strange Trip documentary

Latest posts by Best Classic Bands Staff
(see all)