Jeff Lynne's ELO at Radio City Music Hall: 2016 Review
by Jeff Tamarkin
When you go to see Bob Dylan in concert today you expect to hear few recognizable tunes, and those will be sung in a voice bearing no resemblance to his original recordings. When you attend a show by Dead & Company (or whatever they're calling it now) or Neil Young with one of his bands, you hunker down for long improvisations on old tunes that have evolved over time. Then there's Paul McCartney, who sees his job as reproducing his compositions as closely as possible to the familiar versions established on Beatles and Wings recordings.
Jeff Lynne's ELO falls into that latter category. At New York's Radio City Music Hall on September 16, 2016 (a second show took place on the 18th), the sold-out house often knew a song from the very first note (and judging from the age range of the audience, many were not yet born when these songs were hits.) If you wanted to sing along, Lynne and his stagemates made it very easy for you. There were virtually no deviations: every percussive accent, every flurry of violin and cello, each vocal inflection, was exactly where it was supposed to be. The 18-song, 90-minute set was like having your own ELO radio station on random shuffle.
With really cool visuals.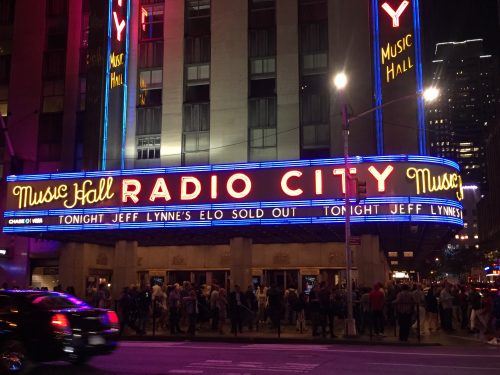 For devoted fans of the entity that began as Electric Light Orchestra in 1970, the current mini-tour (three dates at Hollywood Bowl preceded the two Radio City stops) has been a long time coming—a really long time. This year's "Alone in the Universe Tour," which swept through the U.K. in the spring, is the first full-scale ELO outing in more than three decades, and although singer/guitarist Lynne, 68, and keyboardist Richard Tandy are the only remaining members from the band's formative years (Tandy joined in 1972), the 11 musicians and singers accompanying them, led by music director and guitarist Mike Stevens, had no trouble being ELO.
Lynne prefers a "wall of sound" approach onstage: Vocals are often stacked; four acoustic guitars are better than one; cellos and violin complement the rock instrumentation (ELO is, after all, an orchestra). Nothing is stripped down, all components are used. Lynne, nothing flashy about him, looking much as he has since he started out, stands at his microphone, moves little, switches off between acoustic and electric guitars, and sings his songs—sings them without a trace of aging in his delivery. You felt you could have been seeing him in 1974 and little would be different.
The key to the longevity and widespread appeal of ELO's music lies within the melodies atop which Lynne erects his arrangements. You can't hear a song like "Livin' Thing" or "Don't Bring Me Down" or "Turn to Stone," or the magisterial ballad "Can't Get It Out of My Head," and not be enveloped by their tunefulness. Lynne's gift is his ability to build complex arrangements into the simplest, most hummable of tunes. In a live setting, that was more evident than ever.
Watch "Don't Bring Me Down" from Radio City
Those four colossal hits were, of course, performed at Radio City. So too were "Telephone Line," "All Over the World" and "Shine a Little Love." The show began, however, with a song that was not a hit single: "Tightrope," the lead track on Electric Light Orchestra's 1976 album A New World Record. "Evil Woman," a 1975 top 10 and still a signature ELO hit, followed, Tandy taking a bluesy solo that served as a reminder of how important he was to the band's sound. "Showdown," from '76, provided Lynne with his first opportunity to unleash on guitar, after which he traded his electric for the acoustic he would play throughout the bulk of the show.
Watch Lynne and Co perform "Showdown"
Jeff Lynne's ELO did release a new album, Alone in the Universe, late last year, but unlike the group's fall 2015 performance at the much smaller Irving Plaza club in support of that release, where four new tracks were played, only one made the cut this time. The ballad "When I Was a Boy" could easily have been pulled from the original ELO catalog; it's consistent with the group's better known tracks. But Lynne, well aware of what his audience was here to hear, avoided plugging any other new material into the set.
Related: BCB's review of the November 2015 ELO show at NYC's Irving Plaza
There were a few pleasant surprises though. Both "Rockaria!" and "10538 Overture" were hits in England (the latter, in fact, was ELO's first charter there) but not in America, and "Secret Messages" was the title track of a 1983 ELO album that basically marked the beginning of the end of the group's commercial heyday. "Wild West Hero" was another gift to the superfan: a track from 1978's Out of the Blue that made a brief showing on the U.K. charts but never received significant airplay over here even when new. "Sweet Talkin' Woman," a top 20 hit in America, was another highlight of the show.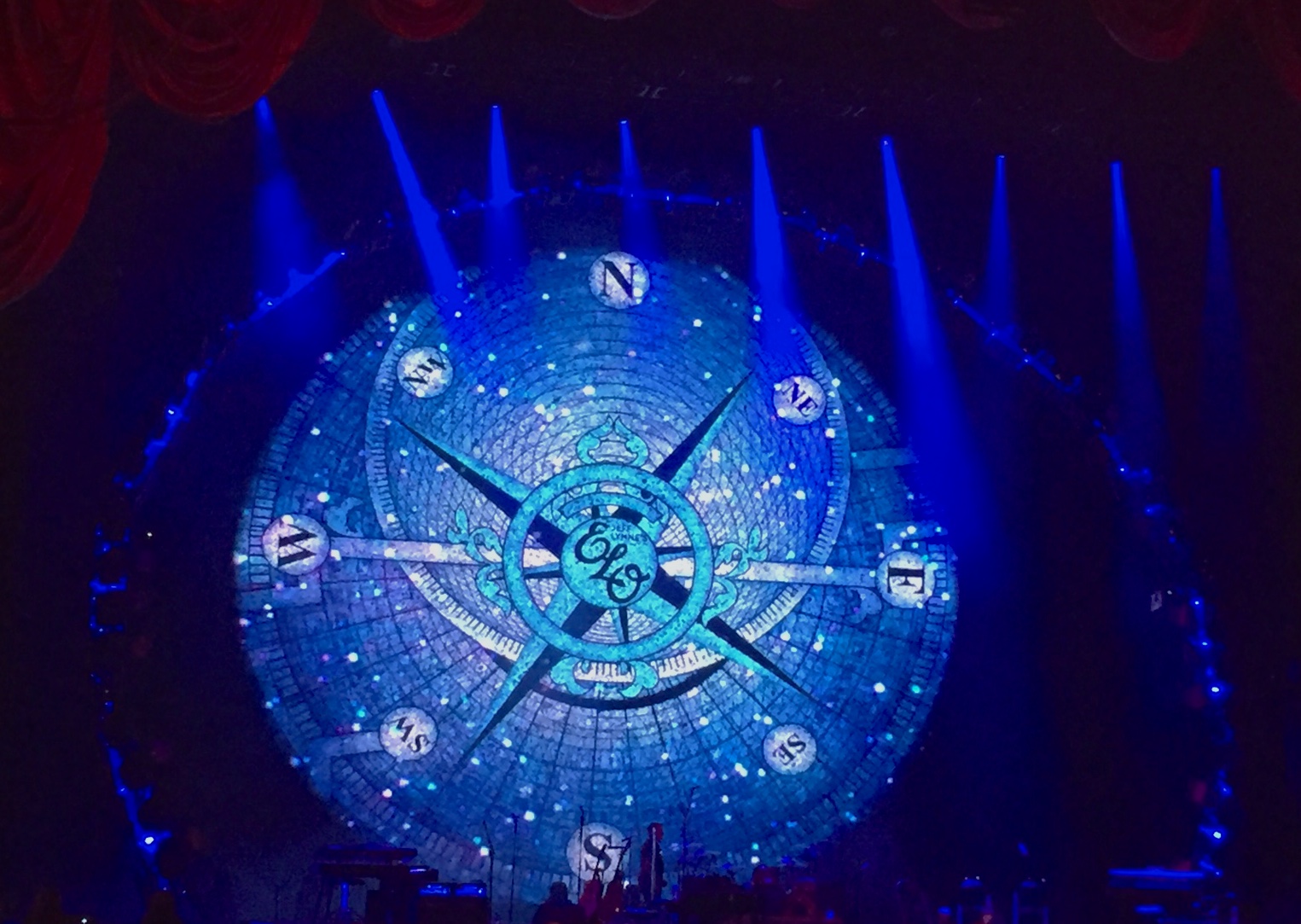 The set wrapped up with the ridiculously captivating "Mr. Blue Sky" from 1978—again, not the biggest hit for the band, but a song you would miss had they not performed it. (Speaking of which, "Strange Magic," one of their most durable and likable songs, was not played. Neither was "Do Ya." What's up with that, Jeff?) The encore was "Roll Over Beethoven," ELO's first chart hit in America (and a top 10 in the U.K.), as powerful as in '73, when it served to introduce stateside audiences to the supersized pastoral rock of Electric Light Orchestra.
As perfectly executed as the music was, props must also go to the visual presentation. The set itself was nonexistent—just the musicians standing in place on a bare stage—but the backdrop, screened video alternating between variations on ELO logo art, space imagery and vast landscapes, enhanced the music (although the lasers shooting out into the audience were more than a little hackneyed).
Undoubtedly, many who grew up with the band long ago gave up hope of ever hearing this music played live again by Lynne. For the younger fans who'd heard ELO only on recordings, here was an opportunity to get a taste of classic rock at its finest. It's a livin' thing indeed.
Watch Jeff Lynne's ELO perform "Mr. Blue Sky" at Radio City
When Jeff Lynne's ELO tour again, tickets will be available here and here.

Latest posts by Jeff Tamarkin
(see all)