In 1965, Jan and Dean, the surf/pop duo from Los Angeles, were striving to obtain more control over their career, including adding more comedy to their act. Having charted five top 10 records in the past two years (including "The Little Old Lady from Pasadena" and the classic "Surf City"), Jan Berry and Dean Torrence were now reaching for the silver screen and more. They would soon begin work on their own movie (the never-completed Easy Come, Easy Go), and television show, to be produced by William Asher (Bewitched). But they owed their label, Liberty Records, one more record and really didn't want to waste any of the "good material" on that company, with which they'd grown dissatisfied.
Says a press release: "Enter the idea of a live album. Unfortunately the suits at the label were not overly enthused, as Jan and Dean had previously released one in early '65. So the duo, which had been honing their wise-ass shtick since high school, delivered Filet of Soul, a live LP with comedy. The execs were appalled and rejected it."
Related: Our interview with Dean Torrence
Sadly, on April 12, 1966, Jan Berry was involved in a tragic automobile accident that more or less derailed the duo's career. He was miraculously alive but in a coma. Three weeks after the accident, the label saw fit to exploit the Jan and Dean story all over again and deconstructed the original version into another live album titled Filet of Soul – A "Live" One.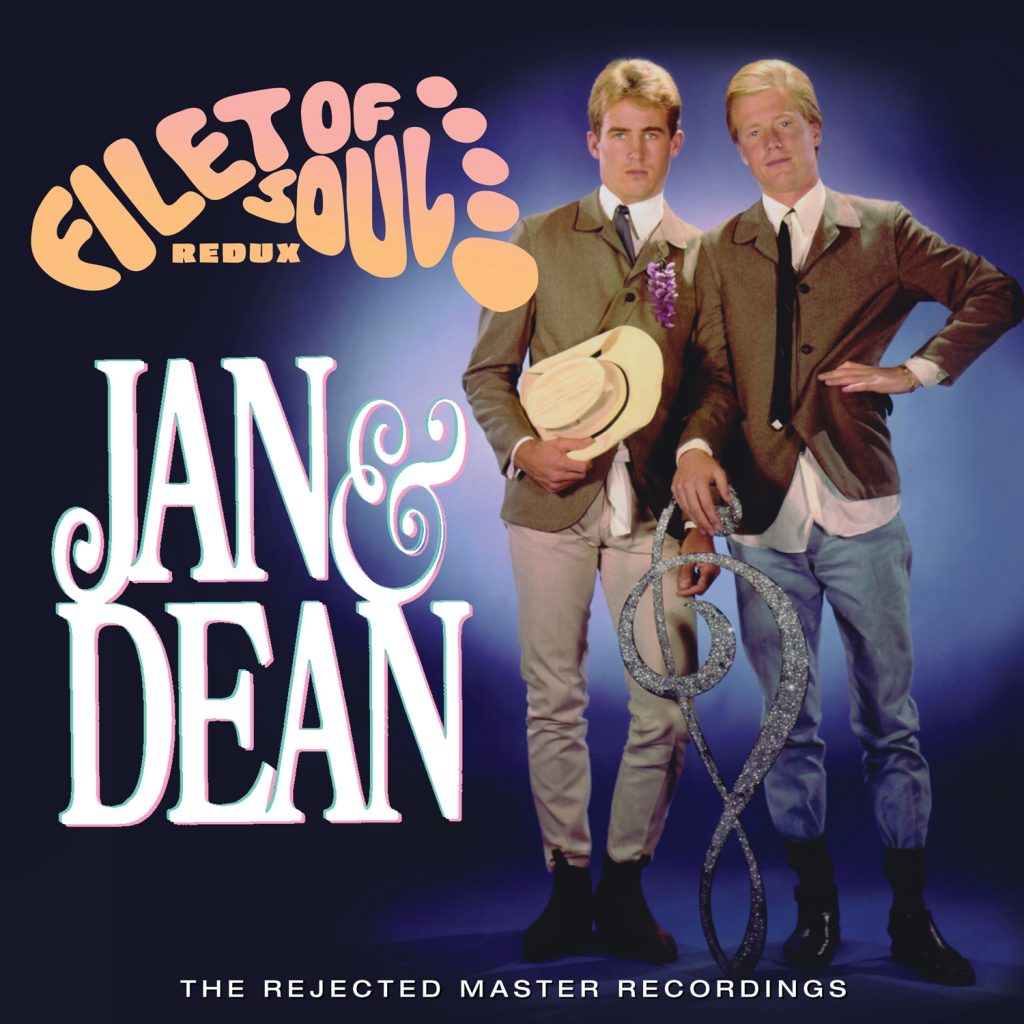 Now, more than 50 years after Jan and Dean's original vision was rejected, the press release states, "Omnivore Recordings is releasing Filet of Soul Redux: The Rejected Master Recordings, as it was originally intended: a live, cutting-edge comedy album featuring great music interspersed with sound effects, studio skits and comic banter." Torrence, along with Endless Summer Quarterly publisher David Beard, supplies informative liners and studio ephemera from the sessions. Street date for the package is September 1; pre-order here.
"What is Filet Of Soul?" asks Beard in the liner notes. "It's a trendsetting homage to Jan and Dean, by Jan and Dean. A live comedy album featuring great music performed by L.A.'s top studio musicians, an in-joke, a subversive and evolutionary lampooning of other 'soul albums,' and—most importantly— a recording of a couple of buddies hanging out together onstage and entertaining not only their hardcore fans, but one another as well."
According to Torrence, "The Beatles released Rubber Soul in 1965. Jan and I rushed out to our local record store (remember those?) and bought two copies. It was a great album—the music was awesome, and the production was brilliant. But there was something that was missing: we didn't discover the meaning of the so-very-cool title Rubber Soul. Such a cool title must have some very deep meaning that was right up there with discovering The Meaning of Life or The Theory of Relativity, for God's sake. So how did we miss it? Traveling in the car, we talked about this whole Rubber Soul thing, and it got us thinking … what kinda soul did Jan and Dean have? And it was perfectly obvious to us that Jan and Dean had 'Filet of Soul' … the thing I get the biggest kick out of to this very day is listening to these original Filet of Soul recordings. I find myself still chuckling and remembering what a great time Jan and I had in making it. Listen to what we recorded and you can tell that these people are really having fun in the studio with one another."
Track Listing
Prelude / Honolulu Lulu
Boys Down At The Plant / Cathy's Clown / Pigeon Joke
Brass Section Introductions / Dead Man's Curve
Beatle Part Of Our Portion / Rhythm Section Introduction / Michelle / Whistling Dixie
We Want Jan & Dean / Norwegian Wood (This Bird Has Flown)
1-2-3
Lightnin' Strikes
You've Got To Hide Your Love Away
And Now Back To The Show / Let's Hang On Introduction
Hang On Sloopy / Jan & Dean, They'll Be Back
Listen to this exclusive preview of "Lightnin' Strikes" from Filet of Soul

The BCB team brings you the latest Breaking News, Contests, On This Day rock history stories, Classic Videos, retro-Charts and more.

Latest posts by Best Classic Bands Staff (see all)