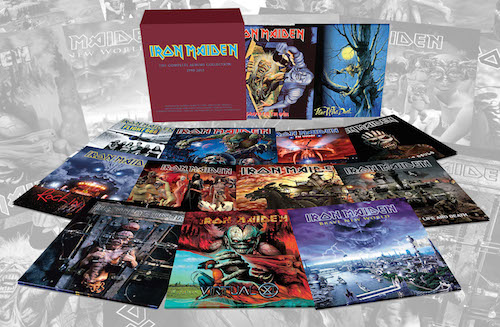 Parlophone Records will follow 2014's reissue of the first eight Iron Maiden albums, which spanned the 1980s, with 12 new pressings of albums from the period 1990-2015 in heavyweight 180g black vinyl.
Unlike the 1980s reissues, which were cut from the original analog master tapes, the audio on these releases has been cut from the high-resolution remasters of 2015 when the Maiden catalogue was digitally upgraded. They will be packaged in identical artwork to the initial vinyl releases.
The records will be released chronologically across a three-month period:
May 19: No Prayer for the Dying/Fear of the Dark/The X Factor/Virtual XI
June 23: Brave New World/Rock In Rio (Live)/Dance of Death/A Matter of Life And Death
July 21: Death On the Road (Live)/Flight 666 (Live)/The Final Frontier/En Vivo! (Live)
Related: Iron Maiden's  summer tour schedule
As a bonus, the first two albums (No Prayer for the Dying and Fear of the Dark) will also be made available in an exclusive "Collector's Box" sized to house all 12 albums with additional space for fans to insert the latest Maiden studio album The Book of Souls, which was released on triple black vinyl in 2015. The "Collector's Box" will be a strictly limited edition and available while stocks last.
These high-quality, black vinyl LPs, which comprise eight studio albums together with a specially selected choice of four live recordings from this period, completes the Iron Maiden album reissues series and offers Maiden fans the opportunity to own the band's entire studio album legacy on vinyl simultaneously for the very first time.
Iron Maiden's The Book of Souls Tour resumes with a series of arena shows opening in Sportpalais, Antwerp, Belgium, on April 22 and continuing into Germany, U.K. and Ireland, finishing with two sold-out shows at London's 02 Arena on May 27-28. The band then flies to the U.S. for an extensive series of arena and amphitheater shows including dates in Canada, ending with two nights in Brooklyn, New York, on July 21-22. This is the final leg of The Book of Souls Tour. Most shows are already sold out—check ironmaiden.com for dates/availability.
Listen to "The Book of Souls" by Iron Maiden
Don't miss a post! Sign up for Best Classic Bands' Newsletter; form is on every page.

Latest posts by Best Classic Bands Staff
(see all)