Rock 'n' roll legend Ian Hunter has released a new album, Defiance Part 1, featuring a star-studded lineup of fellow classic rock legends. The album arrived April 21, 2023, via Sun Records, and includes contributions from Jeff Beck and Taylor Hawkins, in what were certainly among their final performances, as well as Todd Rundgren, Billy F Gibbons, and Slash, among many others. Listen to how great Hunter, now 83, sounds on many of the tracks below, including "Bed of Roses," featuring guitarist Mike Campbell (Tom Petty and the Heartbreakers) and drums by Ringo Starr, "No Hard Feelings," with Beck and Johnny Depp, and "Angel," with Hawkins and Aerosmith's Brad Whitford, below.
Also performing on Defiance Part 1 are Joe Elliott (Def Leppard), Duff McKagan (Guns N' Roses), Jeff Tweedy (Wilco), Robert Trujillo (Metallica), Waddy Wachtel (Stevie Nicks, Keith Richards), Dane Clark (John Mellencamp), Billy Bob Thornton & J.D. Andrew (The Boxmasters) and Dean DeLeo, Robert De Leo & Eric Kretz (Stone Temple Pilots).
Listen to "No Hard Feelings," featuring Beck's recognizable guitar solo
"It was a fluke," Hunter, says in the album's Jan. 20 announcement. "This was not planned. Really, I'm serious. I really couldn't believe some of them. I mean, it's amazing what's happened. It's been such a buzz."
Listen to "I Hate Hate"
More from the press release: Now in its seventh decade, Hunter's illustrious career has long been marked by collaboration, from the golden age of Mott the Hoople to his fabled partnership with Mick Ronson and 21st century renaissance with his crack backing combo, the Rant Band.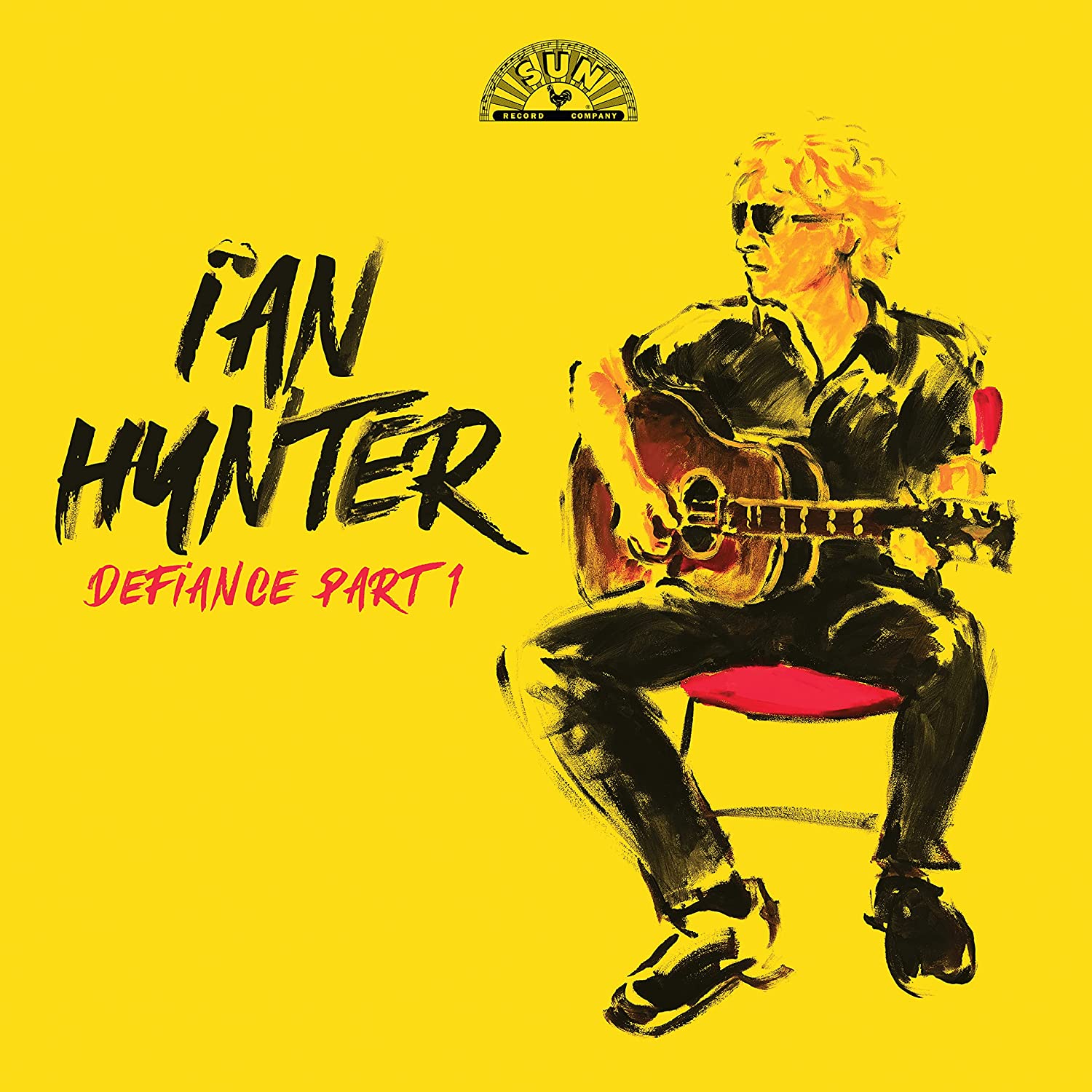 The new album first came together in early 2020 with the dawn of the pandemic era. An inveterate hard worker, Hunter took the lockdown as a creative opportunity, writing a series of new songs which he tracked in his Connecticut basement alongside his longtime collaborator, guitarist/producer/multi-instrumentalist Andy York. Working with little more than a computer, guitar, V5 piano, and "a very small keyboard," Hunter and York created a collection of bare bones demos but with quarantine rules still in effect, were unable to flesh them out further by hitting the studio with the Rant Band. Manager Mike Kobayashi and renowned rock 'n' roll photographer Ross Halfin suggested reaching out to some of Hunter's fellow legends who might perhaps use some of their own lockdown to contribute a track or two. To Hunter's delight, the project quickly escalated, with a galaxy of stars clamoring to be involved. With time on their hands due the pandemic, his fellow musicians took the demos and stems that Hunter and York put together in his basement and added unforeseen power and creativity through their own trademark talents.
Listen to "Angel"
"Everybody's sitting around," says Hunter. "It's Covid. Nobody's going anywhere. We started sending them out. Slash started doing something. Robert Trujillo from Metallica. Ringo Starr, Mike Campbell. Joe Elliott is on a few tracks. Johnny Depp said 'Jeff Beck's with me and we'd like to do a couple of songs.' I know Todd Rundgren, I toured with Todd way back, he's done an amazing job. Billy Gibbons. Billy Bob Thornton and JD Andrew from The Boxmasters. It's never ending. I mean, every day we'd get a phone call, this guy wants to do it, that guy wants to do it. It was like, I can't believe this."
Watch the video for "Bed of Roses," featuring Ringo Starr and Mike Campbell
"Pavlov's Dog" is Hunter at his ferocious best, a snarling rocker featuring the surviving members of Stone Temple Pilots – brothers Dean DeLeo (guitar) and Robert DeLeo (bass) and Eric Kretz (drums).
Songs like "I Hate Hate" and the album's rebellious title track – the latter showcasing Slash on guitar with Metallica's Trujillo carrying the groove using the late Jaco Pastorius' signature fretless bass, the same instrument played by the legendary jazz musician on Hunter's groundbreaking second solo album, 1975's All American Alien Boy – offer indisputable evidence that Hunter's voice remains as uncompromising and provocative as ever before.
Having spent the better part of two years on the project, Hunter isn't done yet. As its title promises, the album will be followed by the arrival of Defiance Part 2. The second chapter will feature an equally stunning range of special guests while projecting an entirely different thematic approach and songwriting aesthetic.
"There are a lot of reasons for calling this album Defiance," says Hunter. "It's like, people my age shouldn't be making records, blah, blah, blah. But we've still got a bit left."
Several more songs, as well as the track listing, including the specific guest artist contributions, appear below the Amazon links.
1. Defiance
Dane Clark: Drums
Robert Trujillo: Bass
Slash: Electric, Rhythm and Lead Guitars
Dennis Dibrizzi: Background Vocal
Andy York: Background Vocal
Ian Hunter: Electric Guitar
2. Bed Of Roses
Ringo Starr: Drums
Tony Shanahan: Bass
Mike Campbell: Acoustic and Electric Rhythm Guitars, Slide Guitar, Mandolin
Andy Burton: Organ
Rich Pagano: Tambourine
Andy York: Background Vocals
Ian Hunter: Piano
3. No Hard Feelings
Dane Clark: Drums and Percussion
Johnny Depp: Acoustic and Electric Rhythm Guitars, Slide Guitar, Background Vocals
Jeff Beck: Lead Guitar
Andy York: Electric Guitar, Bass
Ian Hunter: Piano
4. Pavlov's Dog
Eric Kretz: Drums
Dean DeLeo: Electric Rhythm and Lead Guitars, Acoustic Guitar, Slide Guitar
Robert DeLeo: Bass
Dennis Dibrizzi: Background Vocal
Andy York: Background Vocal, Maracas
Ian Hunter: Piano
5. Don't Tread On Me
Rich Pagano: Drums, Congas, Percussion
Todd Rundgren: Rhythm and Lead Electric Guitars, Background Vocals
Andy Burton: Organ
Andy York: Bass
Ian Hunter: Piano
6. Guernica
Dane Clark: Drums and Percussion
Mike Campbell: Electric Rhythm and Lead Guitars
Joe Elliott: Background Vocals
Andy Burton: Harmonium
Andy York: Bass, Baritone Guitar, Background Vocal
Ian Hunter: Piano
7. I Hate Hate
Dane Clark: Drums
Andy Burton: Keyboards
Dennis Dibrizzi: Background Vocals
Andy York: Baritone Guitar, Tambourine, Background Vocals
Ian Hunter: Piano
8. Angel
Taylor Hawkins: Drums, Electric Guitars, Electric Piano, Background Vocals
Duff McKagan: Bass
Brad Whitford: Slide Guitar
Waddy Wachtel: 12-String Acoustic Guitar, Lead Electric Guitars
Ian Hunter: Piano
9. Kiss N'Make Up
Taylor Hawkins: Drums
Billy Bob Thornton: Percussion, Lead and Backup Vocals
Billy F Gibbons: Electric, Rhythm and Lead Guitars
J.D. Andrew: Bass
James Mastro: Electric Guitar
Rich Pagano: Congas
Andy Burton: Keyboards, Vibes
10. This Is What I'm Here For
Taylor Hawkins: Drums
Waddy Wachtel: Electric Rhythm and Lead Guitars
Joe Elliott: Background Vocals
Paul Page: Bass
Andy Burton: Organ
Andy York: Baritone Guitar
Ian Hunter: Piano
11. I Hate Hate (Alternate Version)
Dane Clark: Drums
Jeff Tweedy: Electric Guitars and Bass
Andy Burton: Keyboard
Dennis Dibrizzi: Background Vocal
Andy Burton: Organ
Andy York: Tambourine and Background Vocal
Ian Hunter: Piano
Related: Our Album Rewind of Hunter's You're Never Alone With a Schizophrenic

Latest posts by Best Classic Bands Staff
(see all)