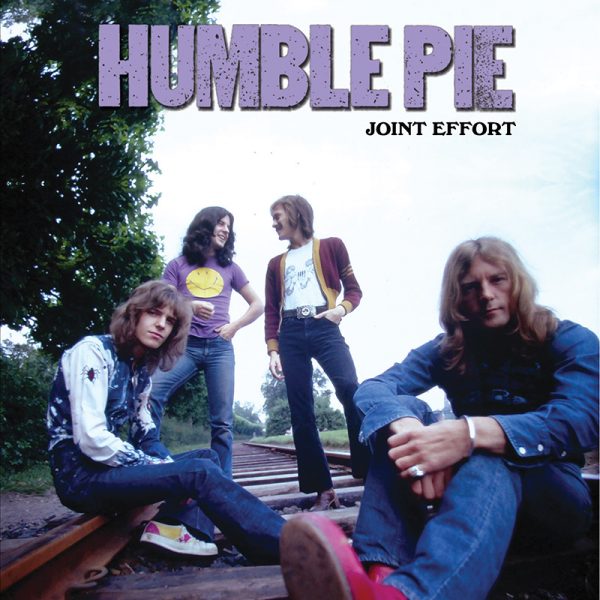 A previously unreleased 1974-75 recording by British blues-rockers Humble Pie, titled Joint Effort, was released by Cleopatra Records on February 8, 2019. The album was reportedly rejected by the band's label at the time, A&M Records, and relegated to a vault, where it has remained until now.
The lineup of the band on the release is guitarist/vocalist Steve Marriott, guitarist Dave Clempson, bassist Greg Ridley and drummer Jerry Shirley.
Related: Humble Pie's Performance: Rockin' the Fillmore is among our picks of 10 great 'Live at the Fillmore' albums
The announcement from Cleopatra reveals the background of the set: "In 1974, one of the biggest and best blues-rock bands of all-time, the great Humble Pie, began recording an album at their own home-built studio called Clear Sounds. The result was a raw and fiery collection of originals and covers that was promptly and unceremoniously shelved by the band's label, never to see the light of day…that is, until now! Joint Effort, a title given to the project early on that reflected the collaboration between Humble Pie founders Steve Marriott and Greg Ridley, is a reunion album of sorts in that Marriott had recently walked out of the group. But a near miss at taking Mick Taylor's spot in the Rolling Stones plus renewed interest in the band Stateside coaxed Marriott back into the Pie alongside guitarist Dave Clempson and drummer Jerry Shirley."
Related: A previously unpublished interview with Steve Marriott
Joint Effort includes never before heard original compositions plus blazing covers of James Brown ("Think"), The Beatles ("Rain") and soul icon Betty Wright ("Let Me Be Your Lovemaker").
Listen to their performance of "Think"
The album comes packaged with full liner notes and rare photos on both CD and vinyl.
Listen to "Good Thing"
Track Listing
1. Think
2. This Ol' World
3. Midnight Of My Life
4. Let Me Be Your Lovemaker
5. Rain
6. Snakes & Ladders
7. Good Thing
8. A Minute Of Your Time
9. Charlene
10. Think 2
Listen to Humble Pie perform The Beatles' "Rain"

Latest posts by Best Classic Bands Staff
(see all)