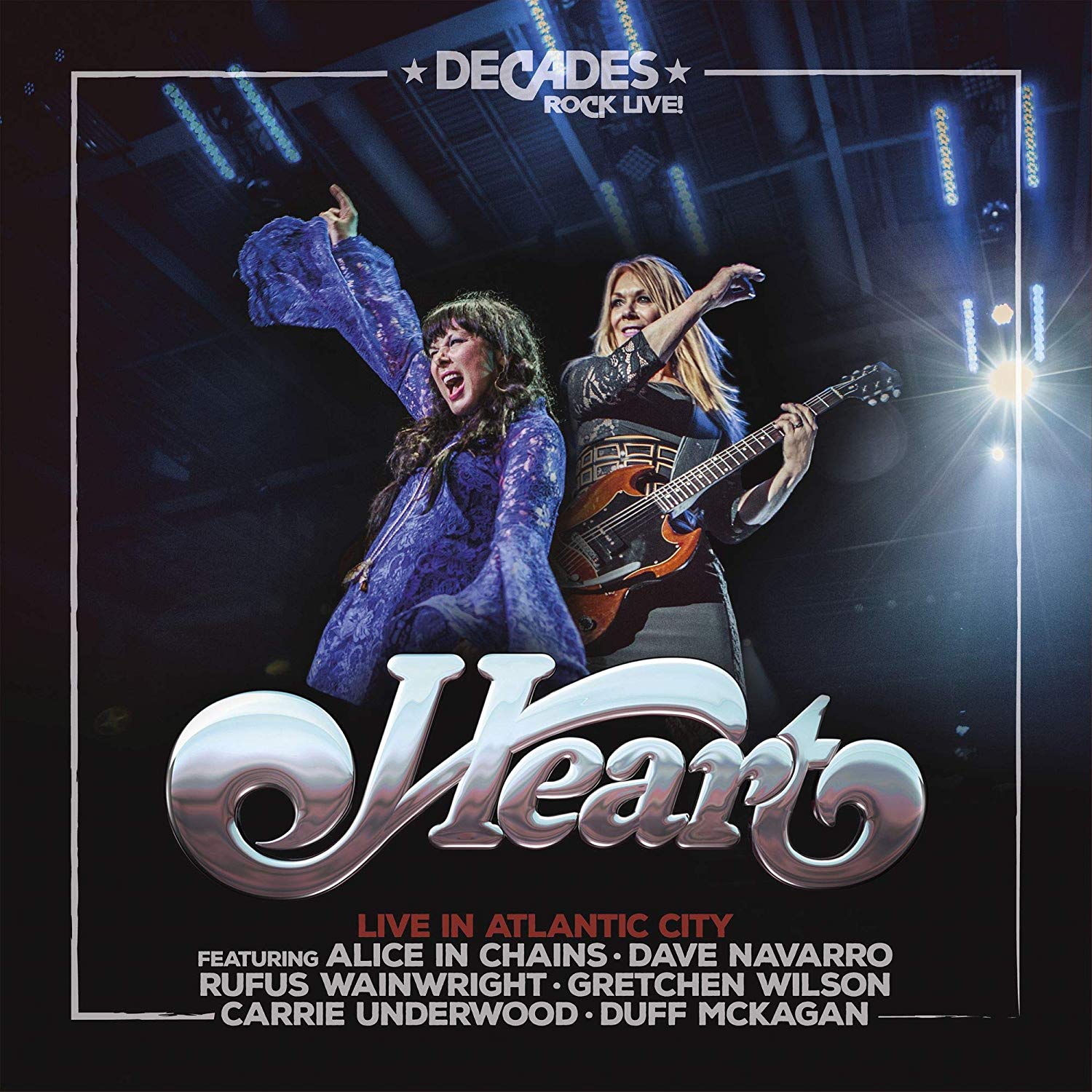 It's not the studio or stage reunion that they're die-hard fans are holding out hope for – that's still to come… maybe. In the meantime, Heart announced on November 6, the release of their 2006 Live in Atlantic City performance that originally aired on VH1 Decades Rock Live. The concert, from EARMusic, arrived on January 25, 2019, on LP/CD/DVD/Blu-ray – newly mixed and mastered.
Several clips have been released.
The Rock and Roll Hall of Fame inductees Ann Wilson and Nancy Wilson first stormed the charts in the '70's with classic rock hits like "Crazy On You," "Magic Man," "Barracuda," "Straight On," and more.
Watch "Crazy on You" (with Dave Navarro)
The concert, that finally sees its release, pays tribute to and celebrates the band's legacy with the help of artists and friends to create one magical night.
The guests include country music star Carrie Underwood, Jane's Addiction founding member and former Red Hot Chili Peppers guitarist Dave Navarro, country singer-songwriter Gretchen Wilson and Canadian-American singer-songwriter and composer Rufus Wainwright.
Watch the performance of "Bébé Le Strange" (also with Navarro)
One highlight of the show was the return of grunge rockers Alice In Chains with Duff McKagan joining his friends. Each guest artist had the chance to perform two or three songs together with the band. A performance of "Barracuda, "featuring all of the guest artists rounded up the show. (See the track list below.)
Watch the Wilson sisters perform "Lost Angel" from the concert
Ann and Nancy Wilson have had a well-documented split for some time now. During their Heart hiatus, Nancy has formed a band called Roadcase Royale. Ann has toured and released an album of covers, Immortal, devoted to influences and friends who had passed in recent years.
Related: We asked Ann Wilson who she regretted not having collaborated with during her career
Live in Atlantic City Track List
1. Bébé Le Strange (with Dave Navarro)
2. Straight On (with Dave Navarro)
3. Crazy On You (with Dave Navarro)
4. Lost Angel
5. Even It Up (with Gretchen Wilson)
6. Rock 'n' Roll (with Gretchen Wilson)
7. Dog & Butterfly (with Rufus Wainwright)
8. Would? (with Alice In Chains & Duff McKagan)
9. Rooster (with Alice In Chains & Duff McKagan)
10. Alone (with Carrie Underwood)
11. Magic Man
12. Misty Mountain Hop (with Dave Navarro)
13. Dreamboat Annie
14. Barracuda
Related: Our interview with Nancy Wilson

The BCB team brings you the latest Breaking News, Contests, On This Day rock history stories, Classic Videos, retro-Charts and more.

Latest posts by Best Classic Bands Staff (see all)