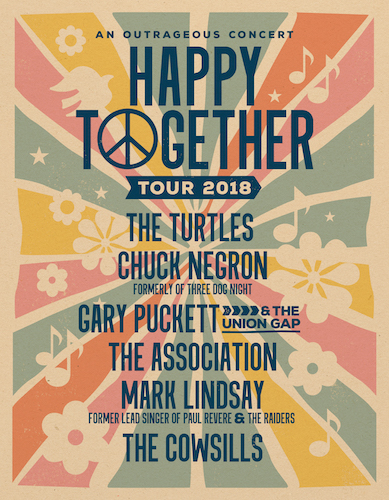 The annual Happy Together Tour has been a sure thing for so long that ticket-buyers don't really even need to know in advance who the performers will be: a splendid time is guaranteed for all. Each year, five or six hitmaking AM radio-centric bands and solo artists from the '60s wind their way across the United States, recreating those hits. The cast of characters changes slightly from year to year—most acts stick around for a couple of years before someone takes their place, although returnees are many—but whoever graces the stage, patrons can be sure to hear a jukebox's worth of memorable hits.
There has been one constant throughout the history of the annual tour though and that's been The Turtles, whose 1967 #1 hit "Happy Together" lends its title to the tour. And the Turtles, the hosts of the show since the beginning of the Happy Together Tour, has for decades been two guys, lead singer Howard Kaylan and his partner in vocal and comedy crime, Mark Volman. Also known as Flo and Eddie (Mark and Howard, respectively), the pair has fronted the Turtles since the band's heyday in the '60s and in all their incarnations since.
But this year's different: Kaylan, due to health reasons, has been forced to sit out the tour. As Volman explains in this video from one of the 2018 tour's opening shows, Kaylan needed back surgery and was prohibited by his doctors from joining the tour. Before he could get that back surgery, Volman relates, he needed to have not one but two heart procedures.
Related: Howard Kaylan talks Turtles, album by album
What to do? The thought of the headlining Turtles without Howard Kaylan's voice might strike some fans as sacrilegious—sort of like seeing the Stones without Mick or the Who without Roger—but it was decided, as Volman relates in the video below, that in the grand tradition of performance, "the show must go on." So, sitting in for Howard Kaylan on the 2018 run is Ron Dante, best known as the lead voice for the cartoon-rock band the Archies. It was Dante who sang "Sugar, Sugar," the best-selling hit of 1969, and also Dante who provided the lead vocal on hits by the Detergents ("Leader of the Laundromat") and the Cuff Links ("Tracy"), and Dante who produced nine albums for Barry Manilow. Dante was recruited to be a Turtle for 2018 so that fans wouldn't have to miss the Happy Together Tour, which also stars this year The Association, Chuck Negron of Three Dog Night, Gary Puckett, Mark Lindsay of Paul Revere and the Raiders, and the Cowsills.
Watch Ron Dante and Mark Volman sing "Sugar, Sugar" after Mark explains Howard Kaylan's absence from the tour
The 2018 tour launched June 7 in Jacksonville, Fla., and according to all reports thus far, is  a crowd-pleasing success as always. Best Classic Bands wishes Howard Kaylan a speedy recovery and the members of the 2018 Happy Together Tour a successful and fun romp.
Watch Gary Puckett sing "Lady Willpower" at the Jacksonville tour opener
Watch Mark Lindsay sing his hit "Arizona" in Jacksonville
Set Lists from the Happy Together Tour, Ruth Eckerd Hall, Clearwater, Florida, June 10, 2018
(not in order of appearance)
The Cowsills
The Rain, the Park and Other Things
We Can Fly
Indian Lake
Love American Style
Hair
Watch The Cowsills sing "The Rain, The Park and Other Things" at the 2018 Happy Together Tour
Chuck Negron
Celebrate
Mama Told Me Not to Come
Eli's Coming
One
Joy to the World
Watch Chuck Negron sing "Joy to the World" at the Jacksonville tour opener
The Association
Windy
Never My Love
Cherish
Along Comes Mary
Watch the Association perform "Windy" on June 29 in Brooklyn, NY
Gary Puckett and the Union Gap
Lady Willpower
Over You
This Girl Is a Woman Now
Woman, Woman
Young Girl
Mark Lindsay
Steppin' Out
Just Like Me
Hungry
Arizona
Good Thing
Indian Reservation (The Lament of the Cherokee Reservation Indian)
Kicks
The Turtles
She'd Rather Be With Me
You Baby
It Ain't Me, Babe
You Showed Me
Sugar, Sugar
Peaches en Regalia
Elenore
Happy Together
Encore:
Happy Together Tour Finale
Happy Together 2018 Tour Schedule (Tickets are available here and here)
Jul 12 – San Diego, CA – Humphreys By the Bay
Jul 13 – Scottsdale, AZ – Talking Stick Resort Ballroom
Jul 14 – Beverly Hills, CA – Saban Theatre
Jul 15 – Costa Mesa, CA – Pacific Amphitheatre
Jul 18 – Sacramento, CA – Calif. State Fair
Jul 19 – Medford, OR – Britt Pavilion
Jul 20 – Lincoln City, OR – Chinook Winds Casino Resort
Aug 05 – West Allis, WI – Wisconsin State Fair
Aug 08 – Effinham, IL – Effingham Perf. Ctr
Aug 09 – Kettering, OH – Fraze Pavilion for the Perf. Arts
Aug 10 – New Buffalo, MI – Four Winds Casino
Aug 11 – Manistee, MI – Little River Casino
Aug 12 – Northfield, OH – Hard Rock Live
Aug 13 – Indianpolis, IN – Indiana State Fairgrounds
Aug 15 – Nashville, TN – Ryman Auditorium
Aug 17 – Aurora, IL – Paramount Theatre
Aug 18 – St. Charles, MO – Family Arena
Aug 19 – Kansas City, MO – Muriel Kaufman Theatre
Aug 21 – Louisville, KY – Kentucky State Fair
Aug 23 – Appleton, WI – Fox Cities PAC
Aug 24 – Onamia, MN – Grand Casino Mille Lacs Event Center
Aug 26 – Deadwood, SD – Deadwood Mountain Grand Event Center

The BCB team brings you the latest Breaking News, Contests, On This Day rock history stories, Classic Videos, retro-Charts and more.

Latest posts by Best Classic Bands Staff (see all)