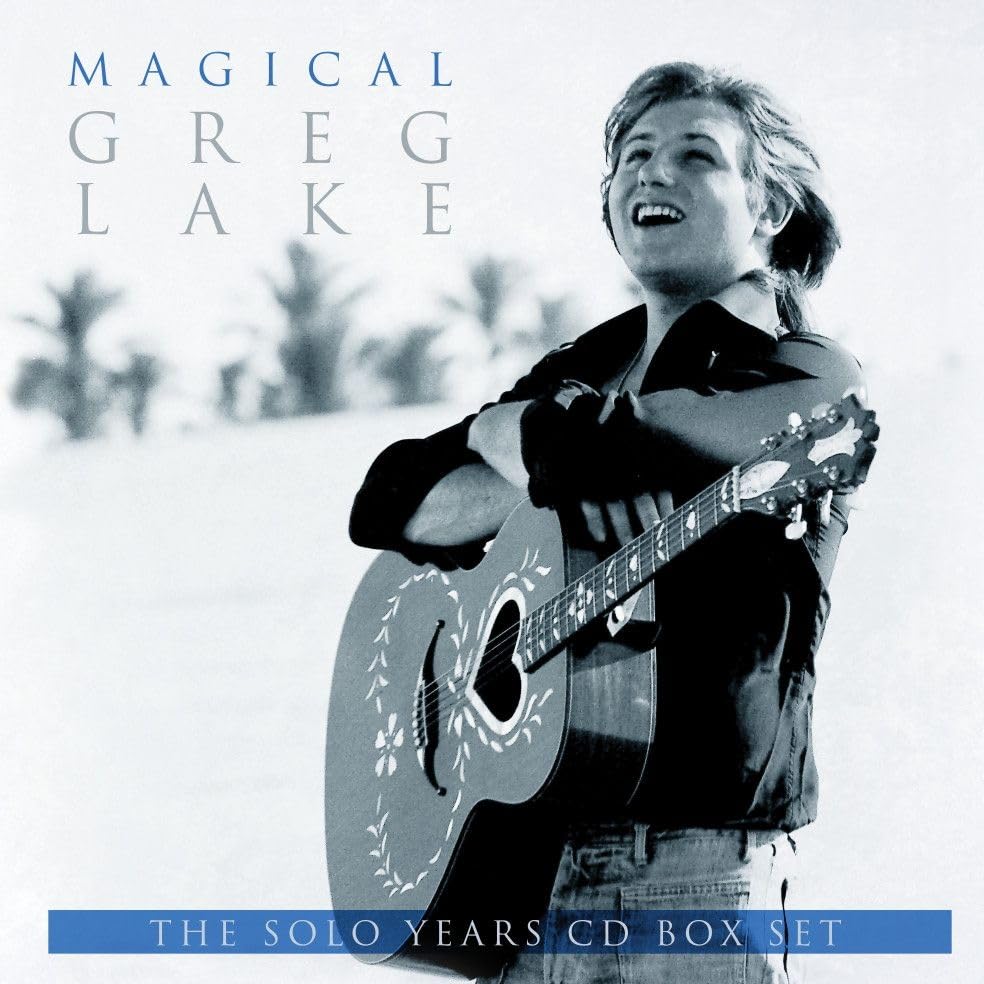 Greg Lake is the subject of a limited edition seven-disc box set, Magical. The collection, that arrived November 10, 2023, on what would have been the musician's 76th birthday, brings together his solo studio and live material for the first time, along with music from King Crimson, ELP, and Emerson, Lake & Powell, as well as collaborations with Toto, Gary Moore, Asia, Geoff Downes, Keith Emerson, and many more. It comes from Manticore Records via Spirit of Unicorn Music.
From the September announcement: While perhaps best known as the singer, lyricist, composer, bass player, guitarist and producer for one of the most significant and best-selling bands of the 1970s, Emerson, Lake & Palmer, Lake was a highly respected singer-songwriter releasing solo and collaborative material spanning four decades. He was also an incredibly in-demand musician playing with The Who, Ringo Starr and the Trans-Siberian Orchestra.
Presented in a 10" x 10" box, the limited edition seven-CD Magical has a 64-page coffee table book featuring extensive notes for each album along with unseen photos from the Lake family archive as well as sleeve notes by Jerry Ewing, editor of Prog Magazine, who speaks with many of Lake's collaborators about the musician.
Magical features Lake's two solo albums, including his hard rock-infused debut, featuring Gary Moore. Also included are two live albums, including Songs of a Lifetime where Lake covers such artists such as The Beatles and Elvis Presley as well as a stunning version of The Impressions/Curtis Mayfield classic "People Get Ready."
The set also features rare tracks and live recordings such as Lake fronting King Crimson supporting The Rolling Stones at the legendary Hyde Park show in 1968, three previously unheard performances recorded in the early 80s with Toto, along with songs from his time with Asia, Emerson, Lake & Palmer, the Greg Lake Band, Greg Lake's Ride the Tiger, Emerson & Lake and one of his first recordings fronting The Shame in 1967.
Lake died on Dec. 7, 2016, at age 69. The collection has been curated with his family's full involvement, who have opened their archive to allow for the inclusion of rare material. All the audio within the set has been mastered from the best available sources by renowned engineer Andy Pearce.
Naturally, the collection includes such classic rock favorites as "Lucky Man," "Karn Evil 9," "21st Century Schizoid Man," "I Believe in Father Christmas" and "From the Beginning." The complete track listing is below the Amazon links.
Greg Lake Magical Track List
DISC ONE: Greg Lake
Nuclear Attack
Love You Too Much
It Hurts
Black And Blue
Retribution Drive
Long Goodbye
The Lie
Someone
Let Me Love You Once
For Those Who Dare
DISC TWO: Manoeuvres
Manoeuvres
Too Young to Love
Paralysed
A Woman Like You
I Don't Wanna Lose Your Love Tonight
It is You, You Gotta Believe
Famous Last Words
Slave To Love
Haunted
I Don't Know Why I Still Love You
DISC THREE: From the Underground Vol. 1 – The Official Bootleg
Emerson, Lake & Palmer – Touch and Go
King Crimson – A Man, A City
The Shame – Don't Go Away Little Girl
Greg Lake – Medley: Still, You Turn Me On / Watching Over You
Greg Lake And Band – Daddy
Greg Lake And Band – Retribution Drive
Asia With Greg Lake – Heat of The Moment
Emerson, Lake & Powell – The Score
Shy Limbs – Love
Emerson, Lake & Palmer – Affairs of The Heart
Emerson, Lake & Powell – Learning to Fly
Emerson, Lake & Palmer – Lucky Man
Greg Lake And Band – 21st Century Schizoid Man
CD FOUR: From the Underground Vol. II – Deeper into The Mine. An Official Greg Lake Bootleg
Emerson, Lake & Palmer – Black Moon
Greg Lake's Ride the Tiger – Check it Out
Greg Lake's Ride the Tiger – Love Under Fire
Greg Lake With Toto – Cold Side of a Woman
Emerson, Lake & Powell – Step Aside
Emerson, Lake & Palmer – Preacher Blues
Greg Lake – Hold Me
Greg Lake And Band – Heart on Ice
Greg Lake's Ride the Tiger – Blue Light
Greg Lake With Toto – You're Good with Your Love
Greg Lake With Toto – You Really Got a Hold on Me
King Crimson – Epitaph
Greg Lake Band Featuring Gary Moore – Fanfare For The Common Man
CD FIVE: Songs of A Lifetime
21st Century Schizoid Man
Lend Your Love to Me Tonight
Songs Of a Lifetime Tour Introduction
From The Beginning
Tribute To the King
Heartbreak Hotel
Epitaph/The Court of The Crimson King
King Crimson Cover Story
I Talk to The Wind
Ringo And the Beatles
You've Got to Hide Your Love Away
Touch And Go
Trilogy
Still… You Turn Me On
Reflections Of Paris
C'est La Vie
My Very First Guitar
Lucky Man
People Get Ready
Karn Evil 9: 1st Impression, Pt. 2
CD SIX: Live in Piacenza
21st Century Schizoid Man
Lend Your Love to Me Tonight
From The Beginning
Heartbreak Hotel
Epitaph/In the Court of The Crimson King
I Talk to The Wind
Ringo And the Beatles
Touch And Go
Trilogy / Still… You Turn Me On
I Believe in Father Christmas
Shakin' All Over
C'est La Vie
People Get Ready
Lucky Man
Karn Evil 9 (1st Impression, Part II)
CD SEVEN: Emerson / Lake – Live from Manticore Hall
From The Beginning
Introduction
I Talk To The Wind
Bitches Crystal
The Barbarian
Take A Pebble
Tarkus
C'est La Vie
Pirates
Moog Solo / Lucky Man

Latest posts by Best Classic Bands Staff
(see all)