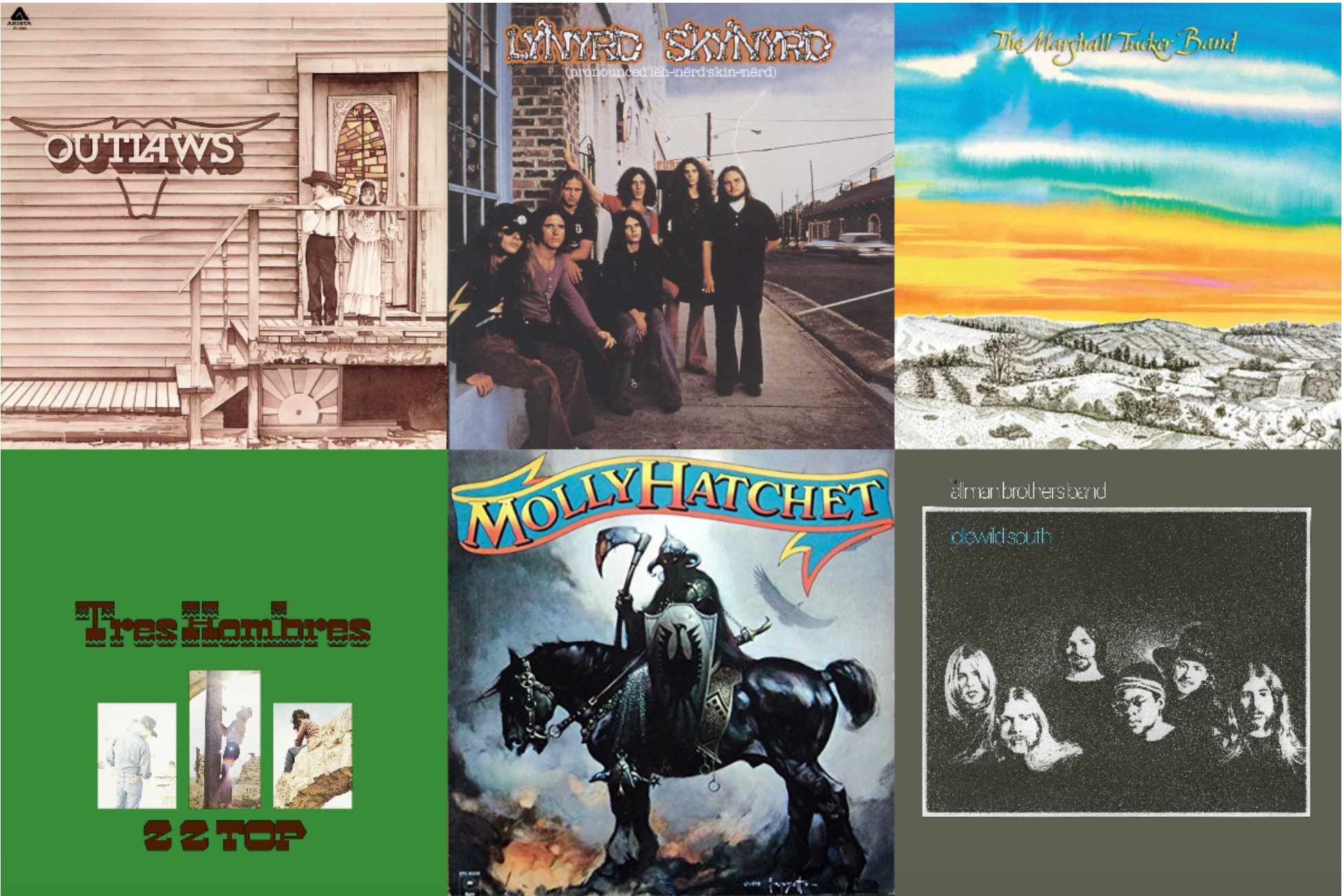 Duane Allman once famously noted that the phrase "Southern Rock" contained a redundancy. After all, he pointed out, rock 'n' roll originated in the South. Still, there's no denying that, at the turn of the '70s, a new genre of music took hold and flourished, and gave rise to legions of bands that could rightly be deemed "Southern Rockers."
Since then, lots of writers have tried to define the parameters of Southern Rock, but we think those parameters are best expressed in the music itself. Below are 11 albums from the classic-rock era that exemplify Southern Rock at its finest. Please note that, for the purposes of this list, we've confined our choices to studio albums only. We've also limited our selection to records by bands that were actually from the South.
The albums aren't ranked. Instead, we've listed them by artist name in reverse alphabetical order. You'll see why…
ZZ Top—Tres Hombres (1973)
ZZ Top's first two albums showed great promise, but it took their third album to nail the sweet spot where the energy of their live shows intersected with razor-sharp craftsmanship. Entering the studio with a clutch of great songs, the trio seemed inspired by the strength of its material. "Jesus Just Left Chicago," "Beer Drinkers and Hell Raisers" and "La Grange" represented a newfangled synthesis of fiery blues-rock and driving Texas boogie. Plus, fans on a mass scale at last got to hear why Jimi Hendrix counted Billy Gibbons among his favorite guitarists.
Related: ZZ Top is among 100s of classic rock bands in our tour listings
Wet Willie—Keep On Smilin' (1974)
Wet Willie garnered legions of fans despite scoring just one top 10 hit (the title track from this album) during their initial seven-year run. Distinguishing themselves from their label-mates the Allman Brothers Band and the Marshall Tucker Band, the Alabama-based outfit eschewed extended jams in favor of tight, Stax-flavored songwriting. Sporting an emphasis on gospel-harmony vocals and stinging funk (especially on "Soul Jones"), and spiced with the occasional country groove, Keep On Smilin' marked their finest moment.
.38 Special—Wild-Eyed Southern Boys (1981)
Starting out as pedestrian Southern Rockers, .38 Special gradually found their footing by blending arena-ready hard-rock with country-flavored melodies. Their fourth studio album, Wild-Eyed Southern Boys, marked the pinnacle of that achievement. Recruiting Survivor/Ides of March co-founder Jim Peterik to help pen the material, the band came up with a clutch of radio-friendly songs without sacrificing their homespun roots. "Hold On Loosely" (a top 40 hit), as well as good-timey tunes like "Fantasy Girl" and the title track, remain perennial favorites with Southern Rock fans.
Pure Prairie League—Bustin' Out (1972)
Pure Prairie League will forever be known mainly for their breezy country-rock hit, "Amie." Truth is, however, the band's signature song doesn't fully represent the depth and beauty of this extraordinary album. Packed with sophisticated songwriting, intricate guitar work and captivating vocal harmonies, Bustin' Out is one of those rare albums that becomes more lustrous with each listen. Guitarist Mick Ronson, who covered two Pure Prairie League songs on his second solo album, composed the record's string arrangements.
The Outlaws—The Outlaws (1975)
Hailing from Tampa, Fla., The Outlaws have the distinction of being the first band signed by Clive Davis to the Arista Records label. Mining musical terrain blazed by previous Southern Rockers, the group's debut album wedded the genre's dual-guitar tradition to a sound centered on the country side of the ledger—with splashes of bluegrass tossed in for good measure. High points include the top 40 hit, "There Goes Another Love Song," and the epic, guitar-driven classic, "Green Grass and High Tides."
Molly Hatchet—Molly Hatchet (1978)
No band presented Southern Rock in a harder guise than Molly Hatchet did. Hailing from Jacksonville, Fla., the group shared much in common with Lynyrd Skynyrd, and indeed Ronnie Van Zant was at one time slated to produce this self-titled debut. Boasting a three-guitar lineup, the band roared out of the chute with a sound that leaned more toward heavy-metal boogie than country-tinged blues-rock. Tracks such as "Bounty Hunter," "The Creeper" and a splendid reworking of the Allman Brothers Band's "Dreams (I'll Never See)" remain emblematic of Southern Rock's hard-surfaced terrain.
The Marshall Tucker Band—The Marshall Tucker Band (1973)
There was something astral and airy about the Marshall Tucker Band's brand of Southern Rock. Fitted with a laid-back country vibe, the music on their self-titled debut often centered on guitarist Toy Caldwell's facile fretwork and Jerry Eubanks' beautifully languid flute lines. Several songs boast a sophisticated jazz component as well. "Take the Highway" and "Can't You See" remain staples of classic rock radio, while "My Jesus Told Me So" is one of Southern music's most affecting gospel-rock tracks.
Lynyrd Skynyrd—(Pronounced 'Lĕh-'nérd 'Skin-'nérd) (1973)
Harder-edged, rougher-honed and far less jazzy than the Allman Brothers Band, Lynyrd Skynyrd cut straight to the heart of what Southern Rock was all about. On their striking debut, the group uncorked a smoking cauldron of propulsive guitar rock, biting blues, and country twang—all wrapped around simmering gothic tales spun by singer/lyricist Ronnie Van Zant. From the heartrending ballad "Tuesday's Gone" to the epic "Free Bird," there's not a misstep to be found. Kudos to producer Al Kooper, who applied just the right amount of burnish to the album's authentic, garage-y vibe.
Related: When a radio legend and a bottle of Jack saved a Skynyrd concert
Blackfoot—Strikes (1979)
After floundering for nearly a decade, Blackfoot hit paydirt with this under-appreciated Southern Rock classic. With former Lynyrd Skynyrd member Rickey Medlocke leading the charge, the group melded strong melodies to a hard-rock vibe, while retaining enough of their Georgia heritage to justify the Southern music tag. Tracks such as the propulsive "Road Fever" and the blues-rockin' "Train, Train" showcased the band's versatility, while the seven-minute "Highway Song" garnered favorable comparisons to Skynyrd's "Freebird."
Atlanta Rhythm Section—Champagne Jam (1978)
Originally a group of session musicians, the Doraville, Ga.-based Atlanta Rhythm Section staked out a unique spot on Southern music's soft-rock perimeter. The band's 1976 hit, "So Into You," signaled a commercial breakthrough, and with Champagne Jam the group consolidated its winning style. Notwithstanding its pop-driven hit singles—the piano-laced "Imaginary Lover" and the bouncy "I'm Not Gonna Let it Bother Me Tonight"—the album offered some surprisingly muscular moments, most notably on the hard-rocking "Large Time." It's worth noting that several country artists—including Travis Tritt and Wynonna Judd—have covered the Atlanta Rhythm Section's songs.
Allman Brothers Band—Idlewild South (1970)
A persuasive argument can be made that Idlewild South, the Allman Brothers Band's second album, constitutes ground zero for the Southern Rock movement. Applying exquisite songcraft and tight arrangements to their love of the blues, the group showcased its ensemble approach to sterling effect. The soon-to-be-classics "Midnight Rider" and "In Memory of Elizabeth Reed"—penned by Gregg Allman and Dickey Betts, respectively—served as templates for what much of Southern Rock would become, going forward. Just as important, Duane Allman's stinging fretwork helped weave the music into a cohesive fabric.

Latest posts by Russell Hall
(see all)