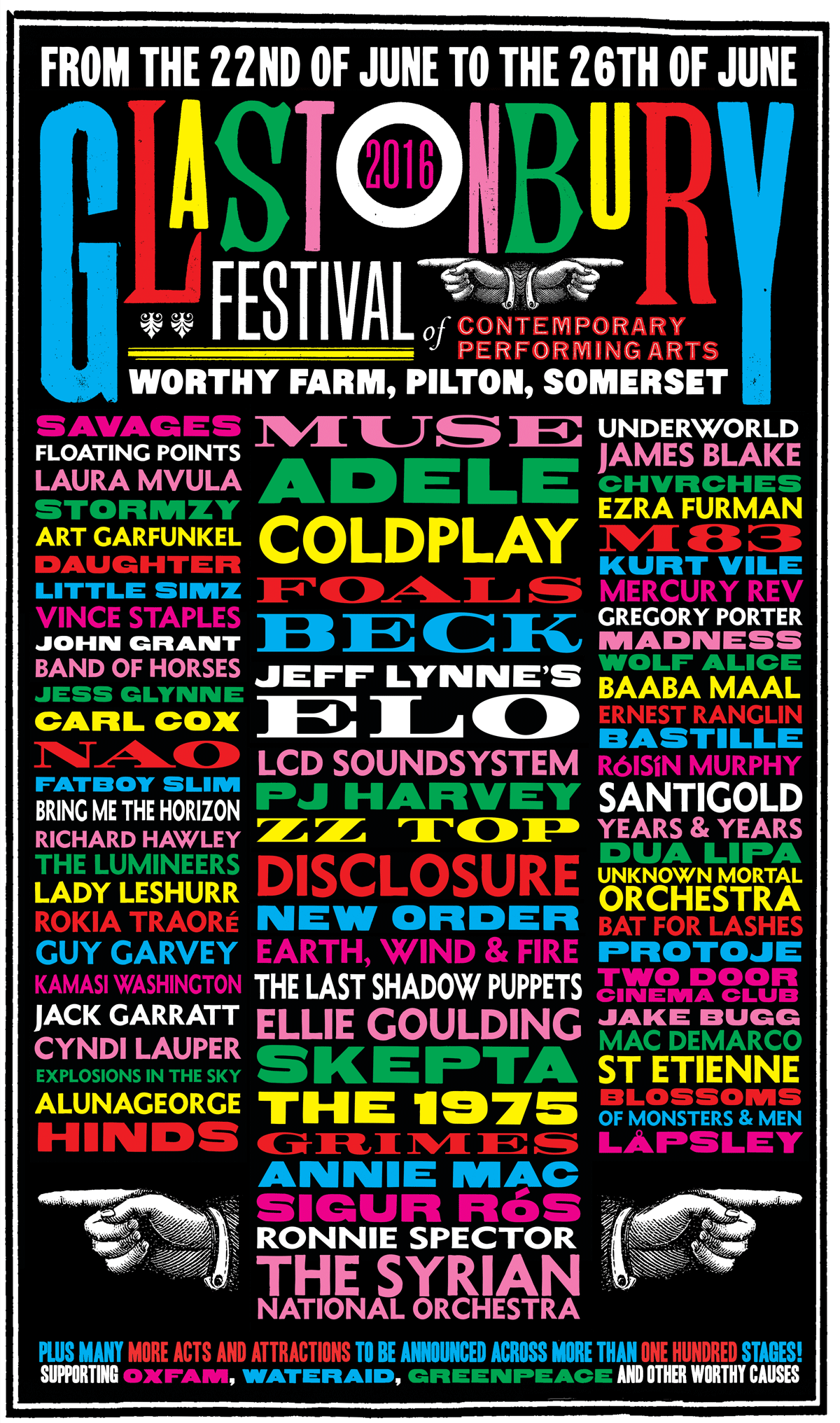 How we'd like to spend our summer vacation: Glastonbury 2016 from June 22 to 26 in rural Somerset, England offers an enticing option. One of many reasons why is its choice yet eclectic lineup, just announced, on the poster pictured here. (More have been added.)
For us classic rock types there's Jeff Lynne's ELO (sounding better than ever), longtime blues-rock reliables ZZ Top, the pop-rock melodies of Squeeze, the great voices of Paul Carrack and Art Garfunkel plus Cyndi Lauper and the scintillating soul of Earth, Wind & Fire all fall right in our stylistic pocket. But it's also the breadth of offerings that beckons: Headliners Adele, Coldplay, Muse and Beck. Blast of the past with Ronnie Spector, the terrific new psychedelic band Tame Impala, a taste of new hot-buzz singer-songwriter Jake Bugg, PJ Harvey's taut post-punk, the ska-inflected Brit-pop pleasures of Madness… we could go on.
As the fest itself says, "In many ways, Glastonbury is like loads of different festivals converging on the same gorgeous countryside for the weekend." Its spacious site, some 100 stages – it's not just a music event but a festival of "contemporary performing arts." A savory 1960s vibe pervades the event, yet its varied areas are like a countercultural cornucopia. (And nearby is Glastonbury Tor with its mystical Arthurian associations. "If in doubt, just wander," they advise. "[W]hile the Pyramid Stage will always provide the Festival's most high profile attractions, a lot of the best experiences are to be found out on the outskirts, off the beaten track and where you least expect them."
The fest began in 1970 as a 1,500 ticket outdoor concert at which T. Rex headlined. The late David Bowie topped the bill of a 12,000 capacity event the following year – and returned in 2000 – and over the years such classic acts as Paul McCartney, Oasis, Van Morrison, R.E.M., U2, The Who, Neil Young, Metallica, Stevie Wonder and others have topped its bill. Glastonbury retains its vibe by never having had a crowd over 150,000 (135K in 2015) and taking fallow years to allow the site to rejuvenate. And few places enjoy such a fair climate in June (if it isn't raining) than rural southwest England.

Latest posts by Best Classic Bands Staff
(see all)