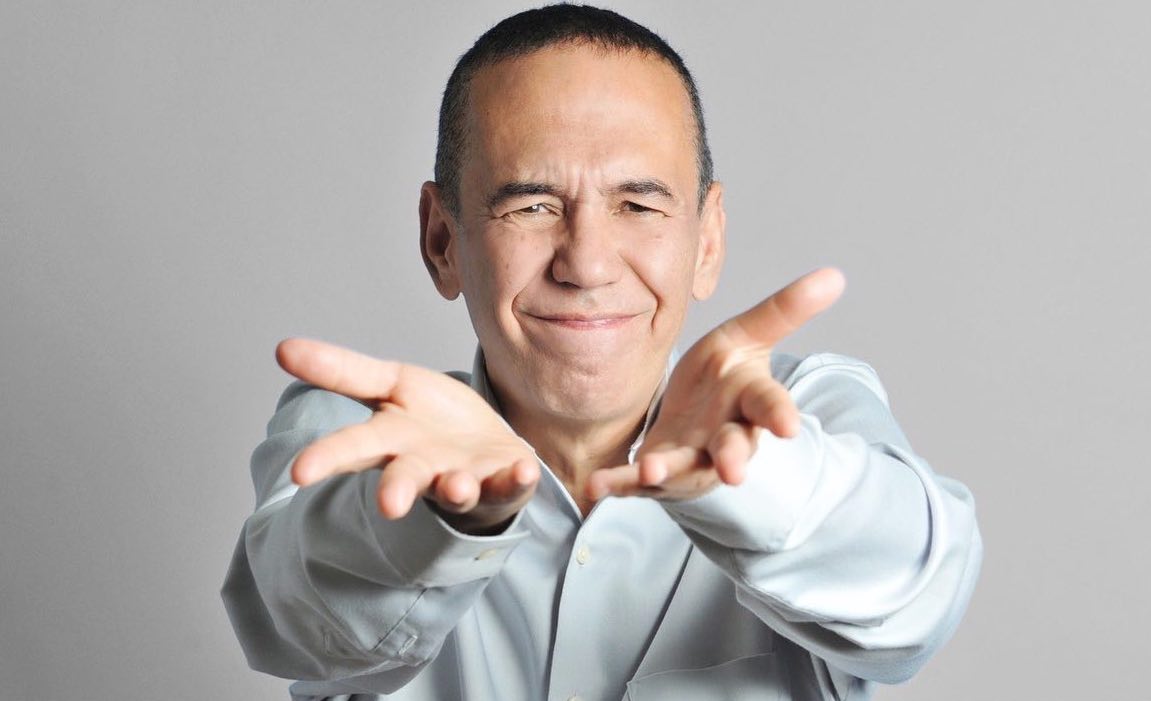 Gilbert Gottfried, the stand-up comedian known for his sharp wit, an even sharper voice and eyes that squinted when he spoke, died April 12, 2022, at 67 from a heart abnormality. The news was shared by his family. Gottfried had a memorable role in the animated Disney film, Aladdin, as the wise-cracking parrot, Iago, and as the voice of the duck in the AFLAC Insurance commercials. He was one of many comedy legends who appeared in the documentary The Aristocrats. Of his performance, Entertainment Weekly wrote, "out of the 101 comedians who appear on screen, no one is funnier – or more disgusting – than Gilbert Gottfried."
The family's entire post read, "We are heartbroken to announce the passing of our beloved Gilbert Gottfried after a long illness. In addition to being the most iconic voice in comedy, Gilbert was a wonderful husband, brother, friend, and father to his two young children. Although today is a sad day for all of us, please keep laughing as loud as possible in Gilbert's honor."
Gottfried had a heart arrhythmia, a condition called recurrent ventricular tachycardia, that causes the heart to beat faster. His wife, Dara Kravitz, shared the video of his funeral service, a celebration that featured eulogies by Susie Essman and longtime SNL writer Alan Zweibel, among others. Fellow comics and others paid tribute. See below.
Gottfried began doing stand-up at age 15 at open mike nights in New York City. He joined the cast of Saturday Night Live for the 1980-81 season, lasting just one year. MTV then hired him for a series of improvised promotional spots for the newly formed channel. This led to television appearances on The Cosby Show and Late Night with David Letterman.
Gottfried's work in television soon led to roles in film. Most notable was his improvised scene as business manager Sidney Bernstein in the 1987 box-office hit, Beverly Hills Cop II, for which the New York Daily News wrote, "Gilbert Gottfried steals the picture with a single scene."
Dozens of other film roles followed and he also became the host of the late night movie series USA Up All Night.
Caution: This Gottfried routine is very blue
Related: A fellow comic, Bob Saget, died earlier this year at 65
After his stellar performance as the wise-cracking parrot, Iago, in Aladdin, Gottfried became one of the most recognizable voiceover talents, lending his voice to several commercials, cartoons and movies, including the frustrated duck in the AFLAC Insurance commercials.
Gilbert has been a guest on The Tonight Show with Jay Leno, The Late Show with Seth Meyers, and numerous appearances on The Howard Stern Show. He also had a recurring role on Law and Order SVU as tech Leo Gerber.
In addition, Gottfried, a classic movie lover, was a guest programmer on TCM. He mock-complained to TCM host Robert Osborne that choosing only four films out of all those available was "the worst homework assignment ever!"
Gilbert Gottfried Dirty Jokes was released on both DVD and CD, featuring 50 non-stop minutes of Gottfried telling jokes, filmed live at the Gotham Comedy Club in New York City.
In 2017, Gilbert the documentary premiered at the Tribeca Film Festival. Director Neil Berkeley's Gilbert reveals an unexpected side to the iconic comedian. The personal story is about growing up in Brooklyn and becoming a husband and father late in life.
Gottfried tweeted this on January 21, following the deaths of fellow comics Bob Saget and Louie Anderson.
This photo is very sad now. RIP Bob Saget and RIP Louie Anderson. Both good friends that will be missed. pic.twitter.com/DLJ8Ntt7LN

— Gilbert Gottfried (@RealGilbert) January 21, 2022
Nobody was funnier than @RealGilbert on a roll. He could put you into convulsive hysterics. He was also the sweetest man. His podcast is a comedy treasure. What a terrible loss. Sending my condolences and love to Dara and his family. https://t.co/qdZQV1A6sC

— Judd Apatow (@JuddApatow) April 12, 2022
Gilbert Gottfried made me laugh at times when laughter did not come easily. What a gift. I did not know him well but I loved what he shared with me. My best wishes and sympathy to his family. #ripGilbertGottfried

— jason alexander (@IJasonAlexander) April 12, 2022
Actor Mark Hamill wrote, "He was a unique voice in comedy on so many levels. Unpredictable, one-of-a-kind, hilarious & irreplaceable! Thank you for the lifetime of laughs, sir."
RIP Gilbert. Opening for Gilbert Gottfried at Carolines and Princeton Catch was one of the great thrills of my early stand up life. He could leave you gasping for breath…just indescribably unusually hilarious…Damn.

— Jon Stewart (@jonstewart) April 12, 2022
❤️❤️❤️❤️❤️ pic.twitter.com/Tdy7LLvjO8

— MichaelRapaport (@MichaelRapaport) April 12, 2022
Big loss to the world of comedy. Gilbert Gottfried has left us. Fearless and hilarious!!! A truly lovely man, loved by all in comedy. May his memory be a blessing to his family, his friends & all he made laugh!

— Al Franken (@alfranken) April 12, 2022
Sad to hear our friend, Gilbert Gottfried, passed away today… He will be sorely missed.💔 #ripGilbertGottfried pic.twitter.com/vvNXGkO2wu

— Micky Dolenz (@TheMickyDolenz1) April 12, 2022
Gilbert Gottfried made me laugh so hard that day on set, I could barely do my job. A wholly original comic, and an equally kind and humble guy behind the scenes. He will be missed. https://t.co/93cKB6KEg8

— Seth MacFarlane (@SethMacFarlane) April 12, 2022
Related: Musicians and other celebrities we lost in 2022

Latest posts by Best Classic Bands Staff
(see all)