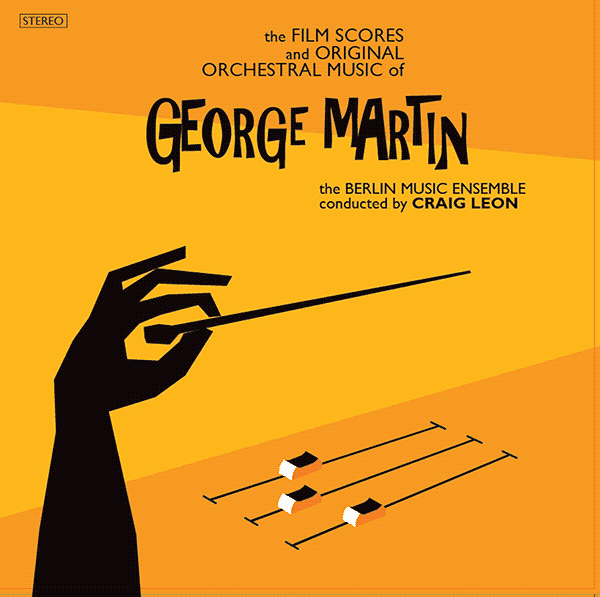 He was, of course, the producer who helped bring The Beatles' recordings to life, but the late George Martin was also a talented composer and arranger in his own right. Now, Martin's major orchestral works and film scores are being released, as recorded by the Berlin Music Ensemble, conducted by Craig Leon.
The album features Martin's original music from the films Yellow Submarine, Live and Let Die and the previously unrecorded choral and orchestral score for The Mission together with the Overture to Under Milk Wood, the suite "Three American Sketches" for violin and chamber orchestra and other previously unreleased original compositions.
Pre-order the album here.
Newly recorded at the the Meistersaal, Berlin, by Emil Berliner Recording, the project will be released on November 10 in CD and digital download formats. Furthermore, in January, to celebrate Martin's birthday, the vinyl will be released as a deluxe 2-LP set, pressed on heavyweight vinyl, housed in a varnish-finish, gate-fold sleeve complete with download codes. A special limited edition that contains a reproduction print of a signed handwritten score of a newly discovered work by Martin, "Belle Etoile," which features on the album, will be available exclusively via the Atlas Realisations webshop.
Watch the trailer for the project
The Album
Craig Leon first met George Martin in 1974 when he was asked to mix singles for the American market for the album Pinafore Days by the U.K. band Stackridge, which is one of Martin's more obscure productions.
In 2015 Leon was asked to join the team working on a book of Martin's manuscript scores, due to be published in 2018. This provided him with the opportunity to study first-hand the majority of the output of Martin's orchestral career, both as an arranger and as a composer.
Notes Leon, "I had had sight of some of the scores whilst George was still alive and it was an honor to be asked to work on this project. I was struck by the elegance and unity of style that carried over in all of George Martin's musical efforts, regardless of whether it was a pop or jazz arrangement, a film score or a concert composition. Longtime George Martin manager Adam Sharp and I agreed that it was a wonderful opportunity to provide an overview of this body of original work and to frame it in an album that would showcase the diverse talents of this major figure in recorded music. We also found several pieces tucked away in with the other scores that had not been previously commercially available. I wanted to record them to paint a fuller picture of Martin's output. George Martin never became 'the next Rachmaninov' as he originally set out to do in his youth but he achieved something that, to me, was equally, if not more, important. He became an integral part of the process of breaking down the barriers between pop, film and classical music that thankfully exist less and less as part of our musical culture."
Related: Read a "lost" interview with George Martin
Track Listing
1-5 The Pepperland Suite (Original Music Written for the Film 'Yellow Submarine')
6-9 Live and Let Die Suite (Original Music Written for the Film 'Live And Let Die')
10-12 Three American Sketches for Violin & Chamber Orchestra
13 Judy's Theme
14-16 Under Milk Wood Overture (Incidental Music to 'Under Milk Wood' by Dylan Thomas)
17 Belle Etoile (* First Recording)
18 Waltz in D Minor for Flute & Chamber Orchestra
19 Prelude for Strings
20-29 The Mission Chorales (* First Recording of the Original Sketches written for the film 'The Mission')
Listen to "The Pepperland Suite" (First Movement)

Latest posts by Best Classic Bands Staff
(see all)