In early 1962, George Martin collaborated with BBC Radiophonic Workshop's Maddalena Fagandini to create and record two pioneering electronic instrumental tracks, "Time Beat" and "Waltz in Orbit." Under the artist pseudonym Ray Cathode, the tracks were released that April as a Parlophone single and B-side, just weeks before Martin met and recorded The Beatles for the first time. Bridging six decades of electronica, George Martin Music has partnered with dublab, a non-profit online radio station broadcasting out of Los Angeles, to release a very limited run of 100 numbered 12-inch vinyl EPs pairing the two songs, newly remastered by Craig Leon, with contemporary remix reinterpretations by SPARKLE DIVISION and Drum & Lace. The announcement of the release was made on March 9, 2021, one day after the fifth anniversary of Martin's passing.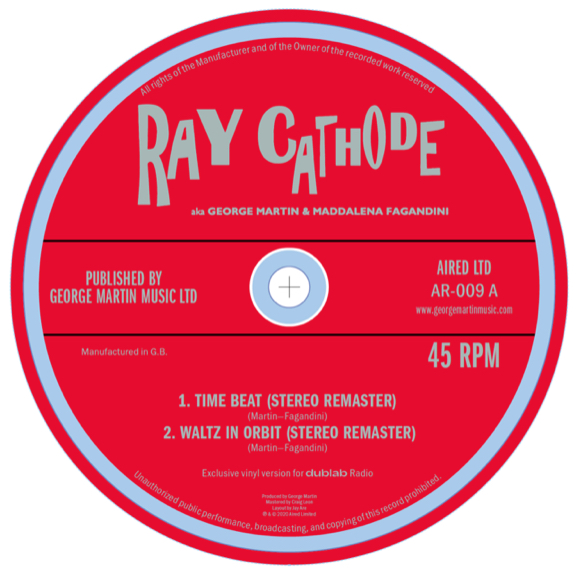 Cut at Finyl Tweek and pressed at The Vinyl Factory, the collectible EP will be released on May 1, 2021, and sold exclusively by dublab, with all proceeds benefiting dublab's nonprofit community radio programming and mission.
The premium (#1-10) edition is available here.
The remaining batch (#11-100) are here.
During Martin's storied seven-decade career, the venerated producer, composer, and music executive actively nurtured his lifelong fascination with sound. From his first hit recordings, he would experiment in the studio, using the room and its equipment, playing with different tape speeds, acoustics, reverse echo, backward recording, music concrète, and other forward-looking techniques. Martin's working base since 1950, EMI's Abbey Road Studios, was light on electronics at the time, but only a short walk away from the innovative BBC Radiophonic Workshop. There he met fellow audio experimentalists who were making soundscapes for television shows from nascent electronic hardware they'd made or acquired long before the emergence of anything recognizable as similar. At the Workshop, every sound was made laboriously by hand.
The then-36-year-old Martin teamed up with the Workshop's Fagandini for a commercial experiment. Under the pseudonym Ray Cathode, the two audio pioneers created a brace of tracks: the first with Martin providing the manmade melody alongside Fagandini's electronically created rhythm, and a second for which they switched roles. Sounding like nothing else of the time, "Time Beat" and "Waltz in Orbit" drew a great deal of interest upon their release.
Listen to "Time Beat"
Also notable as the first commercially released recordings from the BBC Radiophonic Workshop, the Ray Cathode tracks heralded the dawn of electronica.
Listen to "Waltz in Orbit"
The Parlophone Records executive famously met with Beatles manager Brian Epstein in 1962 after all other British record labels had passed on the quartet. Martin signed them soon after. He always maintained that it was his early career experimentation, including Ray Cathode, that helped him in his work as The Beatles' producer to meet the band's constant need for new sounds and effects. Fagandini continued creating electronic music and sounds, including jingles and interval signals, at the BBC Radiophonic Workshop until 1966, when she moved into her successful career as a television producer and director.
Martin and Fagandini's pioneering use of synths on "Time Beat" is carried forward in the song's Drum & Lace remix, using some of today's innovative recording technology. For SPARKLE DIVISION's remix of "Waltz in Orbit," the 1962 recording is a launching point for their own creation of something different and individual, but firmly rooted in the techniques and spirit of the original.
SPARKLE DIVISION is the dynamic jazzy side project of ambient legend William Basinski and LA producer extraordinaire, Preston Wendel, aka Shaia Taint. Their debut album, To Feel Embraced, was released by Temporary Residence Ltd. in 2020.
Drum & Lace, aka Sofia degli Alessandri-Hultquist, is an Italian composer and performer who creates music for film and media. Raised in Florence, Italy she relocated to Los Angeles after receiving her undergraduate degree from Berklee College of Music (Film Scoring & Composition) and a master's degree (Music Technology & Composition) from New York University. Her composition work includes writing for various mediums, amongst them film, TV, dance, theater, fashion, and advertising. Recent soundtrack works have been the upcoming film Cobwebs and the TV series, Good Girls and Dickinson.
Over the past 18 years dublab.com has been acclaimed as one of the world's premier Internet radio stations. Dublab is a community supported organization funded through contributions and underwriting from individual donors and groups from around the world, including the Department of Cultural Affairs, and the National Endowment for the Arts, among others.

Latest posts by Best Classic Bands Staff
(see all)