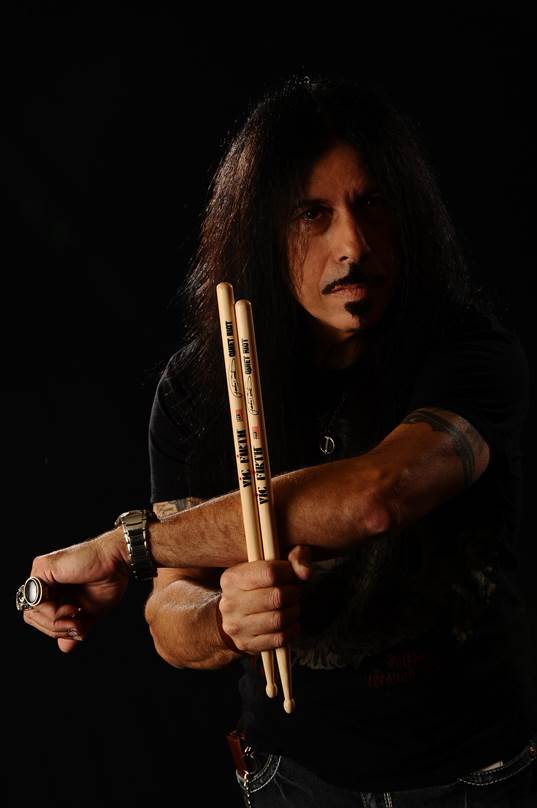 As the news of the passing of Frankie Banali broke on Friday afternoon, many of his fellow classic rockers paid tribute to the longtime Quiet Riot drummer. Banali died August 20 after a long battle with pancreatic cancer. Those mourning include members of Quiet Riot, Deep Purple, Poison, Cinderella, and more.
One prominent rocker wrote, "When we hear the heavens thunder we will know it came from you."
Though Banali was not an original member of Quiet Riot when they formed in 1973, he was a force in their most commercially successful lineup when he joined Kevin DuBrow, Carlos Cavazo, and Rudy Sarzo in 1982, performing on such hits as 1983's "Metal Health (Bang Your Head)" and "Cum On Feel the Noize," and 1984's "Mama Weer All Crazee Now." (The latter two were covers of Slade songs.)
Sarzo wrote, "My hero [and] mentor, Quiet Riot brother Frankie Banali, is now resting in peace and pain free. I will post a follow up in days to come as [I] try to process this unmeasurable loss."
So very sad that my brother Frankie Banali, passed away last night.
Frankie played drums on the the Hughes: Thrall album . There was
no one more loyal honorable courageous and committed than Frankie.
Words cannot express how I feel. Let's all share the love for Frankie
🧡🕊🙏 pic.twitter.com/OkdQhemvW3

— Glenn Hughes (@glenn_hughes) August 21, 2020
Wow. What a day. So sad to hear about the loss of @FrankieBanali. He fought hard until the end. His playing and rock 'n' roll spirit will live forever. A fellow New Yorker, Frankie was the real deal. RIP my friend.
"Take me away from all this death."

— Dee Snider (@deesnider) August 21, 2020
Banali, 68, was in treatment since spring 2019 and completed his 19th round of chemotherapy earlier this year.
Deepest Sympathy to the Frankie Banali family and fans all over the world. When we hear the heavens thunder we will know it came from you. Great musicians never die….
RIP FRANKIE 💔🤘💫 pic.twitter.com/66NGdYpd6I

— Lita Ford (@litaford) August 21, 2020
Saddened to hear that @FrankieBanali has passed away. Not only was he a talented drummer/musician but also a great human being. He will be missed. Condolences, love & prayers to his family and friends.#RIPFrankieBanali pic.twitter.com/V94mjgVkNI

— Tom Keifer (@TomKeiferMusic) August 21, 2020
Kathy Valentine of the Go-Go's wrote, "Sad loss to the rock n' roll community today. Condolences to his wife, daughter, friends, family and fans."
My deepest condolences to the family & friends on the loss of @FrankieBanali.

— Bret Michaels (@bretmichaels) August 21, 2020
Frankie Banali The heavy hitter that brought the heartbeat and the beginning of heavy metal in popular music has passed.
You will be missed my friend….
Fly high 🙏
Photo by Wayne Perez pic.twitter.com/cH3Uzt1qcg

— Mark Slaughter (@markslaughter33) August 21, 2020
The members of Foghat wrote in part, "What an incredible drummer and what a valiant battle he fought against pancreatic cancer. Rest in peace Frankie."
Frankie Banali was not only a great musician and powerful person to meet, he had a big heart and was so brave until the end. I was very sad to hear of his passing along with the world of Rock n' Roll. Here's a 2015 photo with his dear friend and bandmate Rudy Sarzo, RnR F Camp. pic.twitter.com/VtYcrvZMDa

— Bruce Kulick (@brucekulick) August 22, 2020

Latest posts by Best Classic Bands Staff
(see all)