'Slowhand' Revisited: Eric Clapton's 1977 Platinum Balancing Act
by Sam Sutherland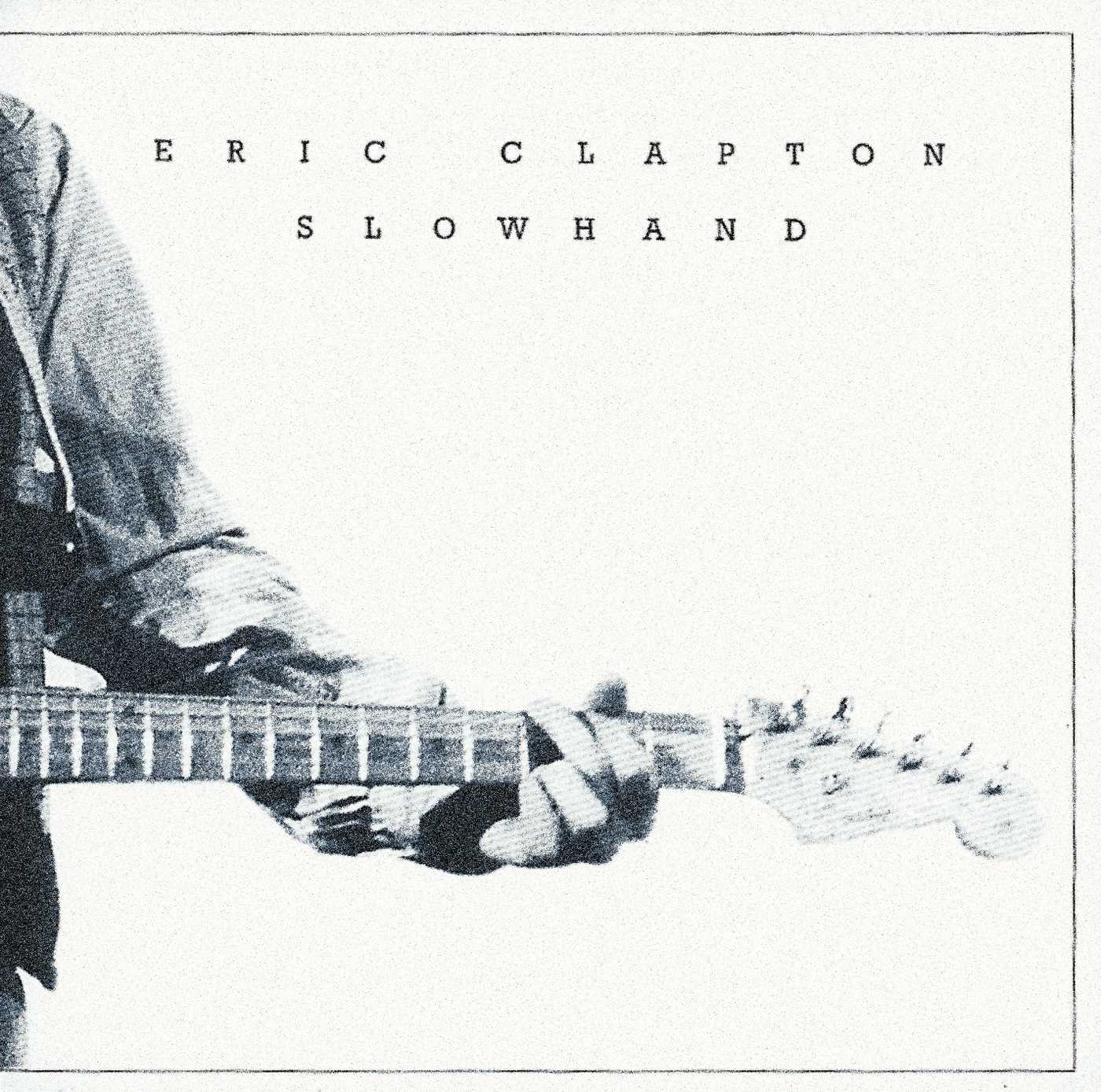 On his fifth solo studio album, Slowhand, Eric Clapton fine-tunes a template sketched persuasively three years earlier on 461 Ocean Boulevard: Rely on a tight band, buttress his own modest original songs with smart cover choices, and reach beyond his home base of electric blues to tap adjacent styles from pop to country to reggae.
Like that album, 1977's Slowhand offers a lucid balance of technical mastery and artistic modesty. The band, originally assembled for Ocean Boulevard's Miami sessions, includes second guitarist George Terry, bassist and fellow Dominos alum Carl Radle, keyboard player Dick Sims, drummer Jamie Oldaker and backing vocalists Yvonne Elliman and Marcy Levy, a low-keyed lineup when compared to the A-list guests Clapton had featured on his previous long-player, No Reason To Cry. His deep admiration for The Band had led him to record that LP at their Malibu studio, where all five members of the quintet and their ex-boss, Bob Dylan, were invited aboard, along with at least a dozen more veteran players including Ron Wood, Georgie Fame, Billy Preston and Jesse Ed Davis, outnumbering and ultimately eclipsing Clapton's own band and, to a degree, Clapton himself.
In the wake of that album's mixed reception, Clapton enlisted producer Glyn Johns to restore focus on the front man, recording in London's Olympic Studios. By then, Johns' CV was impeccable, his early board work behind the Beatles and the Rolling Stones and subsequent production credits with The Who, the Eagles and Steve Miller confirming complementary skills as diplomat and cutting-edge engineer. Johns' stated distaste for long jams also dovetailed with Clapton's critical stance on mere grandstanding. While the artist and producer would allow for incendiary solos, a sense of editorial economy prevails on these tracks, as does a conscious effort to offset the album's sharper rock edges with unabashed pop elements.
Related: Our Album Rewind review of Clapton's Rainbow Concert
That compromise looms on the original LP's first side, which leads off promisingly with Clapton's take on J.J. Cale's "Cocaine." A tough-minded, medium tempo rocker, the song stalks its subject with coiled guitar figures and a strutting rhythm section punctuated by Jamie Oldaker's ringing cymbal taps. That Clapton, now recovered from a heroin addiction while still battling lesser chemical demons to a draw, intended the song as a warning was explicit in interviews; that many fans missed its cautionary agenda and heard, instead, an ode to white powder was rooted in the drug culture of that era and the dangerous romance of life in the fast lane. As it was, Clapton may have left heroin behind but both he and Glyn Johns would recall the Slowhand sessions as well-lubricated by alcohol and softer drugs.
"Cocaine" reaffirmed Clapton's undimmed power as a rocker, but the album's next two tracks took a sharp right turn toward pop, especially on "Wonderful Tonight," a languid valentine to Pattie Boyd, whom he had wooed away from her husband and his BFF, George Harrison. The song is a soft-focus hymn to romantic bliss framed by sighing guitar lines and crooned by Clapton in a voice far removed from the tormented howl unleashed seven years earlier on "Layla," his desperate declaration of his feelings for Boyd while still married to Harrison. That fans of the latter epic might blanch at the laid-back reverie of "Wonderful Tonight" is hardly surprising.
Released as a single, "Wonderful Tonight" would see international success, peaking at 16 in the U.S., where it would ultimately achieve gold record status.
Slowhand wastes no time in clinching its mainstream appeal by following that radio-friendly ballad with an even more successful pop-rock hit, "Lay Down Sally," co-written with Marcy Levy and George Terry, a breezy shuffle clearly influenced by J.J. Cale that revels in the two guitarists' nimble picking and creamy backing vocals from Levy and Yvonne Elliman. (Cale's "Tulsa Sound" amalgam of country, blues, rockabilly and jazz had already caught Clapton's ear and invited his cover of Cale's "After Midnight," a highlight on 1970's Eric Clapton.)
Watch "Lay Down Sally" performed at the Crossroads Festival in Madison Square Garden in 2013 with Vince Gill, Andy Fairweather Low and Doyle Bramhall Jr.
Where "Lay Down Sally" proves a slight but infectious charmer, Clapton follows a more oblique path on "Next Time You See Her," a double-edged salute to an ex-lover addressed to a current beau that sheathes its underlying menace in a loping, country-fied arrangement. Lyrics signaling the singer's continued affection ("Next time you see her, tell her that I care…") give way to glimpses of unresolved passion and lethal jealousy ("If you see her again, I will surely kill you…") in a darker variation on Clapton's recurring preoccupation with star-crossed affairs of the heart.
That track may boast Clapton's subtlest lyrics on the set. Less coherent lyrically but more musically powerful is "The Core," a galloping eight-minute rocker that stands as a mission statement of sorts, reeling off inner conflicts between love and hate, fever and fury, anger and worry in a lyrical stream of consciousness. Far more eloquent are Clapton's and Terry's guitars, bobbing and weaving against each other, Sims' lean organ figures, and the interlocking syncopations in Oldaker's crisp drumming and Radle's in-the-pocket bass lines.
Related: After inexplicably dropping the song from his setlists in 1978, "The Core" returned in 2018
In the aftermath of "The Core," Clapton's gently lilting cover of the late John Martyn's "May You Never" offers a soothing balm in a hymn to friendship that feels like a benediction. Elsewhere on the set, Clapton draws from mellow country crooner Don Williams for "We're All the Way" and Arthur "Big Boy" Crudup for "Mean Old Frisco," sustaining the guitar hero's career-long reverence for the blues, even as his overall design suggests a more mainstream pop sensibility. Such moderation succeeded in making Slowhand, released in mid-November 1977 [other sources say it was Nov. 25], his best-selling studio album to date, earning triple platinum status and an album chart peak of #2 in the U.S.
For an artist who famously fled the Yardbirds in 1965 when their breakout single hit, "For Your Love," veered too far into pop for his taste, Eric Clapton's solo outings would continue to synthesize other styles through and around the blues, particularly in his sleek late '80s collaborations with Phil Collins. Clapton would eventually rekindle a more dominant blues style in the '90s, partly in a retrospective mood rewarded on his MTV Unplugged sessions and album, partly through personal tragedy with the accidental death of his four-year old son, Conor, in 1991.
Whatever the motives, the self-proclaimed "journeyman" (as he titled his final '80s studio full-length) would explore more personal collaborations with B.B. King and J.J. Cale, devote entire studio sets to purer blues (1994's From the Cradle and 2004's twin Robert Johnson homage albums) and launch his recurring Crossroads Festival guitar summits.
Watch Clapton perform "Cocaine" at the Royal Albert Hall in 2015
When Clapton performs, tickets are available available here and here.

Latest posts by Sam Sutherland
(see all)