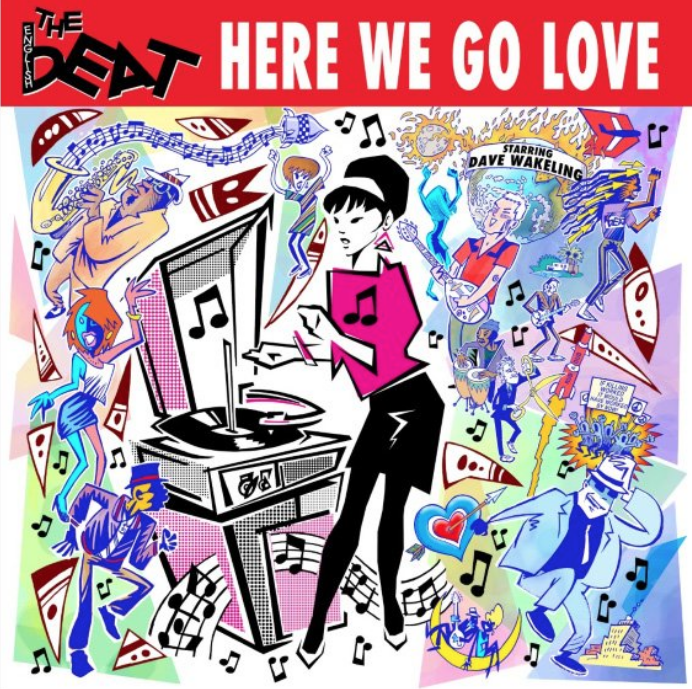 The English Beat, starring Dave Wakeling, will release their first studio album since 1982 on June 15. Here We Go Love is a brand-new collection of 13 songs that, according to a press release, "have their feet in the here and now, but lose none of the fire and frenzy of those timeless immediate classics that made the band's name." The album has been crafted over the last two years in between breaks from touring.
Says the release, "Wakeling's ability to create a nagging pop hook is undimmed, as too is his political edge. Blending wit and wisdom, and of course ska, punk, soul, reggae, pop and anything else that came to hand in the melting pot that was late '70s Birmingham, the English Beat were ahead of the time and creating a hybrid sound that came in part to define their times. With five Top 10 singles to their name, their first two albums Just Can't Stop It and Whap'pen both bounded to #3 in the U.K. charts and their rise continued to the point where they could fill arenas across America. They were, as vocalist, guitarist and songwriter Wakeling recalls, 'An incongruous set of people from all different cultures and upbringings.' When the Birmingham sextet first hit the charts in 1979, joint-frontman Ranking Roger was just 16 years old while saxophonist Saxa, who had played with the likes of Desmond Dekker and Prince Buster, was pushing 50.
Related: Jamaican music legend Prince Buster dies
The album includes contributions from special guests Roddy "Radiation" Byers of the Specials and the Skabilly Rebels, Train guitarist Luis Maldonado and backing vocalists Durga McBroom, Kevin Williams and Jelani Jones. Wakeling even sought input from the English Beat's late saxophonist Saxa. "Although encumbered by a tendon injury that meant he couldn't play, he hummed some saxophone melodies thatWakeling incorporated into the album to maintain a taste of his musical flavor," says the press release. Pre-order it here.
Track Listing
1. How Can You Stand There?
2. The One And The Only
3. Redemption Time
4. If Killing Worked
5. Here We Go Love
6. Never Die
7. The Love You Give
8. You Really Oughtta Know
9. You're Stuck
10. Every Time You Told Me
11. Dem Call It Ska
12. Drive Her Away
13. Be There For You
Listen to "How Can You Stand There?" from the new album
Tour Dates
May 4 Saint Rocke (Hermosa Beach, CA)
May 11 Libbey Bowl (Ojai, CA)
May 12 The Canyon Santa Clarita (Santa Clarita, CA)
May 18 The Coach House (San Juan Capistrano, CA)
Jun 21 The State Theatre (Falls Chuck, VA)
June 22 Underground Arts (Philadelphia, PA)
June 24 The Bell House (Brooklyn, NY)
July 6 The Metro (Chicago, IL)
July 7 The Kent Stage (Kent, OH)
July 11 The Slowdown (Omaha, NE)
July 13 The Gothic (Denver, CO)
July 16 The Complex (Salt Lake City, UT)
July 18 Park (Salem, OR)
July 19 Irvine Regional Park (Irvine, CA)
Aug 4 Pershing Square (Los Angeles, CA)
Aug 7 The Chicken Box (Nantucket, MA)
Aug 8 The Chicken Box (Nantucket, MA)
Aug 9 Payomet PAC (Truro, MA)
Aug 10 Ocean Mist (Kingstown, RI)
Aug 17 The Boardwalk (Santa Cruz, CA)
More dates to be announced
Watch the English Beat perform "Tenderness" in early 2018

Latest posts by Best Classic Bands Staff
(see all)