The definitive chronicle of Elvis Presley's mythic 1970 marathon sessions with the "Nashville Cats" has been released by RCA/Legacy Recordings. From Elvis in Nashville, a 4-CD collection with rare and unreleased outtakes, arrived on Nov. 20. (A highlights package is available in a 2-LP edition.) Listen to several of the performances below.
From the Aug. 7 announcement: Recorded live in RCA's Studio B in Nashville over the course of an epic five day/night run in June 1970 (with an additional session on September 22), Elvis' performances from those sessions formed the core of three of his most successful studio album releases from the 1970s: Elvis: That's the Way It Is, Elvis Country (I'm 10,000 Years Old) and Love Letters from Elvis.
On From Elvis in Nashville, Presley's studio tracks from the 1970 marathon sessions are presented in pristine audio, newly mixed by acclaimed engineer Matt Ross-Sprang (John Prine, Jason Isbell) without the added overdubs or orchestration appearing on earlier releases.
"When you peel off these layers of additional music so you get down to what it sounded like in the studio, you can hear what every one of these six musicians played. Those are the hippest cats in Nashville in 1970," says Sony Music's Ernst Jorgensen.
Watch a mini documentary on the making of the collection
A rollicking cut, recorded June 7-8, 1970, of Elvis' rendition of "I Washed My Hands in Muddy Water," a country classic penned by Cowboy Joe Babcock, was released in advance of the collection.
At the close of the 1960s, Presley reestablished himself as a musical and cultural force to be reckoned with. His electrifying Elvis '68 Comeback special made television history and his long-awaited return to non-soundtrack recordings–captured at Chips Moman's American Sound Studio in Memphis, Jan.-Feb. 1969–yielded major chart hits including "In The Ghetto," "Don't Cry Daddy," "Kentucky Rain," and the King's final #1 single, "Suspicious Minds," as well as a pair of 1969 album releases, From Elvis In Memphis and the studio/concert hybrid From Memphis to Vegas/From Vegas to Memphis.
For his first recordings of the 1970s, Elvis revisited the blueprint that made his American Sound sessions so successful. Because he hated doing overdubs, he wanted to cut loose live in the studio with a band in sync with his sensibility. Freed from obligations to music publishers, Elvis was able to pick and record songs that were contemporary, relevant and meaningful to him, from covers–including his transcendent interpretation of "Bridge Over Trouble Water"–to the epic material then powering his Las Vegas residencies and return to live performing. (In 1970 alone, Elvis performed two-month-long engagements at the International, playing two shows a night.)
If the American Sound recordings in Memphis opened the door for Elvis' return to the stage and top of the charts, his next recordings–the fabled 1970 Marathon Sessions–would lay the groundwork for another revolution in pop music. Under the direction of producer Felton Jarvis, Elvis joined forces with one of the most potent studio ensembles ever assembled to create an often underrated chapter in Presley's rich legacy.
More info and songs below the links.
In June 1970, Elvis–who'd upended country music radio in the 1950s when he introduced rock 'n' roll music to the mainstream–returned to RCA Studio B to create a new sound for a new decade. From 1958-1971, Elvis recorded more than 200 tracks at Studio B, beginning with five songs–including "A Fool Such As I"– before shipping off to Germany with the U.S. Army in September 1958; he recorded Elvis Is Back!, his first post-army album, at Studio B in March-April 1960. For his 1970 Nashville sessions, Elvis was able to handpick his own repertoire and, delve into the rich variety of American music in his marrow, combining elements of bluegrass, honky tonk, Western swing and the rockabilly he'd virtually invented with contemporary pop, ballads and epic showstoppers. Bringing a fresh and vital new approach to pop and country music, Elvis' performances on From Elvis In Nashville presaged and encompassed emerging trends from countrypolitan and Americana to outlaw country.
Listen to alternate takes of "Patch it Up" and "Faded Love"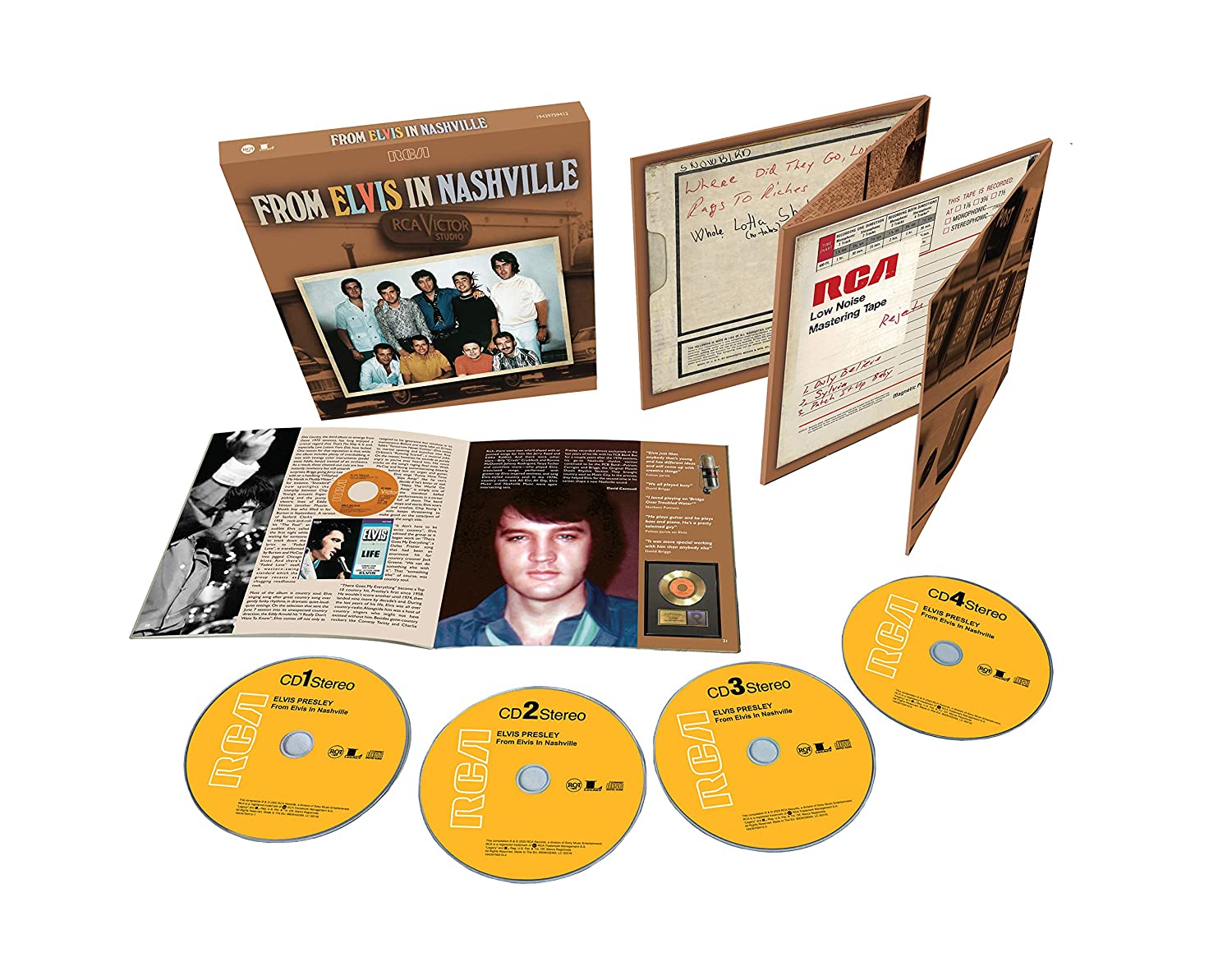 These sessions are widely recognized as among Elvis' best because of the undeniable chemistry with his astonishing studio band comprised of multi-instrumentalist Charlie McCoy (whose resume includes Bob Dylan's Highway 61 Revisited, Blonde On Blonde, John Wesley Harding and Nashville Skyline as well as work with Paul Simon, Tanya Tucker, Bob Seger, Willie Nelson and many more); bassist Norbert Putnam (Roy Orbison, Al Hirt, Henry Mancini, Dan Fogelberg, Linda Ronstadt, J. J. Cale, Tony Joe White, more); and pianist David Briggs (who's worked with Dean Martin, Joan Baez, Nancy Sinatra, B.B. King, Johnny Cash, Dolly Parton, Waylon Jennings, Tony Joe White, George Harrison, Todd Rundgren, Roy Orbison, The Monkees, J. J. Cale, Kris Kristofferson, Alice Cooper, among others). Known colloquially as the "Nashville Cats," this finely honed studio ensemble connected the worlds of pop, rock and country music. For the June sessions, Elvis brought in his longtime on-stage guitarist James Burton; Eddie Hinton–who, like Putnam and Briggs, was part of the Muscle Shoals Rhythm Section–played lead guitar on Elvis' September 22 session. Elvis plays acoustic guitar throughout the June sessions.
Listen to several takes of "Mary in the Morning"
The five-day "marathon" sessions—with work starting in the early evening and continuing until dawn—yielded a wide variety of material including a spirited rendition of Willie Nelson's "Funny How Time Slips Away."
Watch the lyric video for "Funny How Time Slips Away"
Other highlights include the heartrending "I've Lost You," a powerful take on Simon & Garfunkel's "Bridge Over Troubled Water," and a new version of "Love Letters," which Presley first cut in 1966. A wild, single-take version of "Whole Lotta Shakin' Goin' On" was one of the highlights of the September 22 single day session.
The music Elvis created in his 1970 "marathon sessions"—presented here without layers of overdubbing heard on the original releases—stands among Presley's best and has proven immensely influential. It established musical directions he pursued the rest of his career, predicted his late-in-life pop- and-country radio successes, and modeled sounds for countless country stars to come.
Related: Our feature story on the King's '68 comeback special

Latest posts by Best Classic Bands Staff
(see all)