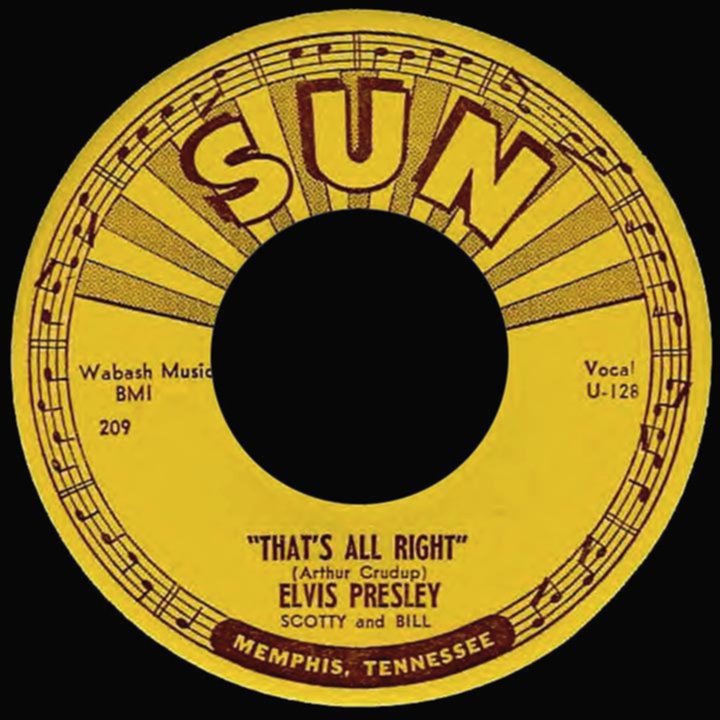 It was a shot heard 'round the world that sparked a revolution when Elvis Presley recorded "That's All Right" on this day. Some point to it as the invention of rock and roll and the genre's first recording, which is not accurate. The Ike Turner/Jackie Brenston #1 R&B hit "Rocket 88," produced by Sam Phillips in Memphis in 1951, is sometimes also pointed to as the first, but the sound had been developing organically since the late 1930s. Bill Haley had already taken his "Crazy Man, Crazy" into the Billboard Top 15 in 1953.
But it was the song that indelibly etched rock music onto the national pop music consciousness. The myth that developed around it tends to get a wee bit misty, suggesting that Presley was this 18-year-old naif who wandered into Phillips' Memphis Recording Service (later known as Sun Studio) at 706 Union Avenue in August 1953 to record a two-song acetate of the songs "My Happiness" and "That's When Your Heartaches Begin" for just under $4 (exact cost reports vary by a few pennies). He wanted to hear what he sounded like and, it is said, give it to his beloved mother Gladys as a gift. But as a young man with ambitions to become a singer whose ears were glued to the radio and was already beginning to immerse himself in the local scene, Elvis was undoubtably aware of Phillips and the Sun Records label as the producer had started to release hillbilly music and what were called "race records" by Black blues and R&B acts.
Phillips wasn't there that day, but as his assistant Marion Keisker recorded the acetate she also taped Presley, liking his voice and wanting Philips to hear the kid. Elvis began stopping by the studio on a regular basis to see Keisker. In January 1954 he cuts another two song acetate there, this time with Philips present. He also hears potential in Presley's voice.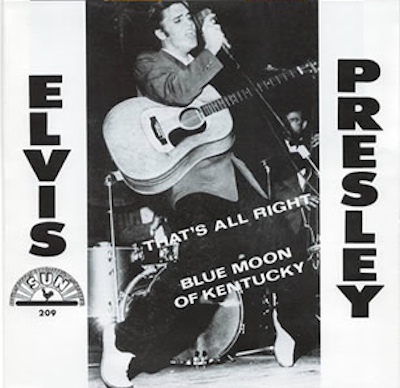 The producer finally gives Elvis a tryout in the studio on June 26 on a song he'd gotten in Nashville, "Without You." Unsatisfied with the results, he asks the 19-year-old to sing and play him some songs. He then suggests Presley meet guitarist Scotty Moore. A few day later Elvis goes to Moore's house and performs some songs with him and bassist Bill Black.
Related: Scotty Moore, guitarist on early Presley hits, died in 2016
Again, the legend suggests that this key introduction was simply happenstance. But Elvis had been friends with Black's younger brother since high school, and Black's mother and siblings lived in the same government housing complex, Lauderdale Courts, where the Presleys had rented an apartment when they first arrived in Memphis from Tupelo, MS. He certainly knew of the bassist, and most likely also the popular local C&W combo that Scotty and Bill played with, the Starlight Wranglers.
On July 5, the three musicians joined up with Phillips at his studio to try recording together. During a break, the players started fooling around with an upbeat version of a blues song by Arthur "Big Boy" Crudup, "That's All Right, Mama" (full title on its original). It catches the producer's ear and he records it. Two days later Sam plays an acetate of the song for local DJ Dewey Phillips (no relation). The next night Dewey plays it on his popular "Red, Hot and Blue" show on WHBQ. Listeners start calling in to request that he play it again. The rest is rock and roll history.
Related: Presley drummer D.J. Fontana died in 2018

Latest posts by Best Classic Bands Staff
(see all)