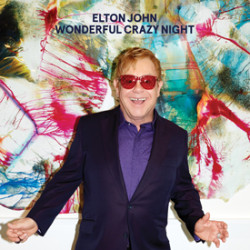 Update (2/5/16): Elton John's Wonderful Crazy Night album is out today.
Next year's already looking large for legendary singer, composer and pianist Elton John. In addition to brand new 2016 dates for his Las Vegas residency "The Million Dollar Piano," he's just announced that he'll be releasing his 33rd studio record, Wonderful Crazy Night, on February 5th via Island Records.
John co-wrote all 10 tracks with long-time collaborator Bernie Taupin, and the album was co-produced with T Bone Burnett, who also worked on his last release, 2013's The Diving Board. Where that one was more of a personal parlor record, word is that Wonderful Crazy Night will be just the sort of upbeat rock'n'roll extravaganza its title suggests, fueled by fierce guitar and piano motifs.
Bassist Matt Bissonette, keyboard player Kim Bullard and percussionists John Mahon and Ray Cooper also make appearances on the new record, as well as longtime Sir Elton collaborators drummer Nigel Olsson and guitarist Davey Johnstone. The former worked with John from 1970 to '75, and the latter has been an official member of his band since 1972.
John commenced his critically acclaimed "Million Dollar Piano" residency at the Colosseum at Caesars Palace in 2011, and last year announced that it would be extended another three years. The show takes its name from Yamaha's "engineering marvel" of a piano that features more than 68 LED video screens.
Fans who haven't yet gotten a chance to see the impressive display – and perhaps some who already have – will be pleased to know that 19 new performances have been added to the line-up for 2016. The five-time Grammy winner will perform the biggest hits from his five-decade career, including selections from his 16 times platinum Goodbye Yellow Brick Road album. Tickets go on sale via AXS on Sunday, October 25th at 10 AM (PST). Tickets of his 2016 dates in France and the U.K. are on sale here.
Here's a live version of the single, "Looking Up" from Wonderful Crazy Night:
Wonderful Crazy Night Track List:
1. "Wonderful Crazy Night"
2. "In The Name Of You"
3. "Claw Hammer"
4. "Blue Wonderful"
5. "I've Got 2 Wings"
6. "A Good Heart"
7. "Looking Up"
8. "Guilty Pleasure"
9. "Tambourine"
10. "The Open Chord"
11. "Free And Easy" *DELUXE VERSION ONLY
12. "England And America" *DELUXE VERSION ONLY
2016 Dates for Elton John's Vegas Show "The Million Dollar Piano":
April 16-17 (Saturday, Sunday)
April 19-20 (Tuesday, Wednesday)
April 22-23 (Friday, Saturday)
April 26-27 (Tuesday, Wednesday)
April 29-30 (Friday, Saturday)
He's got dates in Europe, U.S. and U.K. throughout 2016. Click here for ticket info.


Latest posts by Best Classic Bands Staff
(see all)