In recent years, BMG has released terrific remasters of 11 Emerson, Lake & Palmer titles. The label's comprehensive ELP series continues with the October 29, 2021, release of Out of This World: Live (1970 – 1997). The deluxe box set, available on 10 LPs or 5 CDs, features "five of the biggest and most important shows" that ELP performed during their career: 1970's Isle of Wight Festival, 1974's California Jam, Works Live (1977) in Montreal, 1992 at London's Royal Albert Hall, and their 1997 performance in Phoenix, Ariz.
The collection is part of continuing 50th anniversary celebration and follows the June 11 re-release of Fanfare: Emerson, Lake & Palmer 1970 – 1997 with loads of previously unreleased recordings. The lavishly produced box set, on CD and vinyl, collates nearly three decades of work from the trio, keyboardist Keith Emerson, bassist/vocalist Greg Lake and drummer Carl Palmer.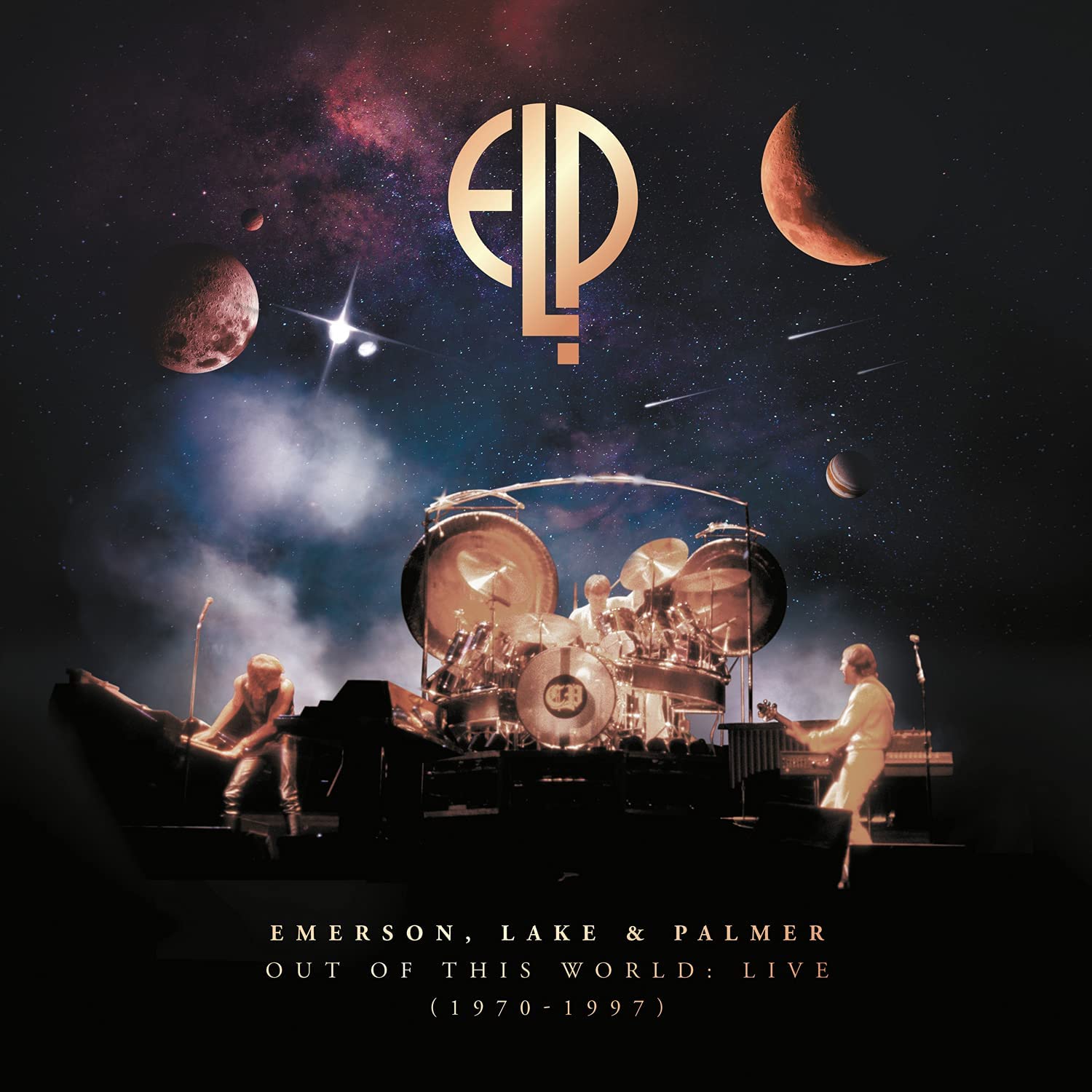 From the Sept. 15 announcement: Out of This World: Live (1970 – 1997) LP box contains five deluxe gatefold double LPs with high quality, fully restored audio mastered by ELP expert and renowned mastering engineer Andy Pearce.
Most of the LPs are previously unreleased on vinyl, though "Phoenix 1997" has never been released. The other CDs have been out of print for many years and never released to this standard of artwork and audio. Each box set comes complete with a 32-page, glossy photo book, featuring many intimate, rare and unseen images of the band from legendary photographers including Lynn Goldsmith and Neil Preston. Liner notes are from Jerry Ewing, editor of Prog Magazine.
Watch the official unboxing video
Carl Palmer notes, "I could not think of a better way to celebrate this anniversary period for ELP. The box set is one of my proudest moments. I know Keith and Greg would agree with me! For me, this shows ELP at their very best throughout years of touring and recording. The box set represents the lifeline of our music in our time."
The 1970 Isle of Wight performance was the group's second ever live show. by 1974, ELP were able to choose repertoire from their five albums to perform at the Ontario Motor Speedway for California Jam. For the Montreal concert, they were joined by an orchestra and choir. Years later, the reformed group triumphantly returned to the Royal Albert Hall stage in 1992. The career-spanning Phoenix concert in 1997 is from their final tour.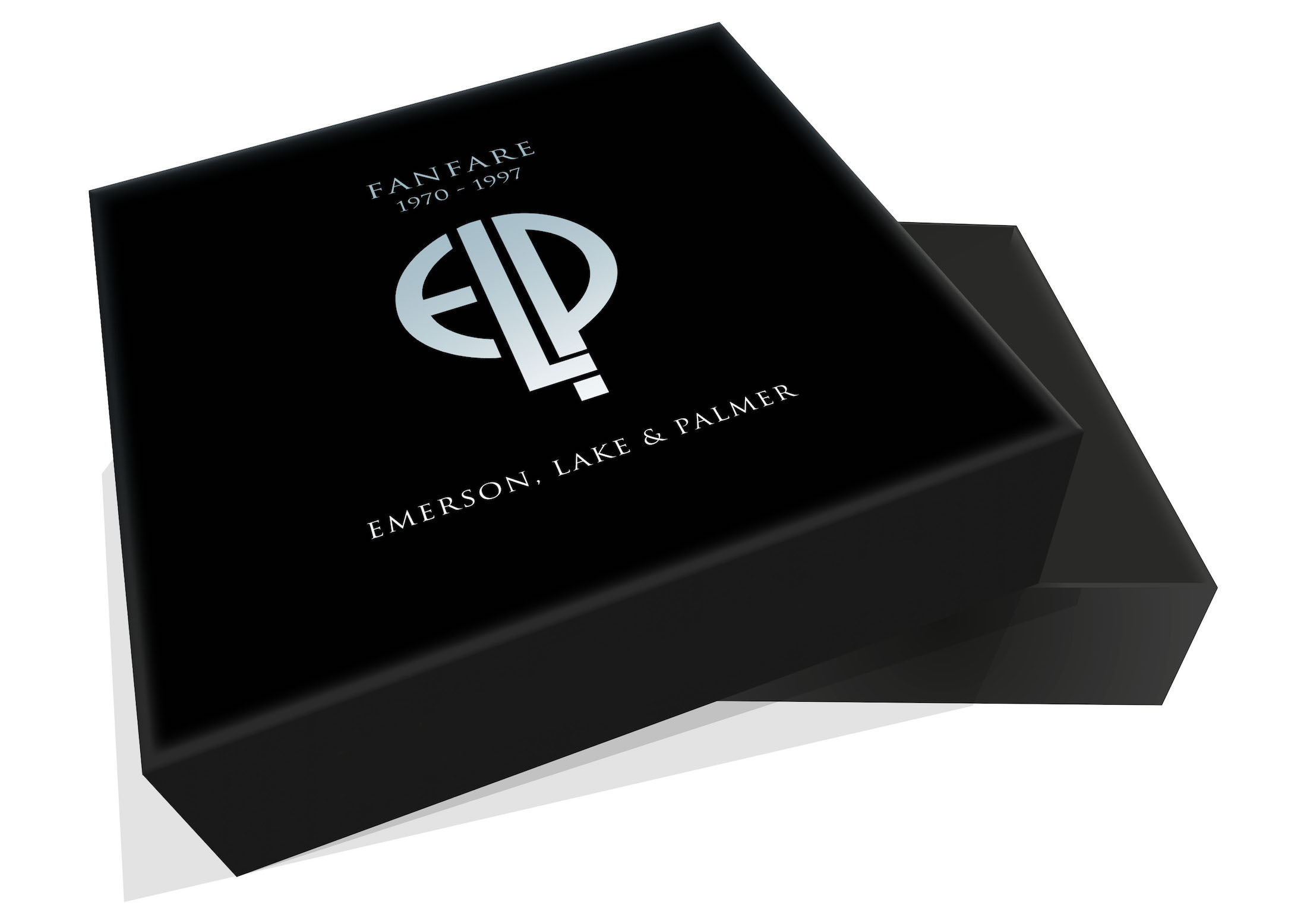 The earlier Fanfare box offers a wealth of the progressive rock group's treasures: All of ELP's remastered 11 albums; five previously unreleased CDs of never issued recordings; a never-before-issued triple-vinyl set (Live In Italy, May 1973); 1 x Surround Sound Blu-ray audio; plus some high quality memorabilia including a 40-page hardback book with rare band photos, tour programs and a reproduction 7" single of their adaptation of Aaron Copland's "Fanfare For the Common Man."
Listen to them perform "Fanfare For the Common Man" in 1977, from the new collection
Throughout their decades as an active touring band, ELP were known for their wildly spectacular concerts and inventive music. Their recordings achieved worldwide sales of over 40 million albums. As the original announcement notes: "Their penchant for appropriating themes from classical music and the group's more nuanced, textured approach to symphonic arrangements set ELP apart from their more bombastic guitar-based contemporaries of the time."
Listen to them perform "Karn Evil 9, First Impression Pt 2" at California Jam, from the collection
Despite the 2016 deaths of Emerson and Lake, Carl Palmer continues to play sold-out shows all over the world with his group Carl Palmer's ELP Legacy. Tickets are available here.
In Oct. 2021, Palmer told Rolling Stone he hopes to "reunite" the trio on stage, as he drums alongside Emerson and Lake using previously unseen footage of the band at London's Royal Albert Hall in 1992. "It will look authentic, it will look real, and it will be in sync," he says. Stay tuned.
Related: Our interview with Carl Palmer

Latest posts by Best Classic Bands Staff
(see all)