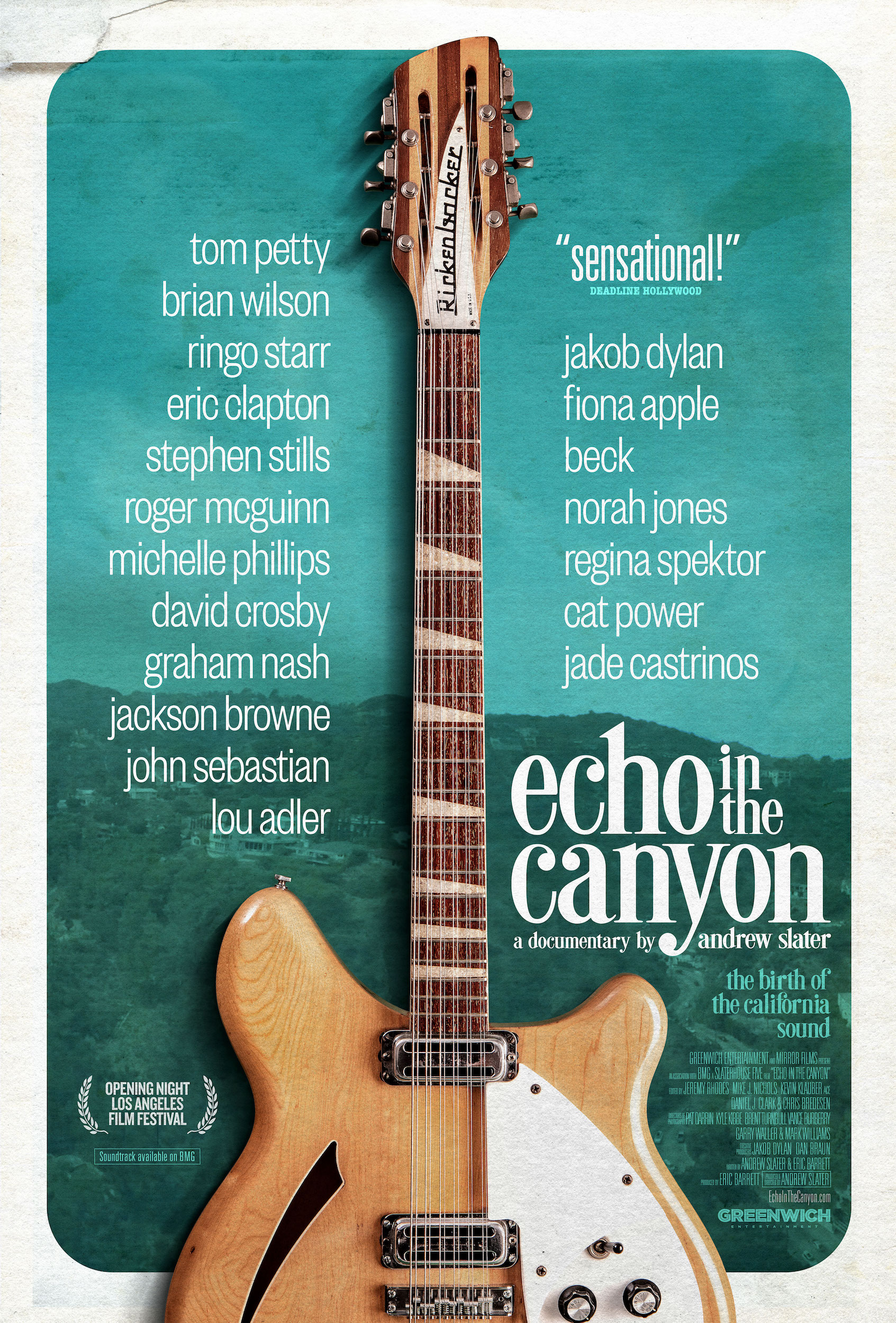 The fertile mid-60s music scene of Los Angeles' Laurel Canyon is the subject of a new documentary, Echo in the Canyon. The film, opening in Los Angeles May 24 (and rolling out in subsequent weeks in various markets), celebrates the explosion of popular music "as folk went electric and The Byrds, the Beach Boys, Buffalo Springfield and the Mamas and the Papas gave birth to the California Sound."
Featuring Jakob Dylan, who also serves as executive producer, the film "uncovers never-before-heard personal details behind the bands and their songs and how that music continues to inspire today." It includes Tom Petty's last film interview – "this is where big dreamers went to" – plus conversations and performances with Brian Wilson, Ringo Starr, the Mamas and the Papas' Michelle Phillips, Eric Clapton, Stephen Stills, David Crosby, Graham Nash, Roger McGuinn and Jackson Browne, plus label executive Lou Adler.
Related: Our review of Echo in the Canyon
A soundtrack album with covers of many prominent songs of the era performed by many contemporary artists including Eric Clapton, Stephen Stills and Neil Young, will be released via BMG on June 28. (Listen to several tracks below.) Recording sessions took place at some of the legendary LA studios featured in the film – including Sunset Sound, Western Recorders and others – where the original versions of many of these songs were recorded. (Pre-order it here.)
A performance of the Mamas & the Papas' "Go Where You Wanna Go," with Jakob Dylan and Jade Castrinos, was released on April 24.
Other cover songs include: the Buffalo Springfield's "Questions," written by Stills, and performed by Dylan, Stills and Clapton; The Byrds' "You Showed Me," written by Jim McGuinn and Gene Clark, and covered prominently by the Turtles, is performed by Cat Power.
Neil Young is featured on "What's Happening."
Still others: The Beach Boys' "In My Room," written by Wilson and Gary Usher, is performed here by Fiona Apple. The Gerry Goffin – Carole King composition, "Goin' Back," features Beck. See the full track listing below.
Watch the Echo in the Canyon trailer
More from the film announcement: "From 1965 to 1967 bands came to LA to emulate The Beatles, and Laurel Canyon emerged as a hotbed of creativity and collaboration for a new generation of musicians who would soon put an indelible stamp on the history of American popular music."
"Brian [Wilson] lived down the street from us," says Michelle Phillips. "The whole living room was filled with sand. I know it's crazy but he's writing great songs. He was writing Pet Sounds!"
"The best test of songwriting is that it transcends its moment in time and there is no doubt that the songs we explore in this film are as powerful today as they were in 1965," says executive producer Jakob Dylan.
Listen to Dylan and Norah Jones cover the Association's "Never My Love"
Echo in the Canyon was directed by former music journalist, record producer and label executive Andrew Slater. (Slater also produced the film's soundtrack.)
Echo in the Canyon Soundtrack Track Listing
Go Where You Wanna Go (feat. Jade Castrinos)
The Bells Of Rhymney (feat. Beck)
You Showed Me (feat. Cat Power)
She (feat. Josh Homme)
In My Room (feat. Fiona Apple)
Goin' Back (feat. Beck)
Never My Love (feat. Norah Jones)
It Won't Be Wrong (feat. Fiona Apple)
No Matter What You Do (feat. Regina Spektor)
Questions (feat. Eric Clapton, Stephen Stills)
I Just Wasn't Made For These Times (feat. Neil Young)
Expecting To Fly (feat. Regina Spektor)
What's Happening (feat. Neil Young)
The film has played several film festivals. It opened in Los Angeles on May 24 at Arclight's Cinerama Dome and The Landmark is followed by a New York opening at the Angelika and The Landmark at 57 West on May 31. Both openings will feature performances by musicians from the film all weekend with a national rollout.
Related: A second documentary on Laurel Canyon is coming

Latest posts by Best Classic Bands Staff
(see all)