Days before Eagles begin their Hotel California 2020 tour, Don Henley spoke to USA Today about what fans can expect.
"It's a big undertaking," Henley, 72, told the paper in the article published Feb. 5. "And there's a theatrical element. We have thunder and the sound of wind bouncing around all over the auditorium.
"Then just as things come to a peak, a tall fellow, dressed in a black, antique European bellman's costume and a cape, walks across the stage, holding the vinyl album Hotel California. He takes it out of the jacket, blows off the dust – a symbolic gesture – places it carefully on the turntable and puts the stylus down. There's even a hissing sound, like a needle on vinyl. Then we start the song and the curtain rises."
The original tour announcement – on Oct. 8, 2019 – revealed they will perform their Hotel California album in its entirety. The news followed three sold-out concerts at MGM Grand Garden Arena in Las Vegas, Nevada that featured the classic rock band performing their top-selling album, with a 46-piece orchestra and 22-member choir.
On Dec. 3 they revealed an entirely different "hotel" altogether. The group announced an "exclusive luxury concert experience" at Cabo San Lucas in Los Cabos, Mexico, over Memorial Day weekend. An Evening with Eagles will take place on Sunday, May 24. One night earlier, the Doobie Brothers will perform, as part of their reunion tour with Michael McDonald.
From that announcement: "The high-end destination getaway is a once-in-a-lifetime opportunity to experience two nights of unforgettable beachfront performances in the beautiful Cabo Corridor, to a select crowd in an intimate setting." The event is limited to 5000 attendees.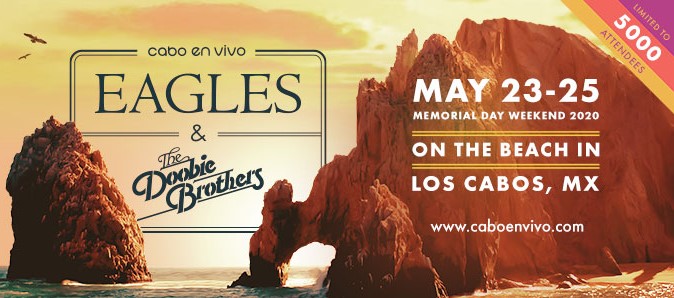 Packages, at a variety of resorts, range from $1599 to $21,999 per person. All resort packages include hotel accommodations (ranging from 2-4 nights), local airport transfers, ground transportation to and from the concerts, two nights of live music, and more, but not airfare.
The band's Hotel California tour dates will begin February 7 with the first of three concerts in Atlanta. See the itinerary below. Tickets are available here and here.
Eagles – Don Henley, Joe Walsh and Timothy B. Schmit, with Deacon Frey and Vince Gill – performed the iconic album in Vegas on Sept. 27, Sept. 28, and Oct. 5. After an intermission, the group played an extensive second set of 19 hits and favorites, plus four encores. These included "Take it Easy," "One of These Nights," "I Can't Tell You Why," "Lyin' Eyes," and "Already Gone."
In the Feb. 5 interview with USA Today, Henley talked about the addition of Glenn Frey's son, Deacon.
"I'm the one who said 'Let's get Deacon into the band.' That was a surprise to everybody, including him, his mother and his family. But I knew he could do it. It's a little surreal for me when I'm on the drums and he's directly in front of me; his hair and his profile are eerily reminiscent of his father's. But it's also been a healing thing for him and for those of us in the band who worked with his dad."
Hotel California is the third best-selling U.S. album in history, recently certified 26-times Platinum by the RIAA. After its release in 1976, it topped the charts and won two GRAMMY Awards for "New Kid in Town" and "Hotel California." Several of the songs from the album had never been performed since the original "Hotel California" tour. The RIAA also certified Their Greatest Hits 1971-1977 as the best-selling U.S. album in history (38-times Platinum).
Of the Hotel California album, Henley said to USA Today, "Every band has its creative peak. I think that was ours. We'd become very adept in the studio. We knew a lot about production. We knew more about songwriting. We had the musicianship. We were willing to make some changes and take some risks and try to do something different from anything we'd done before."
Related: Our 2018 Eagles review
Listen to "Hotel California" from the L.A. Forum from 1976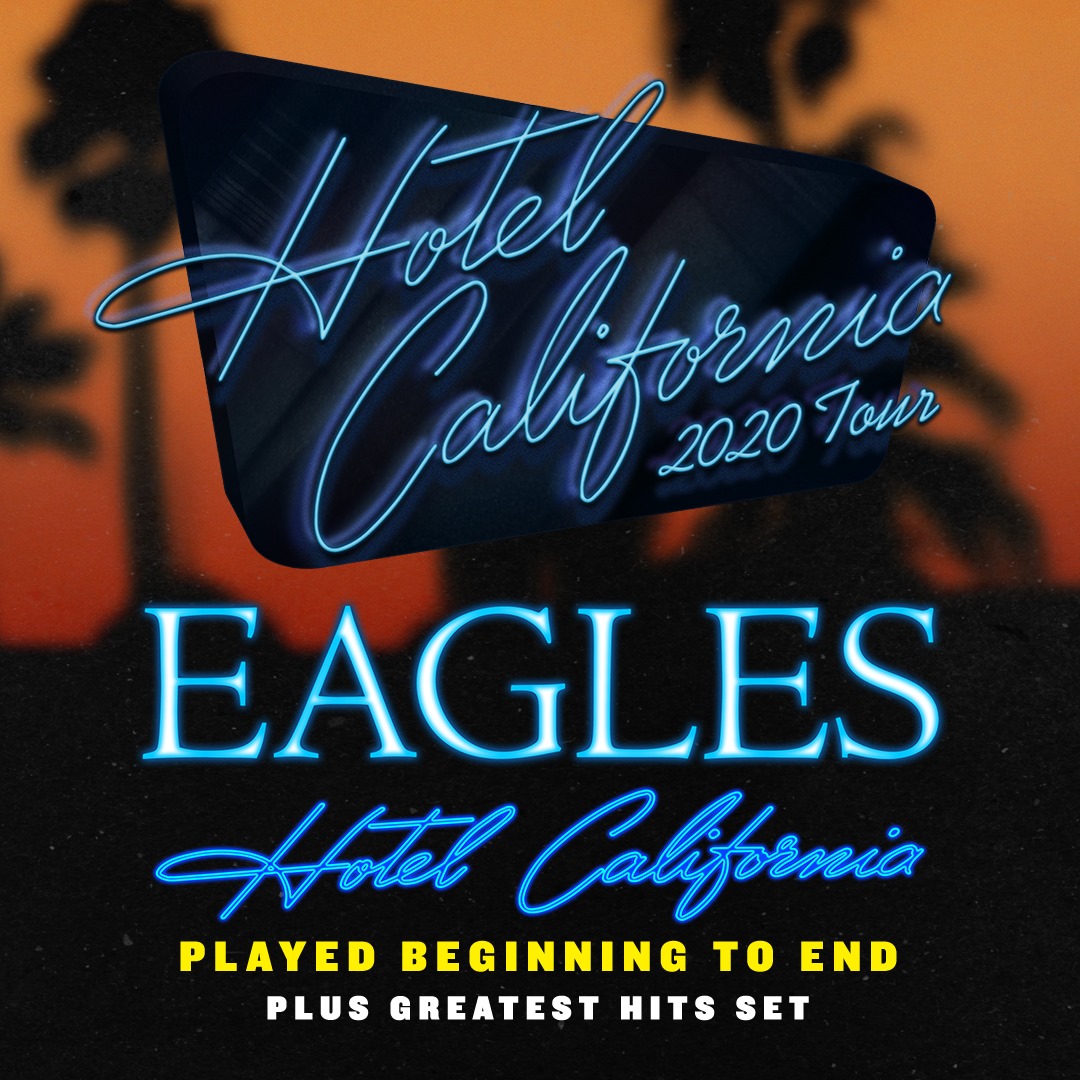 Eagles' Hotel California 2020 Tour (Tickets are available here and here)
Feb 7-8, 11 – Atlanta, GA – State Farm Arena
Feb 14-15, 18 – New York, NY – Madison Square Garden
Feb 29, Mar 1 – Dallas, TX – American Airlines Center
Mar 6-7 – Houston, TX – Toyota Center
Mar 17 – Dallas, TX – American Airlines Center
Mar 26, 28 – Denver, CO – Pepsi Center
Apr 3-4 – St. Paul, MN – Xcel Energy Center
Apr 11-12 – San Francisco, CA – Chase Center
Apr 17-18, 24 – Inglewood, CA, – The Forum
Apr 21, 26 – Phoenix, AZ – Talking Stick Resort Arena
May 24 – Cabo San Lucas
Aug 29 – London, UK – Wembley Stadium
Aug 30 – London, UK – Wembley Stadium
Related: Listings for 100s of classic rock tours
As the best-selling American band of the '70s, and one of the top-selling acts of all time, the Eagles have sold more than 150 million albums worldwide, scored six #1 albums and topped the singles charts five times. They have won six GRAMMY® Awards, were inducted into the Rock & Roll Hall of Fame in 1998, in their first year of eligibility, and received the Kennedy Center Honors in 2016.

Latest posts by Best Classic Bands Staff (see all)