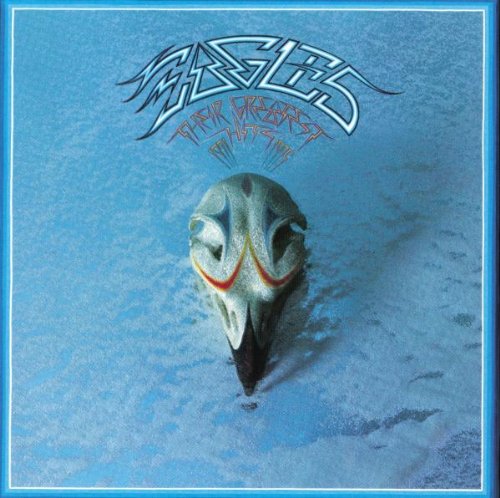 It's Eagles' world now—or at least their country. The RIAA (Recording Industry Association of America)—the folks who keep track of what music is selling in the United States and just how many copies a given recording has moved—announced in August 2018 that the Eagles' album Their Greatest Hits 1971-1975 is now the top album of all-time in the country, surpassing Michael Jackson's Thriller.
Eagles' 1976 collection, which chronicles only the first four years of hits by the California group, has now been certified 38-times platinum, meaning it has sold and streamed some 38 million copies in the U.S. alone. In contrast, Thriller, released in late 1982, has sold 34 million copies.
One week after after its release, Their Greatest Hits became the first album to be certified Platinum by the RIAA. The date was February 24, 1976.
Remarkably, the Eagles' hits compilation, which includes such classics as "Take It Easy," "Lyin' Eyes," "Already Gone," "Desperado," "Take It to the Limit," "Peaceful Easy Feeling" and "Best of My Love," was released just months before Hotel California, which quickly became (and remains) the band's biggest non-hits album.
Watch Eagles perform "Take It Easy"
Hotel California is now the third biggest album of all-time, with total sales of 26 million in the States.
Related: The making of Hotel California
"We are grateful for our families, our management, our crew, the people at radio and, most of all, the loyal fans who have stuck with us through the ups and downs of 46 years. It's been quite a ride," said Eagles co-founder Don Henley in a statement.
On February 21, 2019, the RIAA announced that The Beatles' self-titled 1968 album (aka The White Album) had picked up enough sales from its 50th anniversary reissues in 2018 to vault the title to fourth place. It since slipped back a notch to a tie for fifth as AC/DC's Back in Black leapfrogged over it. Fleetwood Mac's Rumours was certified at 21 million in July 2023.
The all-time Top 12, as of July 2023, via the RIAA.
12. Come On Over – Shania Twain (20 million)
9. Cracked Rear View – Hootie & the Blowfish (21)
9. Rumours – Fleetwood Mac (21 million)
9. Double Live – Garth Brooks (21)
7. The Wall – Pink Floyd (23)
7. Greatest Hits Volume I & Volume II – Billy Joel (23)
5. The Beatles – The Beatles (24)
5. Led Zeppelin IV (24)
4. Back in Black – AC/DC (25)
3. Hotel California – Eagles (26)
2. Thriller – Michael Jackson (34)
1. Their Greatest Hits – Eagles (38)
Billboard noted that the last time sales were tallied for the Eagles' hits release, in 2006, it had already reached 29x platinum, meaning that it has sold an additional nine million copies in the past dozen years.
Billboard also clarified, in its article, that the RIAA began to consider streams, as well as sales, in 2013, with 1,500 streams (on online services such as Spotify, YouTube and Pandora) the equivalent of one album sale.
Following the 2016 passing of co-founder Glenn Frey, and after a brief hiatus, during which their future was undetermined, Eagles began touring again, with Deacon Frey (son of Glenn) and country star Vince Gill recruited into the band.
Eagles were inducted into the Rock and Roll Hall of Fame in 1998.

Latest posts by Best Classic Bands Staff
(see all)