Authors Talk Eagles Book, 'Up Ahead in the Distance'
by Greg Brodsky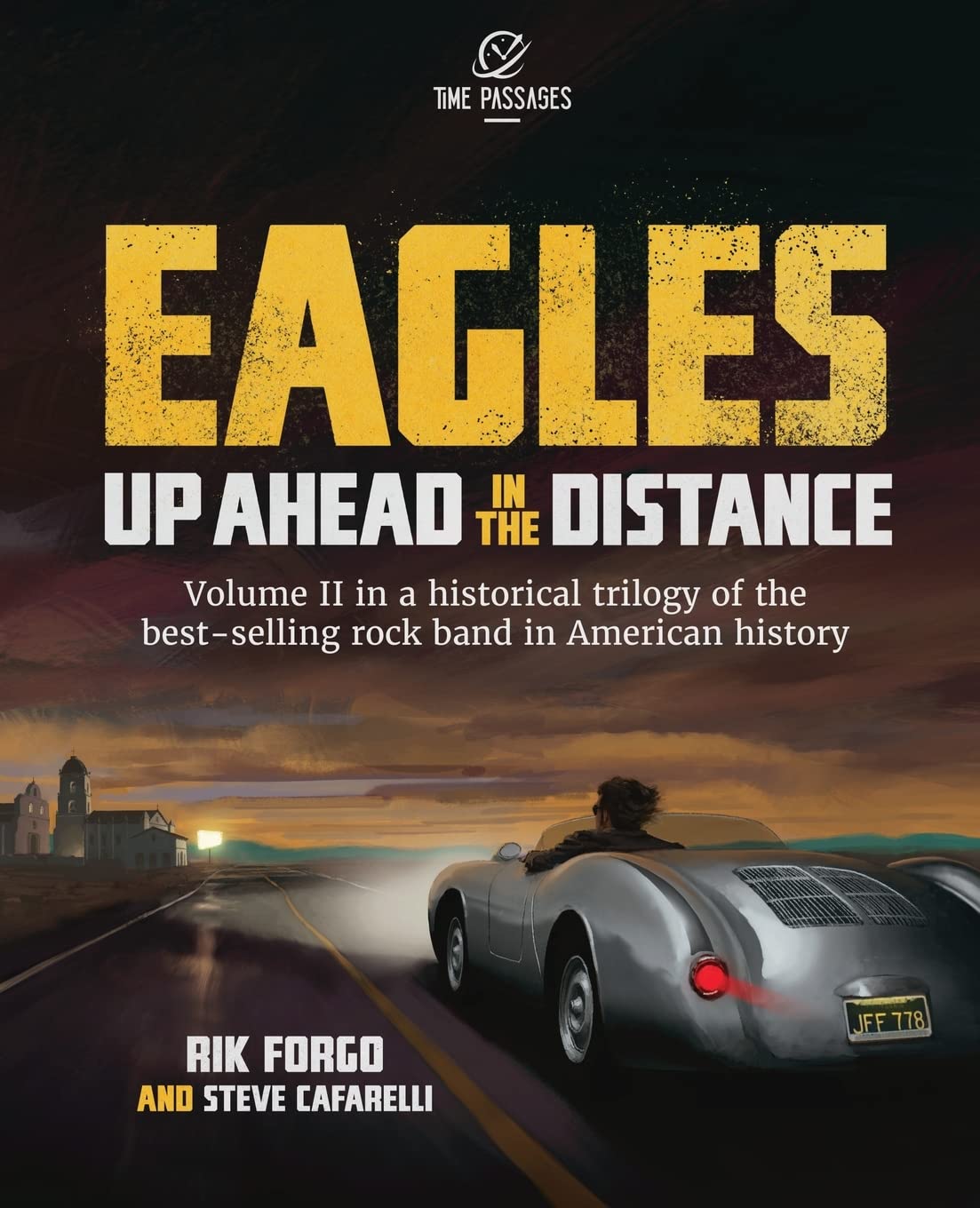 Eagles are the subject of the second book of three volumes detailing the group's colorful history and ascent into rock's upper echelon. Eagles: Up Ahead in the Distance, which arrived in November 2022, from authors Rik Forgo and Steve Cafarelli, picks up where Eagles: Before the Band left off.
The title covers in incredible detail across 504 pages, the band's eight albums released on the Asylum label from 1972 to 1980, with all the lineup changes along the way, from founding quartet Glenn Frey, Don Henley, Bernie Leadon, and Randy Meisner, to the addition of Don Felder, then Leadon's and Meisner's exits, to their respective replacements, Joe Walsh and Timothy B. Schmit.
[Eagles have announced their final tour, "The Long Goodbye." Tickets are available at Ticketmaster.]
Along with the great stories, there are scores of nuggets and anecdotes that even the most hardcore Eagles fans will learn for the first time. They're augmented by plenty of detailed charts that offer readers an even deeper dive. As Cafarelli told Best Classic Bands in an interview, "I wouldn't blame you if you said you treated it like a reference book."
Forgo wrote the first volume, 2020's Before the Band, by himself, but realized he'd need a co-author to cover the enormity of the group's endeavors during their core years as a recording entity. It's all organized chronologically. The first title covers the members' careers from their hometowns to when they got to Los Angeles and decided to form a band. That edition stops just as they are releasing their first album which is precisely where this new entry picks up.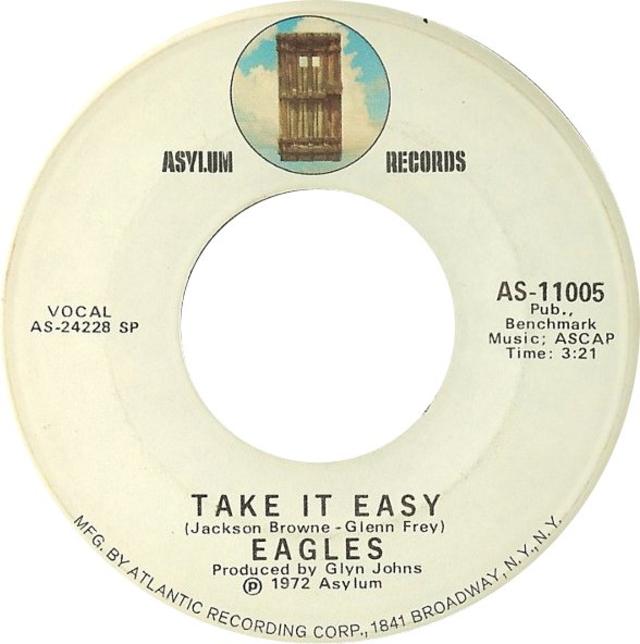 This second volume tracks how the band soared the singles charts with hits like "Take It Easy," "Witchy Woman," "The Best of My Love," "One of These Nights," "Take It To the Limit," "Hotel California," and "The Long Run" and racked up gold and platinum sales of all eight of those albums.
The book is all-inclusive. If you were in the band or a friend or executive associated with the band, like J.D. Souther, Jackson Browne, Linda Ronstadt, David Geffen, or Irving Azoff, you're in it.
We asked both authors to share some of their findings.
Eagles are one of the most dissected bands. Can you share some surprises in your research?
Rik Forgo: I reached out to "Already Gone" co-writer Robb Strandlund. I wanted to know who "the girl" was. Did you drop her? Did she drop you? What was the story behind that? And I come to find out that there is no girl! The story, he said, was when he and Jack Tempchin wrote the song in a San Diego coffee house, what they were writing about were record company executives who were trying to lure them into writing songs and they told them things like "we're gonna put you on a shelf." When Glenn Frey heard the song, he took it—as he does so well—and turned it into a story about a girl and a guy. And it's wonderful in that capacity. But what they meant was that the record company was trying to record their songs and put them on the record shelves. If you go back and listen to the song again knowing that that's what they were talking about, the words take on a different context. "You'll have to eat your lunch all by yourself." That's Tempchin and Strandlund telling them to get lost.
I loved your story about the band's first #1 single, "The Best of My Love."
RF: When they recorded it for On the Border, the Eagles thought it was kind of a throwaway song. It was one of the two songs that they recorded in London with Glyn Johns, whom they were quickly becoming on the outs with. They had released "Already Gone" and it did pretty well. Then they released "James Dean" and it did okay. [The plan was to release three singles] and they were gonna work on the next album. Glenn Frey and Don Henley both wanted "Old '55" to be the third single released and that was the plan.
I spoke with Rip Pelley who was the Elektra/Asylum Michigan rep. Shortly after "James Dean" was released, a [radio] DJ in Kalamazoo named Jim Higgs started playing the album version of "The Best of My Love" and it started shooting up [the station's] chart, so fast that he reached out to Rip to let him know that the song was breaking there. He let [HQ] know but was told that the third single was gonna be "Old '55." By the time he called back Higgs, it was #1 in Kalamazoo. And then Pelley went back to [the top execs] and said we can't ignore this anymore. Those two were the foundation for the Eagles' first #1 single.
I thought that was the end of the story but it wasn't. (laughs) When you think of Glenn Frey, he has a history of being outspoken and rambunctious. Don Henley has a reputation of being more on the serious side. When E/A got ready to release "The Best of My Love" as a single, they cut it down from 6:12 to 4:14. And it went to number one. And Frey and Henley and their manager, Irving Azoff, were livid. Because Jim Higgs had already been spinning the album version for months. They were so angry that Azoff took the Gold record that they got for it, cut a pie slice out of it and sent it to E/A. I thought that was the end of the story until I reached out to another former E/A exec to confirm the story. Not only did they take the pie slice out of it and called it the "Golden Hacksaw Award," Frey, Henley and Azoff went to Elektra/Asylum's headquarters late one night and bolted that Gold record with the pie slice cut out of it to the lobby wall.
How about a story on one of the individual members?
Steve Cafarelli: One is a general observation: that Joe Walsh was a better fit for the band than maybe [a lot of people] would've given him credit for. When he joined the band, there were a lot of people who said that didn't make sense. He had been the top dog… the bandleader with Barnstorm and the James Gang. Why would he take on a quote unquote lesser role and be a band member in a band that has two guys who are more or less taking on the Lennon-McCartney role, the two top guys? And musically, he was kind of known as a crunchy guitar player with "Walk Away" and "Funk #49" and had a reputation as a harder rock player.
But the truth is A) you dive into his work and you see he's always been more eclectic than that and had a broader palette to paint with besides just doing the hard rock guitar stuff and B) he always wanted to be in a band. Later, when he had Barnstorm, at one point in the process, it was going to be billed as a Joe Walsh solo album and he said those guys—Joe Vitale and Kenny Passarelli—really deserved more credit than they were given. ABC [Records] wasn't seeing it that way. They felt the marketable entity was Joe Walsh. So he kind of got billed as a solo artist. I [thus] accept his addition to this group in some respects as making more sense than maybe it did at the time. Eagles wanted to get heavier and harder. Something with a little more muscle.
The evolution of the band's lineup has always been a topic of discussion among fans.
RF: At the very beginning, Bernie Leadon and Randy Meisner were influential. Glenn Frey was always the leader of the band but there was more time made initially for [Bernie and Randy]. On the first album, Don Henley only had one writing credit. [He shared a credit with Leadon for "Witchy Woman."] Leadon and Meisner had three songs each. When you get to Desperado, everybody's writing songs. When you get to On the Border, you begin to [see] Henley and Frey are asserting themselves more. A rock and roll feel. They don't want to be produced by Glyn Johns anymore because he just wants them to be a country-rock band and they want to rock a little more. So they bring in Bernie's longtime friend, Don Felder, to add a little sizzle to their guitar work and play slide guitar. You can sort of feel the tension with the other players [regarding Frey and Henley]. Felder is trying to contribute but feeling a little shunted. Leadon is starting to not enjoy being the in the band so much because they're touring so hard. Meisner's not saying anything yet but he's contributing less and less material.
As you read through the book, you can feel the tension rising. Our book is a series of intertwined stories. By the time to you get into The Long Run, they just hate each other. You can just feel it. Was there any one thing? There were lots of things along the way. A lot of it creative. But also because they were heading towards being a rock band and it just wasn't working for Leadon anymore.
Any thoughts about the inevitable backlash that their success led to, and of the feeling that with Glenn gone they're no longer the Eagles?
SC: They've always been a divisive band. Part of the problem is that they were very successful and when you attain a certain level of success, you're gonna get some backlash. When bands get very popular, people can become resentful. The other thing to consider: They were always very unapologetic of the idea that they were interested in making money and being successful on their own terms. And that shouldn't be read as me saying they were not artistically sound because I think they succeeded in being both. That was the key to their success. They were very concerned with the quality of the work and in maintaining a sense of legitimacy and sincerity in what they were doing but at the same time they very much had their eye on the prize. They didn't want to be starving artists. They [didn't] want to [just] be successful: They wanted to be top shelf and make lots of money. And that kind of mentality naturally turns off a lot of people. That's why you're always going to have people who are going to resent you because you're famous and huge. And, finally, the point that Frey did die and they're continuing on. That's a problem that all these legacy bands face. The money is out there. The demand is out there. So they do [continue to tour].
Related: Our 2021 live review of Eagles
Eagles: Up Ahead in the Distance features more than 120 images by such iconic photographers as David Alexander, Gary Burden, Henry Diltz, Aaron Rapoport, Ebet Roberts, Ethan Russell, Norman Seeff, Jim Shea, and Peter B. Sherman.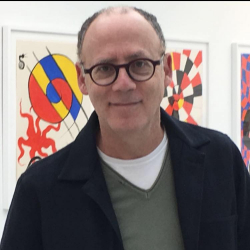 Latest posts by Greg Brodsky
(see all)