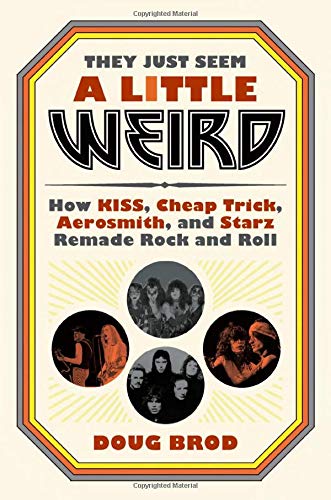 A new book takes a look at how four American classic rock bands from the '70s – three of which are now enshrined in the Rock and Roll Hall of Fame – laid the foundation for two seemingly opposed rock genres: the hair metal of Poison, Skid Row, and Mötley Crüe and the grunge of Nirvana, Pearl Jam, Alice in Chains, and others. They Just Seem a Little Weird: How KISS, Cheap Trick, Aerosmith, and Starz Remade Rock and Roll arrives Dec. 1 from author Doug Brod via Hachette Books.
The book's title comes from a lyric from Cheap Trick's 1978 single, "Surrender," that, as the author notes, famously name-checks KISS. They Just Seem a Little Weird shows how the four bands' careers frequently intersected in those days. (For instance, in 1978, the four members of KISS simultaneously released solo albums. Gene Simmons' self-titled LP, the most successful of the four titles, featured guest appearances from Aerosmith's Joe Perry, Cheap Trick's Rick Nielsen, and Starz's Richie Ranno.)
From the announcement: Into the dazed and confused mid-'70s strutted four flamboyant bands that reveled in revved-up anthems and flaunted a novel theatricality. In the new book, veteran entertainment journalist Doug Brod offers an eye- and ear-opening look at a crucial moment in music history, when rock became fun again and a gig became a show.
Advance praise for They Just Seem a Little Weird: "Doug Brod gives the '70s hard rock world of Kiss, Cheap Trick, Aerosmith, and Starz the scholarly research, historical narrative and-above all else-the respect it deserves. You'll be constantly entertained and enlightened by his backstage stories and newly unearthed-and eye-opening-connections between all those bands. The book rock and rolls and parties all night, on every page." – author David Browne
The book's author is the former editor in chief of SPIN magazine and was a long-time editor at Entertainment Weekly. He has worked for Atlantic Records, taught at New York University, and was a segment producer of the comedy/music television series Oddville, MTV.
Related: Looking back at Cheap Trick's 2016 Rock Hall induction

Latest posts by Best Classic Bands Staff
(see all)