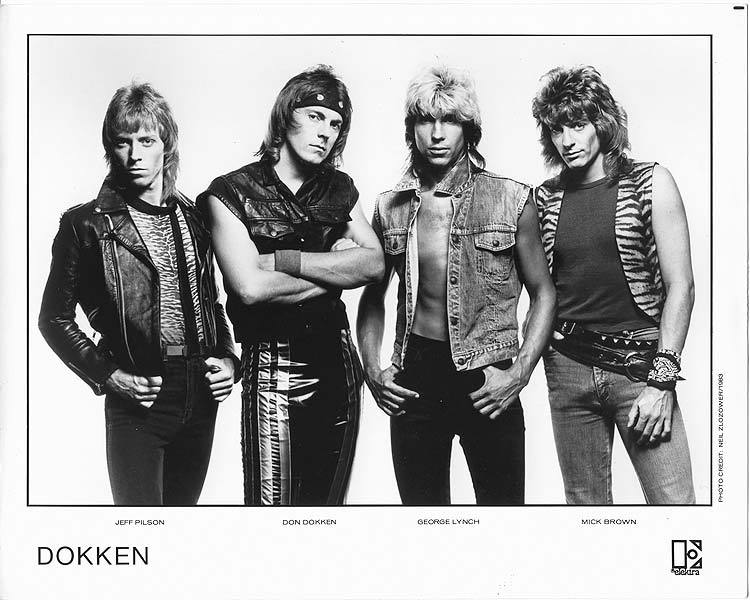 The "Dream Warriors" are back and getting ready to rock together again, albeit temporarily. The classic metal-pop act, Dokken, is preparing to head overseas to Japan to perform a handful of show dates.
The band just announced that they'll be doing one – yes, you read that correctly – U.S. date before going to Japan. The performance will be at Badlands Pawn, Gold & Jewelry in Sioux Falls, SD on September 30.
Tickets go on-sale August 27. General admission tickets start at $50 and can either be purchased here.
Front man Don Dokken recently confirmed during an appearance on The Classic Metal Show that the classic and most successful lineup of Dokken – Don, along with drummer Mick Brown, former guitarist George Lynch and bassist Jeff Pilson – is set to reunite for a series of concerts. As of now, though, the reunion is without future plans to continue on after Japan. The six shows will take place in October, and will include an appearance at the 11th annual Loud Park festival, which is a large heavy metal event held in Chiba City, Japan.
Dokken says in the interview that he had made his reunion terms clear years ago, which included a boatload of money. It's only now that someone has stepped up to offer the right amount. "I approached George and Jeff, and I said, 'You guys wanna make a shit load of money for about one week of work?' And I told them the price, and I told them how much I wanted and how much they'd make, and, basically, they could make more money in one week than they'd probably make in several years. And so everybody said, 'Okay,'" says Dokken.
"So I said, 'Well, I'll do it on the condition that I don't wanna do it in America or Europe or anywhere else.' Just six shows in Japan. Cause we were very big in Japan and it's just a reunion tour," he continued. "So they agreed. We're gonna be headlining [Loud Park] with the Scorpions… back to back on two different stages. And then we're gonna buzz off and do five more shows. And it's very temporary."
That classic lineup earned three consecutive Platinum albums: 1984's Tooth and Nail, 1985's Under Lock and Key and 1987's Back For The Attack.
And according to Don, part of the reason there are no plans for the reunited Dokken to play any other shows after the Japanese run is because the current lineup of Dokken – which includes one member of the band's classic lineup, Brown – alongside longtime guitarist Jon Levin and bassist Chris McCarvil, is still very much active with a steady schedule of live shows throughout the year.
"I'm so happy with Jon and Chris," he explained. "I mean, we get along so, so good. We're happy. We get on a plane, we fly to a venue, we hang out together and we go to dinner and we do the show and we hang out in the dressing room. It's very easy; you know, there's no drama. And at my age now, the last thing I need in my life is drama. All I'm gonna do is go up there and sing my butt off and play two or three songs on guitar and just make it a fun thing for [the fans]."
Don Dokken had noted in June that the U.S. performance was a possibility. "I'm hoping that, in rehearsals" which will take place in Sioux Falls, SD, "we feel that we're tight enough on the final day that we actually do a show and we're gonna film the whole thing," Don said. "And hopefully it comes out good and we'll edit it and put out a live DVD."
This will be the first time that all the members of Dokken's classic 1980s lineup will be reunited on stage since November 29, 2009, during an encore at a Dokken show at the House of Blues in Anaheim, CA.

Latest posts by Best Classic Bands Staff
(see all)