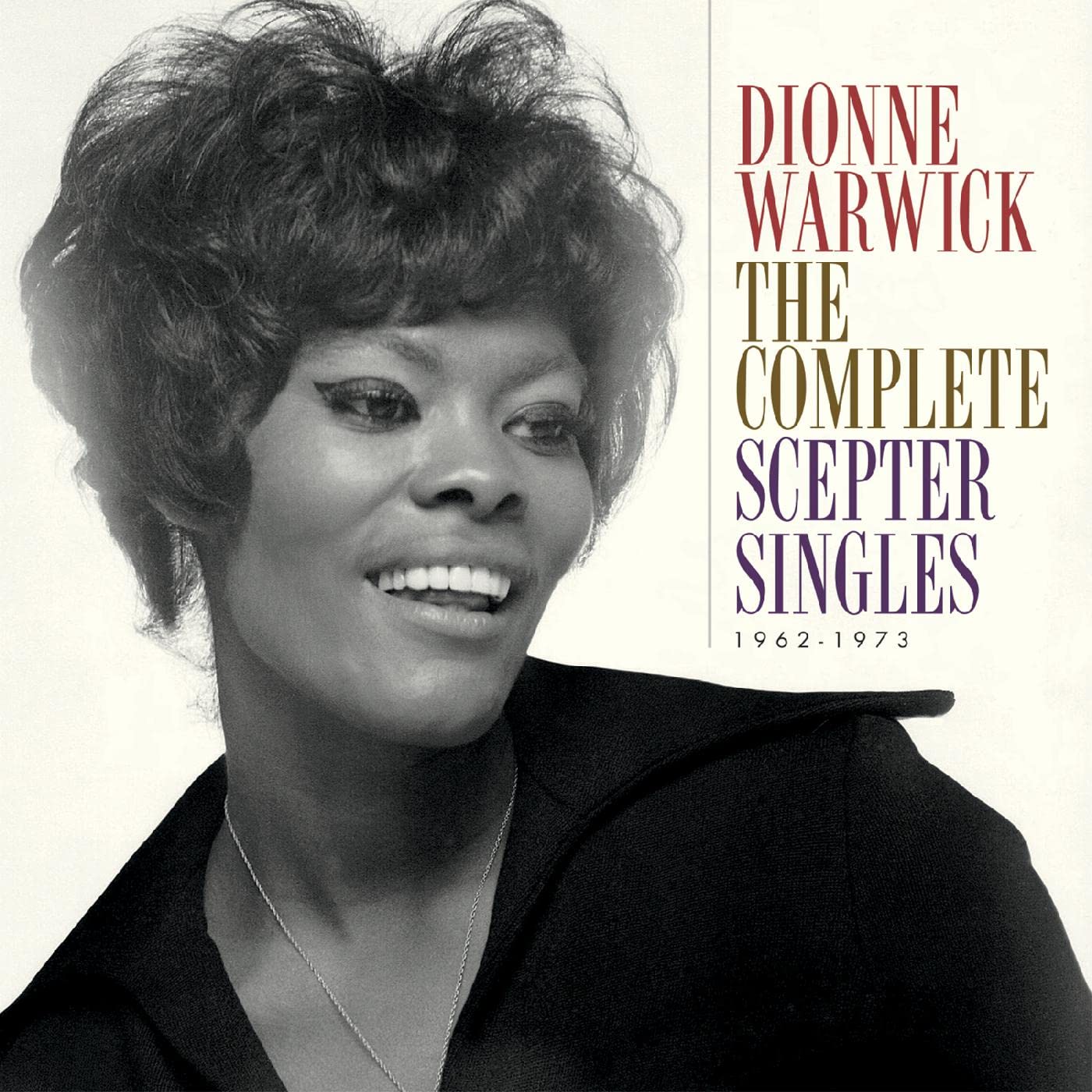 Dionne Warwick's singles output for Scepter Records is the subject of a limited edition collection, The Complete Scepter Singles 1962-1973, released April 14, 2023, from Real Gone Music. The 3-CD set includes such chart favorites as "Walk On By," "I Say a Little Prayer," "Do You Know the Way to San Jose," and "I'll Never Fall in Love Again," among its 74 songs.
Very few artists have reached the heights attained by Warwick and the songwriting/production team of Burt Bacharach and Hal David on their historic string of hit singles for the Scepter label. Over the course of a little over ten years, Warwick scored 40 charting Pop hits and 29 charting R&B hits for Scepter, propelling here to a ranking second only to Aretha Franklin among female singers with the most chart hits in the rock era, not to mention five Grammy nominations. More importantly, Warwick, Bacharach, and David brought a new level of sophistication to popular music…and by doing so, created some of the most indelible recordings of all time. The set, limited to just 3000 copies, was in the works before Bacharach died on Feb. 8.
The Complete Scepter Singles 1962-1973 offers the A and B-side of every single Warwick cut for the Scepter label (with the bonus inclusion of her single for Musicor featuring the hit "Only Love Can Break a Heart"), all original, (mostly) mono single versions remastered by Mike Milchner of Sonic Vision from original tape sources and annotated by veteran music journalist and Billboard contributor Paul Grein.
Among the 74 tracks on this 3-CD set are some of the most hallowed sides in '60s pop, including "Don't Make Me Over," "Anyone Who Had a Heart," "Message to Michael," "(Theme from) Valley of the Dolls," "Alfie," "Trains and Boats and Planes," and "This Girl's in Love with You."
Watch Warwick perform "This Girl's in Love With You" on The Ed Sullivan Show in 1969
The collection coincides with the release of the new Warwick documentary Don't Make Me Over, that premiered on CNN on Jan. 1, 2023.
The complete track listing appears below the Amazon links.
1. Don't Make Me Over
2. I Smiled Yesterday
3. This Empty Place
4. Wishin' And Hopin'
5. Make The Music Play
6. Please Make Him Love Me
7. Anyone Who Had a Heart
8. The Love of a Boy
9. Walk On By
10. Any Old Time of Day
11. You'll Never Get to Heaven (If You Break My Heart)
12. A House Is Not a Home
13. Reach Out for Me
14. How Many Days of Sadness
15. You Can Have Him
16. Is There Another Way to Love You
17. Who Can I Turn To
18. Don't Say I Didn't Tell You So
19. Here I Am
20. They Long to Be Close to You
21. Looking With My Eyes
22. Only The Strong, Only the Brave
23. Are You There (With Another Girl)
24. If I Ever Make You Cry
25. Message To Michael
26. Here Where There Is Love
27. Trains And Boats and Planes
28. Don't Go Breaking My Heart
29. I Just Don't Know What to Do with Myself
30. In Between The Heartaches
31. Another Night
32. Go With Love
33. Alfie
34. The Beginning of Loneliness
35. The Windows of The World
36. Walk Little Dolly
37. I Say a Little Prayer
38. (Theme From) Valley of The Dolls
39. Do You Know the Way to San Jose
40. Let Me Be Lonely
41. Who Is Gonna Love Me?
42. (There's) Always Something There To Remind Me
43. Promises, Promises
44. Whoever You Are, I Love You
45. This Girl's In Love With You
46. Dream Sweet Dreamer
47. The April Fools
48. Slaves
49. Odds And Ends
50. As Long as There's an Apple Tree
51. You've Lost That Lovin' Feeling
52. Window Wishing
53. I'll Never Fall in Love Again
54. What The World Needs Now Is Love
55. Let Me Go to Him
56. Loneliness Remembers What Happiness Forgets
57. Paper Mache
58. The Wine Is Young
59. Make It Easy on Yourself
60. Knowing When to Leave
61. The Green Grass Starts to Grow
62. They Don't Give Medals to Yesterday's Heroes
63. Who Gets the Guy
64. Walk The Way You Talk
65. Amanda
66. He's Moving On
67. The Love of My Man
68. Hurts So Bad
69. Raindrops Keep Fallin' On My Head
70. I'm Your Puppet
71. The Good Life
72. Medley: Reach Out & Touch (Somebody's Hand) / All Kinds Of People
73. Only Love Can Break a Heart
74. If I Ruled the World
Related: The biggest radio hits of 1968

Latest posts by Best Classic Bands Staff
(see all)