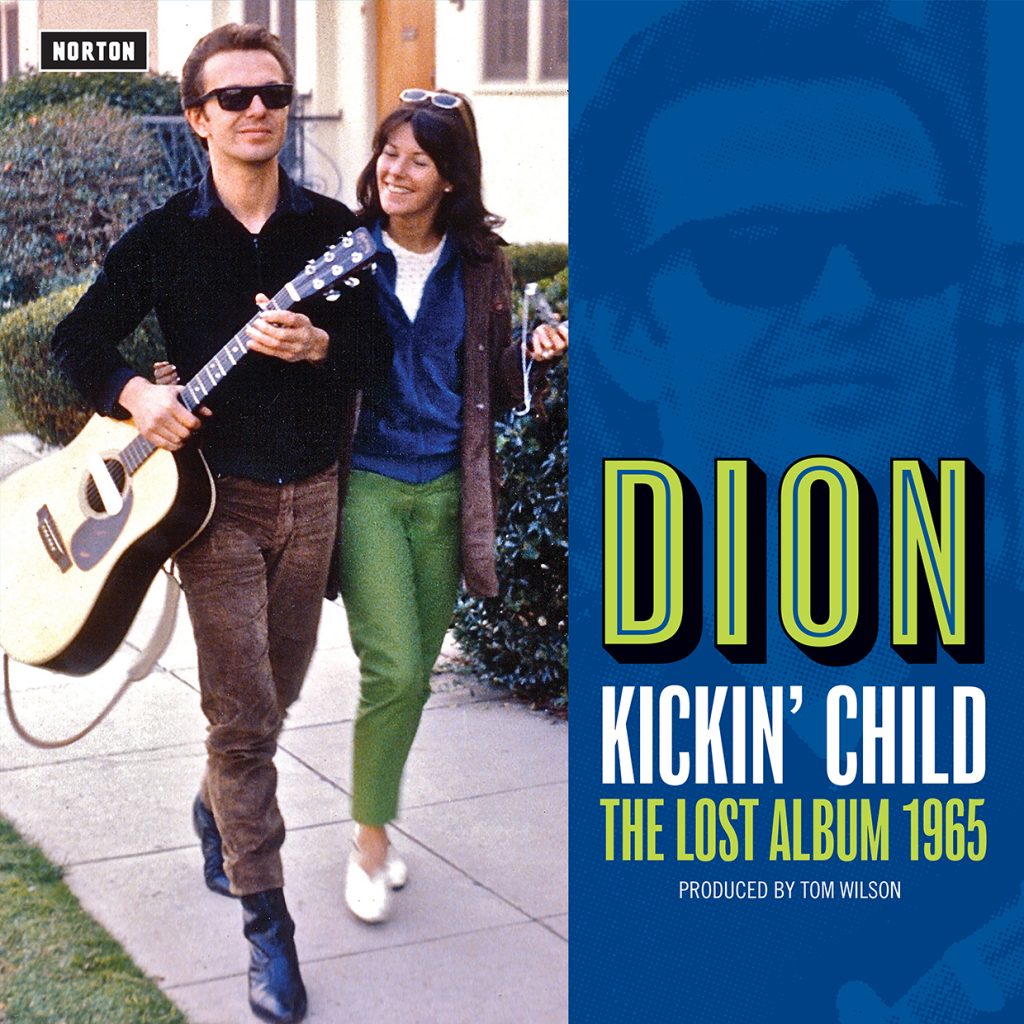 A 15-track collection of music recorded by Rock and Roll Hall of Famer Dion in 1965 is being released by Norton Records on May 12. The album, titled Kickin' Child: The Lost Album 1965, consists primarily of previously unreleased tracks produced by Tom Wilson (producer of Dylan, Simon and Garfunkel and others) for Columbia Records during a period when the artist was veering from teen pop—he'd become famous for hits like "Runaround Sue" and "A Teenager in Love"—into a folk-rock-based style.
Dion is accompanied on the newly unearthed tracks by a band called the Wanderers, named after one of his other huge hits. The band included Carlo Mastrangelo, a former member of Dion's backing group the Belmonts, on drums, as well as lead guitarist John Falbo and bassist Pete Falsciglia. According to an article in Billboard, keyboardist/guitarist Al Kooper, who had recently worked with Dylan during his initial transition to folk-rock, was also a "de facto" member of the group.
Related: Dion releases a duet with Paul Simon
The article, written by by Steve Marinucci, says that Dion DiMucci, now 77, wrote 10 of the songs along and also recorded covers of three songs by Bob Dylan and one each from Tom Paxton and Mort Shuman, the latter having co-written "A Teenager in Love" with Doc Pomus. The finished sides were presented to the label, which rejected the album, opting only to release a few of the songs (including the title track) on singles, none of which charted.
Related: What were some of the hits of 1965?
"I just forgot about this album," Dion told Billboard. "There were a lot of bad relationships that got very convoluted up at Columbia with me, what they expected from me." Dion soon left Columbia, where his most recent hits had been 1963's "Donna the Prima Donna" and "Drip Drop," and returned to his earlier home, Laurie Records, which had released his early hits. He didn't make the top 10 again until 1968, when he released the anthem "Abraham, Martin and John."
Kickin' Child includes liner notes by Scott Kempner, a member of the bands the Dictators and the Del Lords. The article notes that a boxed set of Dion's complete recordings for Columbia is also in the planning stages.
"I'm just happy that they decided to release it in its original form," Dion told Billboard about the new release. "It just kind of slipped through the tracks and was sitting there. I'm just grateful to Sony and Norton for rediscovering it and putting it out as is. It was like a piece of me that was lost back there in a way. And it kind of puts the diary in place. It fills in the movie, the story," he says.
Kickin' Child: The Lost Album 1965 Track List
Kickin' Child (Dion DiMucci-Buddy Lucas)
Now (DiMucci-Mastrangelo)
My Love (DiMucci)
I Can't Help Wonder Where I'm Bound (Tom Paxton)
Wake Up Baby (DiMucci)
Time In My Heart For You (DiMucci)
Tomorrow Won't Bring the Rain (DiMucci-Mastrangelo)
Baby, I'm in the Mood For You (Bob Dylan)
Two Ton Feather (DiMucci)
Knowing I Won't Go Back There (DiMucci)
Farewell (Dylan)
All I Want To Do Is Live My Life (Mort Shuman)
You Move Me Babe (DiMucci)
It's All Over Now Baby Blue (Dylan)
So Much Younger (DiMucci)
Listen to Dion sing the title track from Kickin' Child
Never miss a post! Sign up for Best Classic Bands' Newsletter; form is on every page.

Latest posts by Best Classic Bands Staff
(see all)