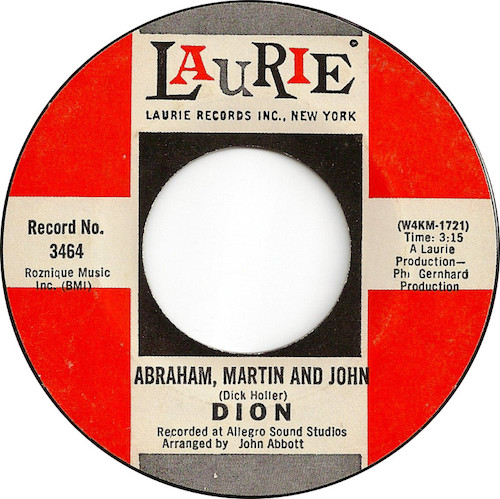 Violence and protest dominated the news in 1968. No honest portrait of the year would dare to pretend otherwise: the escalating war in Vietnam and the movement to end it; racial strife and riots in the streets, college campuses erupting. It was all part of daily life in '68.
That the tense events affecting us spilled over into our music was a given: 1968 gave us the Beatles' "Revolution," the Rolling Stones' "Street Fighting Man," the Doors' "The Unknown Soldier," James Brown's "Say It Loud—I'm Black and I'm Proud" and many other songs that spoke to the social and political mood of the time.
"Abraham, Martin and John" was something different though. It wasn't fueled by rage and anger. Instead it was a lament for hopes and promises squandered, a gentle ode to what could have been—and a plea. It asked that we stop and take stock of ourselves, consider where we were going and how we wanted to get there.
Written by Dick Holler, who had, strangely enough, co-written the Royal Guardsmen's 1966 novelty hit "Snoopy vs. the Red Baron," "Abraham, Martin and John" focused on three fallen leaders—Presidents Lincoln and Kennedy and civil rights icon Dr. Martin Luther King—each slain by assassins while trying their hardest to make the world a better place. Lincoln and Kennedy were in the past, the former more than a century earlier, JFK only five years. King's murder was still fresh in the minds of everyone, having only taken place months earlier, on April 4, 1968.
By the time the song was committed to vinyl, another senseless assassination of a major figure would shake our already fragile world, that of Sen. Robert F. Kennedy on June 6.
"Abraham, Martin and John" was a profoundly moving recording in the folk-rock style, its instrumentation including violin and harp alongside acoustic guitar, oboe, flugelhorn, bass and drums and perhaps what surprised listeners the most was the artist singing the song: Dion.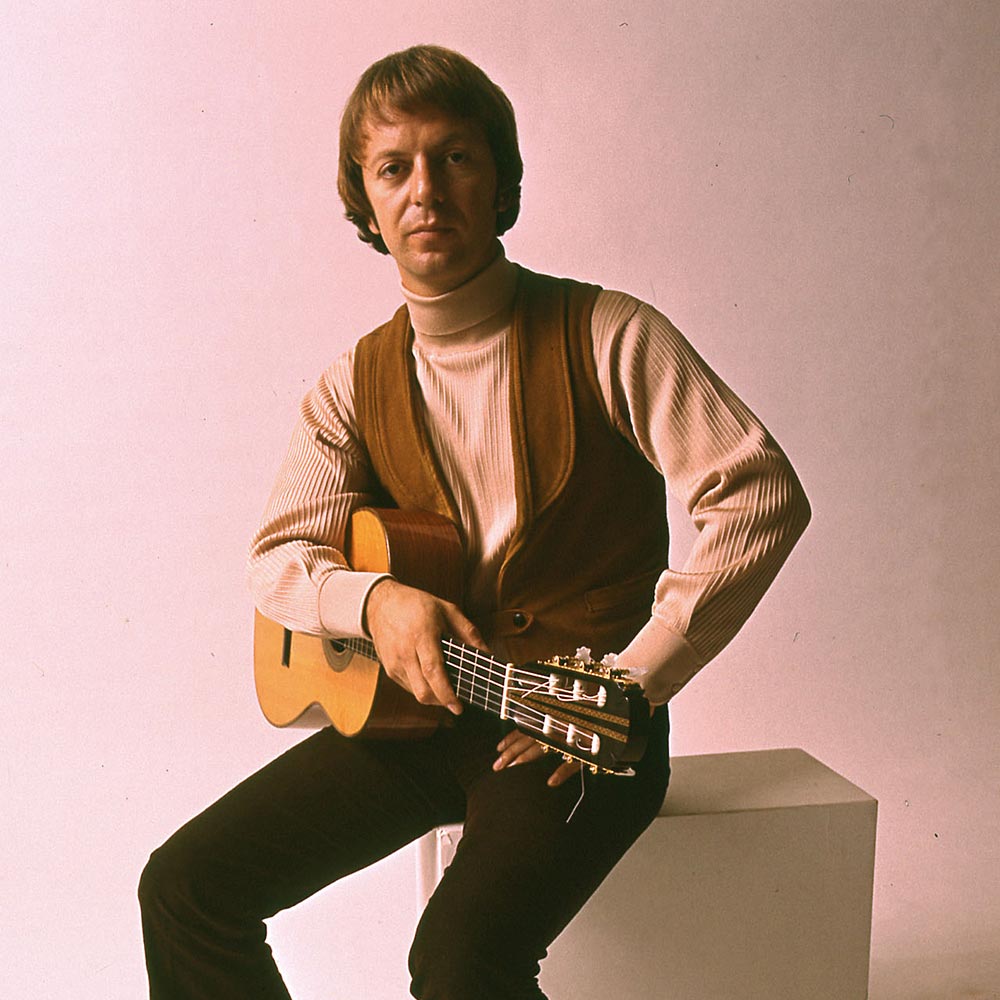 When most rock fans had last heard from Dion DiMucci, the Bronx, New York, native had been another pompadour-topped teen idol type, turning out hit after memorable AM radio hit, from 1958's uptempo doo-wop "I Wonder Why" through youth anthems like "A Teenager in Love," the #1 "Runaround Sue" and "The Wanderer," songs that still hold up today for their sincerity, rawness and attitude even if their storylines are dated. Unlike some of the other solo male hitmakers of the day, Dion exuded street smarts—because, after all, he was from the streets, having gotten his start singing in harmony with his friends on the corner.
Watch Dion sing "Abraham, Martin and John" on The Smothers Brothers Comedy Hour in 1968
Those early hits, both with his group the Belmonts and solo, were all on Laurie Records, but by 1963 they'd dried up and Dion had switched over to the Columbia label, scoring a few more top 10 singles with "Ruby Baby" (a Drifters cover), "Donna the Prima Donna" and another Drifters tune, "Drip Drop."
Related: Which other early rockers are still with us?
That last one charted in Billboard just days before the JFK assassination. Then, for five years, nothing. As far as record buyers were concerned Dion had disappeared.
Of course, he hadn't really, but Dion DiMucci had bigger problems to contend with. He'd been a longtime junkie whose next hit from the needle was more important to him than the next hit record. When he tried to kick heroin, he turned to alcohol. He didn't stop making music but he was operating below the radar while he battled his demons, performing folk and blues tunes on acoustic guitar in New York City clubs like the Bitter End while trying to make ends meet.
Then, finally, he had enough. Turning to religion for salvation, Dion left the addictions behind and came out of his slump.
Related: What were the other musical highlights of 1968?
The events of 1968 brought Dion back to us. Again recording for Laurie, he was uninterested in returning to the kind of teen-centric songs that made him famous. He was older now, more mature, and his interests had changed. "Abraham, Martin and John" was a song Dion felt deeply, a song for 1968; he took a chance.
The first stanza…
"Has anybody here, seen my old friend Abraham?
Can you tell me where he's gone?
He freed a lot of people, but it seems the good, they die young
You know I just looked around and he's gone."
Dion repeated the verse, substituting the first names of King and Kennedy. He added a new last verse after the shooting death of Robert Kennedy. Before it, in the chorus, he conveyed the moral, the song's purpose:
"Didn't you love the things that they stood for?
Didn't they try to find some good for you and me?
And we'll be free
Some day soon, it's gonna be one day."
Listen to the studio recording
"Abraham, Martin and John" landed on the Billboard singles chart on Oct. 26, 1968, and rose to #4, the last top 10 for Mr. DiMucci. But Dion, who was inducted into the Rock and Roll Hall of Fame in 1989, continues to sing new and old songs of his own and favorites from the worlds of blues and folk. He released a fine album in 2015 called New York Is My Home, which included a duet with Paul Simon on the title track.
In 2020… another fine, new album, Blues With Friends, arrived.
Watch a solo performance of the song by Dion

Latest posts by Jeff Tamarkin
(see all)