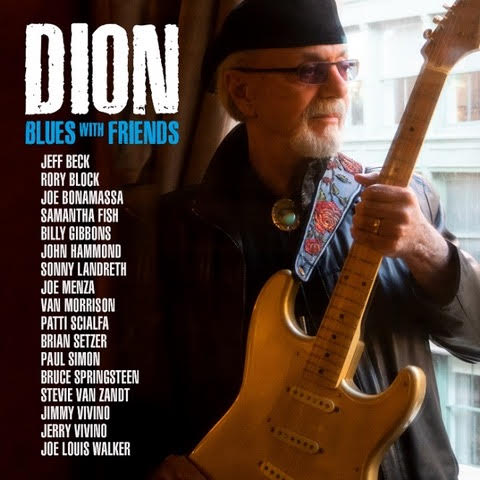 Rock and Roll Hall of Famer Dion has shared another great new track from his upcoming Blues With Friends album. This time it's a collaboration with Paul Simon, titled "Song For Sam Cooke (Here in America)." On May 15, 2020, Best Classic Bands premiered "I Got Nothin'," the legend's new song with Van Morrison and guitarist Joe Louis Walker. The album, which arrives June 5, also features such guests as Bruce Springsteen, Jeff Beck, Billy Gibbons and several others. Listen to the new track and several others below.
Of "I Got Nothin'," Dion tells Best Classic Bands, "You know when you sit down and you want to write a song, but nothing comes to mind? I was having one of those days. So I went with the feeling, and this is what I got. I got nothin', and nothing is enough! It's more than enough, actually, when you're singing it with Van Morrison. That's like riding the greatest wave in the world. Joe Louis Walker complemented us perfectly."
Watch the official video for "I Got Nothin'"
In the announcement, Dion (whose full name is Dion DiMucci) calls Blues With Friends the "the fulfillment of a lifelong vision." He explains the album's impetus: "'I wanted an album of songs that were strong and memorable and told stories that were worth telling…The blues have been at the heart of my music since the early 1960s. 'The Wanderer' is a 12-bar blues and I was covering Willie Dixon and Jimmy Reed in my early years at Columbia — much to the dismay of my corporate masters.'"
Related: First-generation rockers who are still with us
More from the original announcement: "The blues songs therein are not 'covers' nor Dion's versions of blues standards. These compositions are, in fact, blues originals, destined to become classics in their own right. He came up with the music and words for 12 of them and finished those with co-writer Mike Aquilina. The two exceptions are 'Hymn to Him,' which Dion wrote with Bill Tuohy, and 'Kickin' Child,' written with Buddy Lucas."
Watch the official music video for "Hymn to Him," featuring Patti Scialfa and Bruce Springsteen
In addition to the guests cited above, the album includes Joe Bonamassa, Brian Setzer, Sonny Landreth, Samantha Fish, John Hammond Jr., Rory Block , Jimmy and Jerry Vivino, Joe Menza, and Steve Van Zandt.
Watch the official video for "Song For Sam Cooke (Here in America)"
For this outing, Dion, who turns 81 on July 18, worked with producer Wayne Hood, in whose Florida studio the basic tracks were recorded. "From the first day, I was at home. We hit it off like brothers on a mission," says Dion in the press release. "We caught the same vision and sound and off we went."
Dion talked about his collaboration with Setzer. "I wanted to write an old-fashioned Gospel number in the style of the Golden Gate Quartet," he says. "So many of those old songs worked a single simple metaphor all the way through. I wanted this one to be about moving forward in the spiritual life … having a goal … facing temptations along the way. All classic stuff. So I put it all on a train, because that's what New Yorkers do if they want to get anywhere: they take the train, and the train has a number and a direction. Still, I can never leave well enough alone, so one day I tried the melody in a minor key. I loved the way it turned out. And that's what you're hearing."
Listen to "Uptown Number 7" with Brian Setzer
Blues With Friends will be released through Keeping the Blues Alive Records, a new label, started by Bonamassa and his manager Roy Weisman, that is an offshoot of Keeping the Blues Alive Foundation, Bonamassa's non-profit that aims to conserve the art of music and the rich culture and history of the blues. The label's objective is to provide a platform for musical talent in blues and blues-rock based music and to help encourage the careers of extraordinary musical talent. Ten percent of all profits from the label will be donated back to the non-profit for promoting music education to students and schools in need.
Listen to "Blues Comin' On" with Joe Bonamassa
Related: Our review of Blues With Friends

Latest posts by Best Classic Bands Staff
(see all)