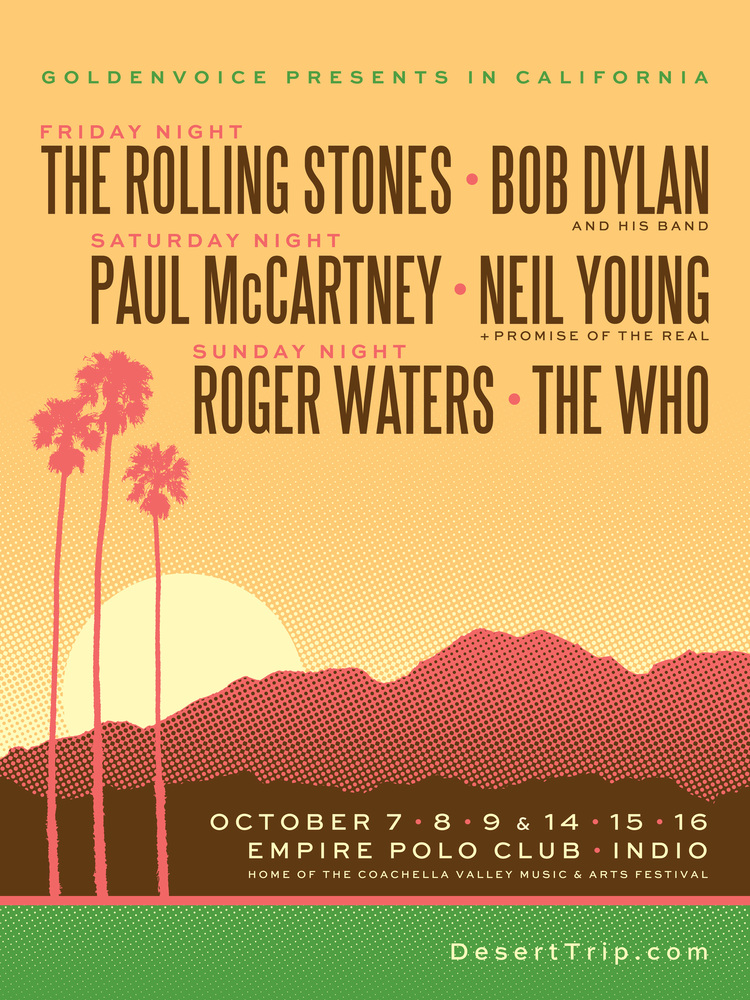 There had been rumors and teases for days about the classic rock mega-fest developing for the first weekend in October in Indio, Calif., at the Coachella site of the Empire Polo Grounds. On April 29, 2016, The Who, Bob Dylan and Roger Waters were the first to post career-spanning video teasers. On May 1, Paul McCartney was the next participant to post a video teaser named "October" on his social media accounts. On May 2, the final holdouts – the Rolling Stones and Neil Young – added their own "October" video teaser for the still-unnamed event. The Stones featured "All Down the Line"; Young chose "After the Gold Rush."
Word of the event first came to light in mid-April in a story by the Los Angeles Times and spread quickly. And on May 3 came the formal announcement: It's for real. It's called Desert Trip.
One of the biggest and most dynamic gatherings of classic rock talent since 1969's Woodstock festival and 1985's Live Aid had been officially announced.
Yep. It was a big boom for baby boomers (nickname: Oldchella) and every generation that appreciates rock music's greatest artists and music. It's the only festival in rock history with both the Rolling Stones (Friday, October 7 and 14) and a Beatle, Sir Paul, (Saturday October 8 and 15). Add to that Dylan on Friday night. (And let's just note here for the record that the Stones, Beatles and Dylan did not play Woodstock, the landmark rock festival of the 1960s).
Add to Saturday night Neil Young and Promise of the Real (who had been blowing minds on their just launched summer 2016 tour). Then on Sunday (October 9 and 16) it was Pink Floyd's Waters and The Who – not quite finished saying farewell and playing shows as magnificent as any in their now 51 years.
Prices ranged from $199 for a single day to $399 for all three days to $1599 for reserved floor seats for all three days. Tickets and packages went sale on May 9 at the Desert Trip website. Just before tickets went on sale, a second weekend was added.
Best Classic Bands had a reviewer on site for the first weekend. Of Dylan's performance which opened Friday night, we wrote he was "in total command, through a career spanning set." He began with "Rainy Day Women #12 & 35."
Next up on Friday were the Stones. Their "spectacular" set included a cover of the Beatles' "Come Together."
In our review of Neil Young and Promise of the Real, who opened Saturday night's show, we singled out the thunderous version of "Rockin' in the Free World."
Watch their performance of "Rockin' in the Free World," during Weekend Two
McCartney included a crowd-thrilling encore of the Abbey Road medley in his set. Earlier, he was joined onstage by Young for "A Day in the Life"
Somewhat surprisingly, The Who were the opening act for Sunday and their set included "My Generation," "You Better You Bet," the always appreciated "5:15," "Love Reign O'er Me," the iconic "Baba O' Riley" and set closer "Won't Get Fooled Again."
The weekend's closing act was Roger Waters, whose set offered a prelude to his world tour of 2017-18.
If you're a new Best Classic Bands reader, we'd be grateful if you would Like our Facebook page and/or bookmark our Home page.

Latest posts by Best Classic Bands Staff
(see all)