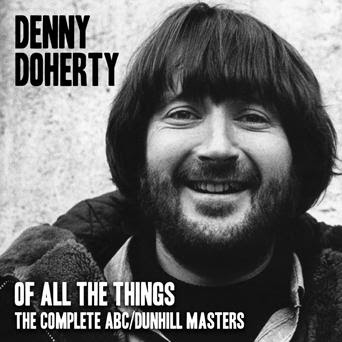 Real Gone Music will release Of All the Things—The Complete ABC/Dunhill Masters, a collection of all of the solo recordings made for the label by Denny Doherty of The Mamas and the Papas. The album, to be released on Jan. 26, includes all of the late vocalist's 1971 album Watcha Gonna Do, along with six bonus tracks.
Watcha Gonna Do was released previously on CD only in Japan in 2002, and five of the six bonus tracks are previously unreleased. Pre-order it here.
Arranged by Jimmie Haskell, produced by Bill Szymczyk, and featuring songs written by Denny with his first wife Linda Woodward with such session players as Barry McGuire, Buddy Emmons, Russ Kunkel, "Fast" Eddy Fischer, and Eric "The Doctor" Hord, Watcha Gonna Do is described in a press releases as "truly a lost gem of early '70s roots rock, sort of the Mamas and Papas meeting the Band and the Eagles (Szymczyk went on to produce all of The Eagles albums).
Related: Read our exclusive interview with Bill Szymczyk
The bonus tracks include the rare single of the non-LP track "To Claudia on Thursday"—with additional vocals supplied by Spanky McFarlane of Spanky and Our Gang—plus five other tracks unearthed from both album session tapes and follow-up recordings left in the vaults, four of them never before released.
Following the dissolution of the mamas and the Papas, Doherty never regained the popularity he enjoyed with the group. In 1981, John Phillips and  Doherty attempted to revive the fortunes of the original group by forming the New Mamas and the Papas, with John's daughter, actress Mackenzie Phillips, replacing the uninterested Michelle, while McFarlane  took the part of the late Mama Cass Elliot. At first, they drew enthusiastic audiences but with both John and Mackenzie involved with substance abuse, the revival was always on shaky ground. Doherty quit in 1987, replaced by Scott McKenzie, a friend of the Mamas and the Papas who'd scored his own #4 single at the dawn of 1967's Summer of Love with the John Phillips-penned "San Francisco (Be Sure to Wear Flowers in Your Hair)."
For the new reissue, Joe Marchese provides liner notes featuring quotes and reminiscences from Eddy Fischer, Denny's daughters, Bill Szymczyk, Michelle Phillips of the Mamas and the Papas and others. Artwork includes previously unpublished period photographs.
Listen to "Still Can't Hear he Music" from Doherty's Watcha Gonna Do

Latest posts by Best Classic Bands Staff
(see all)