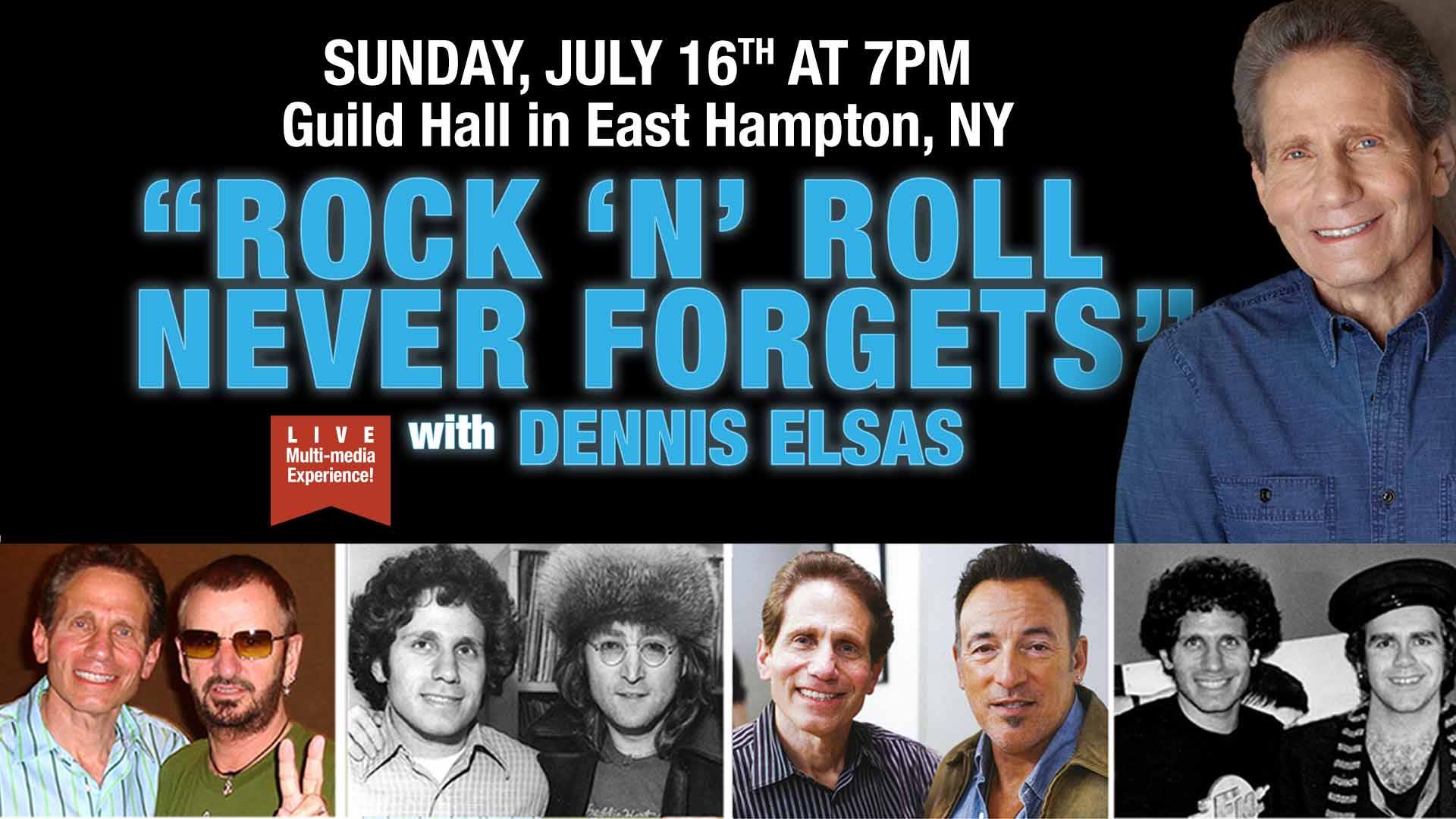 Rock radio legend Dennis Elsas will present his fascinating live multimedia show, "Rock 'N' Roll Never Forgets," this Sunday, July 16, at 7 p.m. at Guild Hall in East Hampton, N.Y.
"Rock 'N' Roll Never Forgets" brings rock and radio memories alive in an evening of reminiscences and highlights from Elsas' historic interviews with such classic rock icons as John Lennon, Elton John, Jerry Garcia, Pete Townshend and more.
Starting out at the legendary WNEW-FM and now heard daily on New York's WFUV and SiriusXM's Classic Vinyl (26) and The Beatles Channel (18), Elsas traces rock radio from the Top 40 he grew up on to the rise and blossoming of progressive album rock radio, where he helped to shape that format as music director and an on-air personality at WNEW for over three decades.
Through it all Elsas serves as he has for so long as a genuine host. He recalls such memorable events as when John Lennon dropped in at WNEW in 1974 for a freewheeling interview with Elsas in which he offered rare Beatles stories, chatted about city life and the weather, played DJ and even read commercials. Dennis recalls the pre-Internet days when DJs were community news, information and social sources, such as the time when Elton John came by the day after his Madison Square Garden show that same year to report that Lennon had showed up and sat in, and then spent two hours hanging and talking with Elsas on-air.
Watch a preview of "Rock 'N' Roll Never Forgets"
That same engaging charm that has made Elsas a beloved radio personality and favorite interviewer for many top stars makes "Rock 'N' Roll Never Forgets" delightful entertainment and an unforgettable evening. Since Best Classic Bands' 2015 launch, we've been honored to share his conversations with Graham Nash, Robert Plant, John Fogerty, Gregg Allman, Bill Wyman and ELO's Bev Bevan.
Click here for more details and ticket info on "Rock 'N' Roll Never Forgets." (Advance purchase strongly advised; the event happens just a few times a year in the New York area and consistently sells out.)

Latest posts by Best Classic Bands Staff
(see all)