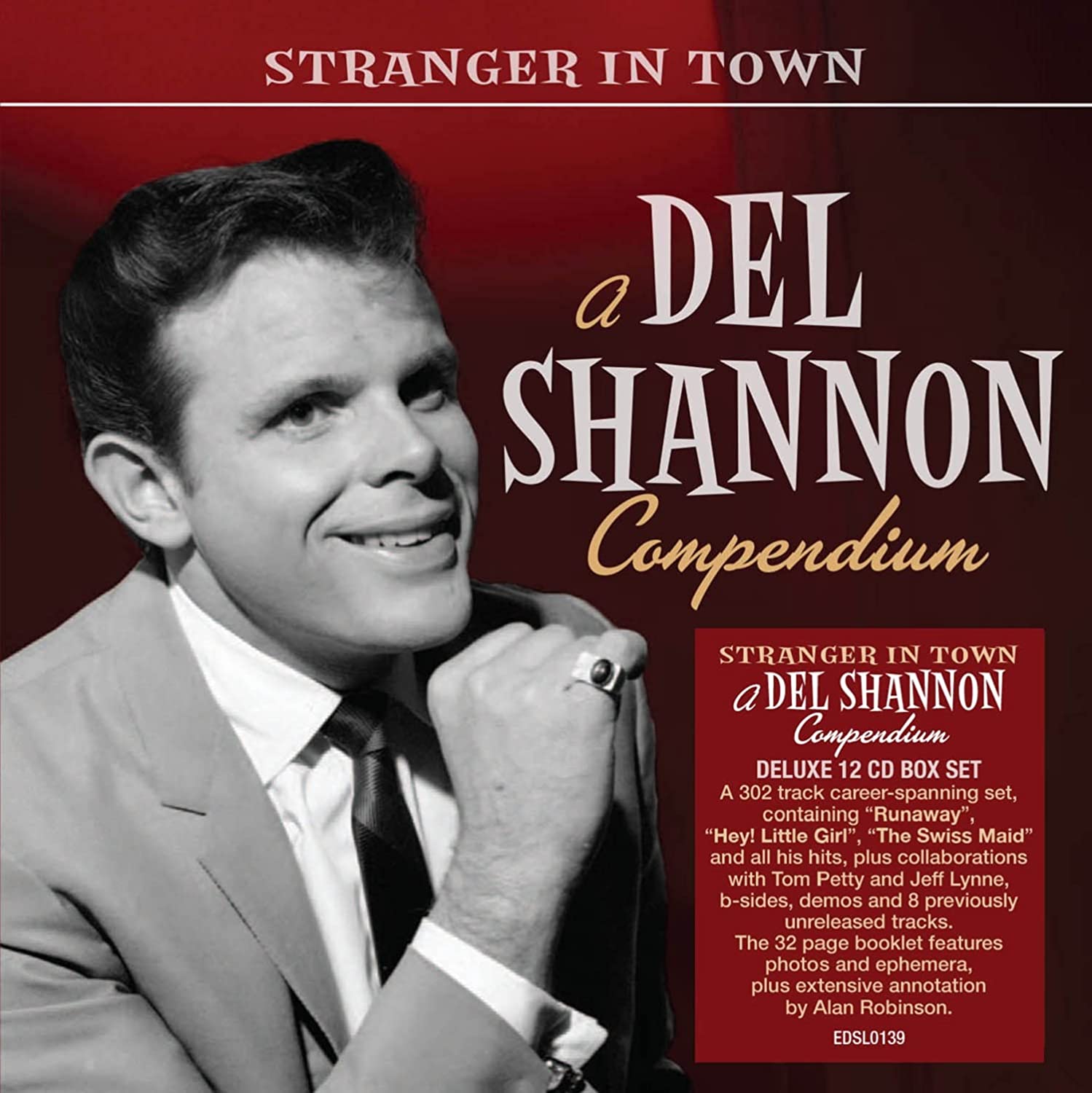 Early rocker Del Shannon is the subject of a comprehensive box set, Stranger in Town: A Del Shannon Compendium. The 302-track set spans his entire career, from his hits in the early 60s, his mid-60s recordings with Andrew Loog Oldham, to his 70s and 80s recordings with Tom Petty and Mike Campbell, as well as Jeff Lynne and Dave Edmunds. The 12-CD collection arrives Feb. 24, 2023, via Edsel Records.
From the announcement: Shannon was, without doubt, one of the most gifted and distinctive of musical talents to emerge in the immediate pre-"British Invasion" era of American pop. His was a talent that travelled well – indeed, his U.K. and European fanbase proved far more loyal and his success in those territories of greater longevity than in his native U.S. Moreover, he was also much admired by successive generations of musicians, including the likes of George Harrison, Bob Dylan, Jeff Lynne, Tom Petty, Bruce Springsteen and Neil Young. His songs, more often than not, essayed a bleak world of doomed romance, lovelorn disenchantment and existential gloom. Paradoxically, of course, those themes were frequently juxtaposed to surprisingly upbeat and bright-sounding melodies.
Stranger in Town is a compendium of the entirety of Shannon's career, It also includes all of his mid-80s "Nashville Sessions" recordings, most of which are issued for the first time, plus b-sides, demos and a further eight previously unreleased tracks. A 32-page booklet features photos and ephemera, plus extensive annotation by Alan Robinson.
This set contains all of Shannon's hits, eight of which reached the Top Ten in the U.K., including the 1961 #1 hit on both sides of the Atlantic, "Runaway," as well as "Hats Off to Larry," "Hey! Little Girl," "The Swiss Maid," and "Keep Searchin' (We'll Follow the Sun)." Also included are Shannon's recordings of two Lennon/McCartney songs, "From Me To You" and "A World Without Love."
The collection includes the entire 1991 Rock On! album, recorded with Tom Petty & the Heartbreakers, and produced by Mike Campbell and Jeff Lynne.
Shannon was born Charles Westover, on Dec. 30, 1934. He took his own life on Feb. 8, 1990, at age 55. He was inducted posthumously into the Rock & Roll Hall of Fame in 1999. The complete track listing is available here.

Latest posts by Best Classic Bands Staff
(see all)