Legendary heavy metal frontman and actor Dee Snider has released a live album, For the Love of Metal Live. The collection, announced in May arrived on CD with a bonus DVD/Blu-ray on July 31 via Napalm Records.
For the Love of Metal Live combines behind-the-scenes footage, various interview clips, personal commentary and live performances from the charismatic rocker.
The collection features audio captured from several of Snider's festival performances worldwide.
In addition to tracks from his solo catalog like "I Am the Hurricane" and "For the Love of Metal," Twisted Sister favorites such as "I Wanna Rock" and "We're Not Gonna Take It."
Listen to "We're Not Gonna Take It" from the new album
On June 17, the former Twister Sister leader released a clip for a solo favorite, "I Am the Hurricane."
"If there is ever a repeated message in my songs it's this," says Snider. "Stand up, fight back, don't take any sh*t from anybody, and f*ck anybody who gets in your way or tries to put you down. It's a message that constantly needs to be reinforced in us all, myself included. 'I Am the Hurricane' is that reinforcement!"
Of the new recording, Snider says: "'Prove Me Wrong' are words that I've thought in my head since the day I began rocking. I had a monster chip on my shoulder and dared the world to knock it off… nobody ever could. At this point in my career I thought I'd let everybody in on what has kept be going all these many years. Prove me wrong!"
The release includes a cover of AC/DC's "Highway to Hell," and a brand new original studio track, "Prove Me Wrong."
Snider explains why he's releasing the new album. "All of my other live concert releases are all about the past. And while my past is represented here, it is presented along with my new music, played by my new band and is very much 'in the now.' The included interviews give insight into my world, my journey and my evolution since I started nearly 50 years ago."
For the Love of Metal Live Track Listing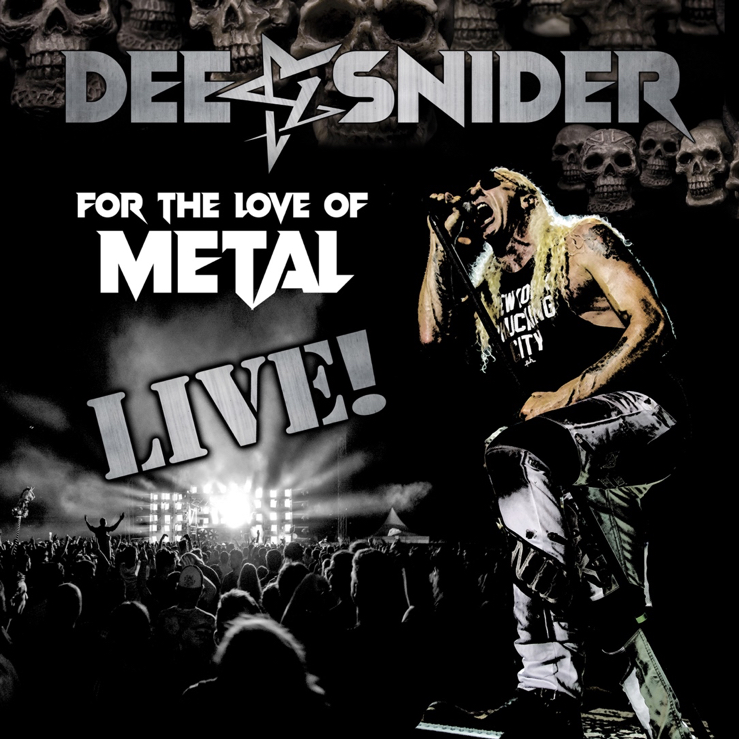 CD
1. Lies Are A Business
2. Tomorrow's No Concern
3. You Can't Stop Rock 'N' Roll
4. The Beast Live
5. American Made
6. Under The Blade
7. The Kids Are Back
8. Become The Storm
9. We're Not Gonna Take It
10. I Am The Hurricane
11. Burn In Hell
12. I Wanna Rock Live
13. For The Love Of Metal
14. Highway To Hell
15. Prove Me Wrong
DVD/Blu-Ray
1. Lies Are A Business
2. Pain of Traveling (Interview)
3. Tomorrow's No Concern
4. You Can't Stop Rock 'N' Roll
5. New Record (Interview)
6. The Beast
7. American Made
8. Under The Blade
9. Song Writing (Interview)
10. The Kids Are Back Live
11. Become The Storm
12. We're Not Gonna Take It
13. WNGTI (Interview)
14. I Am The Hurricane
15. Burn In Hell Live
16. Rock of Ages (Interview)
17. I Wanna Rock
18. For The Love Of Metal
19. AC/DC (Interview)
20. Highway To Hell
21. Credits
22. Ready To Fall (Bonus Track)
23. The Fire Still Burns (Bonus Track)
24. Roll Over You (Bonus Track)
25. Suzette (Interview)
26. Hearing (Interview)
27. Strangeland (Interview)
28. Lemmy (Interview)
Related: When Snider testified before the U.S. Senate

Latest posts by Best Classic Bands Staff
(see all)