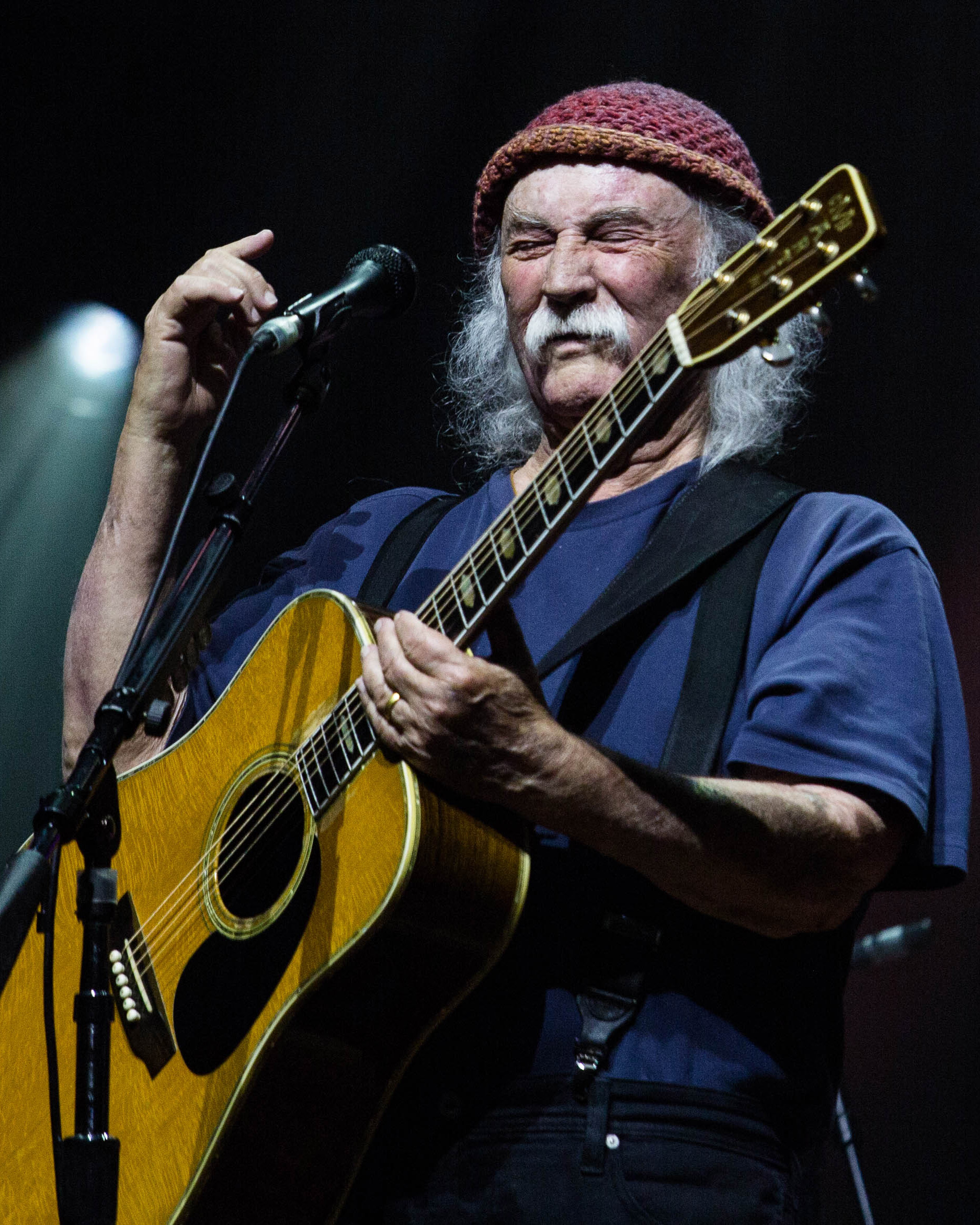 David Crosby and Graham Nash have both postponed their 2020 tours. Crosby's announcement on May 5 cited the impact of the Covid-19 pandemic. "The safety and wellbeing of the fans is our paramount concern and with his in mind, we had to take this decision," he wrote. The tour was scheduled to begin May 14 with dates through June 21. The musician is in the process of rescheduling the dates and expects to announce the new ones "very soon."
In an interview published March 14, Crosby said "if I lose the tours, I will probably lose my home." Speaking with GQ, the musician had been asked, innocently enough, "How are you doing?" His response was to the point. "Not too good. I'm sitting here waiting for them to cancel all my tours this summer and put me in deep financial trouble." Crosby was referring, of course, to the cancellation of public events, as a result of the Coronavirus outbreak.
"They don't pay us for records anymore," he continued. "So touring is all we got. That's really the only thing that we can do to make any money. And to lose it is just awful. I may—honest to God—I may lose my home. I don't know what to do about it, except just try to roll with the punches and keep going. Truthfully, if I lose the tours, I probably will lose my home."
Crosby, who turned 78 last Aug. 14, tells GQ "once I start in May, I'm working almost constantly until about six days before Christmas.
"I don't have any savings," he said.
He will tour with his Sky Trails Band: his son (and Sky Trails album producer) James Raymond on keys, Mai Leisz on bass, Steve DiStanislao on drums, Jeff Pevar on guitar and Michelle Willis on keys and vocals.
Crosby's 2019 documentary David Crosby: Remember My Name, received a Grammy nomination in the Best Music Film category. He has released four new studio albums since 2014 and is readying his next release.
Watch David Crosby and the Sky Trails Band perform "Almost Cut My Hair" in 2019
Related: Our review of a recent David Crosby concert
Meanwhile, his longtime bandmate Graham Nash has postponed the remaining dates of his U.S. tour to the fall. In an earlier Facebook post, Nash wrote: "We have been in close contact with our concert promoters and they, in turn, have been in contact with their local authorities. We have collectively determined that it is in the best interest of our audience and ourselves to postpone the next few weeks of my tour dates until the present health crisis has abated."
The tour began March 4. Nash, who turned 78 on Feb. 2, was accompanied by longtime collaborator Shane Fontayne on guitars and vocals, and former CSN keyboard player and vocalist Todd Caldwell. His European tour, which begins July 8, is still scheduled.
Related: Graham Nash interviewed by radio great Dennis Elsas
Watch Graham Nash cover Stephen Stills' "Love the One You're With" in 2019
Neil Young had been planning a tour with Crazy Horse but he's hit the pause button. In a March 7 post on his Neil Young Archives website, the veteran singer-songwriter-musician noted, "We are looking at this uncertain world with our fully booked Crazy Horse Barn Tour, ready to announce the first stage.
"The last thing we want is to put people at risk, especially our older audience. Nobody wants to get sick in this pandemic."
David Crosby Postponed 2020 Tour Dates (Once rescheduled, tickets will be available here and here)
May 14 – Santa Barbara, CA – Lobero Theatre
May 16 – El Cajon, CA – Magnolia Performing Arts Center
May 17 – Santa Cruz, CA – Rio Theatre
May 19 – Sacramento, CA – Crest Theatre
May 21 – Salt Lake City, UT – Commonwealth Room
May 22 – Jackson, WY – Center for the Arts
May 24 – Boulder, CO – Chatauqua Auditorium
May 26 – Dallas, TX – Granada
May 27 – Austin, TX – Paramount
May 29 – Memphis, TN – Graceland Guest House
May 30 – Knoxville, TN – Bijou
Jun 01 – Bethlehem, PA – Musikfest Cafe
Jun 02 – Harrisburg, PA – Whitaker Center for Science and the Arts – Sunoco Performance Theater
Jun 08 – Annapolis, MD – Rams Head On Stage
Jun 10 – Northampton, MA – The Academy of Music
Jun 11 – Albany, NY – The Egg Performing Arts Center
Jun 13 – Bar Harbor, ME – Criterion Theater
Jun 14 – Beverly, MA – The Cabot Theater
Jun 16 – Geneva, NY – Smith Opera House
Jun 18 – Toronto, ON – Danforth Music Hall (Toronto Jazz Fest)
Jun 20 – Arrington, VA – Lockn' Music Festival
Jun 21 – Westhampton Beach, NY – Westhampton Beach PAC
Graham Nash 2020 Tour Dates (Get tickets here and here)
Jul 08 – Langesund, Norway – Wrightegaarden
Jul 09 – Oslo, Norway – Sentrum Scene
Jul 11 – Vastervik, Sweden – Visfestivalen Vastervik
Jul 12 – Aarhus, Denmark – Aarhus Jazz Festival
Jul 13 – Copenhagen, Denmark – Amager Bio
Jul 17 – Stuttgart, Germany – Theaterhaus Stuttgart
Jul 23 – San Sebastian, Spain – Jazz Festival
Jul 24 – Sant Feliu de Guixols, Spain – El Festival de Porta Ferrada
Jul 26 – Madrid, Spain – Noches del Botanico
Nov 06 – Keswick Theatre – Glenside, PA (was Mar 13)
Nov 07 – Harvester Performance Center – Rocky Mount, VA (was Mar 14)
Nov 08 – Variety Playhouse – Atlanta, GA (was Mar 17)
Nov 10 – Bilheimer Capitol Theatre – Clearwater, FL (was Mar 19)
Nov 12 – Ponte Vedra Concert Hall – Ponte Vedra Beach, FL (was Mar 18)
Nov 13 – Ponte Vedra Concert Hall – Ponte Vedra Beach, FL (was Mar 22)
Nov 14 – Coral Springs Center for the Arts – Coral Springs, FL (was Mar 21)
Nov 16 – CMA Theater – Nashville, TN (was Mar 28)
Nov 17 – Mars Music Hall – Huntsville, AL (was Mar 25)
Nov 18 – Diana Wortham Theatre – Asheville, NC (was Mar 29)
Nov 20 – Memorial Hall – Cincinnati, OH (was Mar 31)
Nov 21 – The Pageant – St. Louis, MO (was Apr 1)
Nov 22 – Blizzard Theatre – Elgin, IL (was Apr 2)

Latest posts by Best Classic Bands Staff
(see all)