David Coverdale revealed recently that he finally had the hernia surgery that was the original cause of the cancellation of Whitesnake's entire 2020 tour. On March 23 the classic rock legend cited his need for the surgery in a video posted to the band's Facebook page, saying that the condition makes it "very, very painful when I sing."
At the time, Coverdale offered his apologies "for this unforeseen personal health issue, which I will have addressed at the first possible opportunity."
But it wasn't until Sept. 9 that Coverdale posted, "Finally!!! I was able to have hernia surgery!!! A 1,000 thanks to ALL the caring, loving & incredible professionals at Renown Health [in Northern Nevada] for taking such good care of me…❤️❤️❤️
& to YOU, my Beauties…have a blessed day/night Wherever You Are, Know You Are Loved. Stay Safe & Well!!! ❤️❤️❤️"
The surgery came several weeks before Coverdale's 69th birthday on Sept. 22.
On March 5, Whitesnake had cancelled the Japanese dates of their Flesh & Blood world tour, due to the Coronavirus. The eight concerts were scheduled to begin on March 9.
In that announcement, the band called the decision "unavoidable" and indicated that they were working on rescheduling the dates.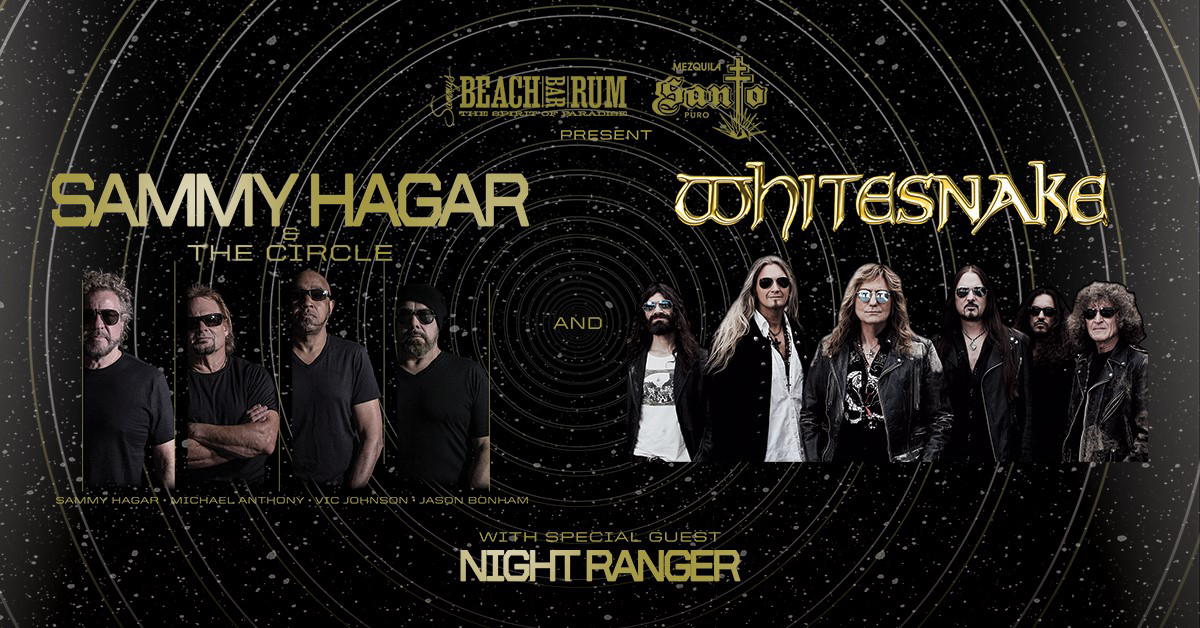 Whitesnake had big tour plans for 2020. On Jan. 27, it was announced that Sammy Hagar & The Circle, comprised of Rock and Roll Hall of Fame inductees Sammy Hagar and bassist Michael Anthony, plus drummer Jason Bonham and guitarist Vic Johnson, would be joining forces with Whitesnake, formed by former Deep Purple singer and Rock and Roll Hall of Famer Coverdale with guitarists Reb Beach and Joel Hoekstra, drummer Tommy Aldridge, bassist Michael Devin and keyboardist Michele Luppi, for a 2020 summer tour. The 30-city U.S. run of outdoor amphitheaters was also to feature special guest Night Ranger but was subsequently nixed due to the pandemic.
To celebrate the original tour announcement, Hagar and Coverdale released a special video discussing their first impressions of each other, how touring was then versus now, and more.
From the Jan. 27 announcement: Sammy Hagar & The Circle have quickly established themselves as one of the most emphatic and exciting live acts on tour today, seamlessly ripping through career-spanning hits from Montrose, Van Halen, Sammy's solo career, as well as the band's hit debut studio album, Space Between, which scored them a #4 overall album on the Billboard 200 in 2019. Setlists include hits like "There's Only One Way To Rock," "Finish What Ya Started," "Mas Tequila," "I Can't Drive 55," "Can't Hang," "Rock Candy," "Right Now," and many more.
"I love some friendly competition on stage and that's exactly what this is going to be," said Hagar. "David and I have nothing but the highest respect for one another, but we would also like to blow the other guy off the stage! Add in Night Ranger and the fans will have one hell of a night of music."
Whitesnake boasts a catalogue of powerful hard rock and chart-topping power ballads with seminal and anthemic hits such as "Here I Go Again," "Still of the Night," "Fool for Your Loving" and "Is This Love," to name a few.
"The Red Rocker & The Snake??? OMG…I wanna see that show myself!!!," said Coverdale.
Related: Listings for 100s of classic rock tours

Latest posts by Best Classic Bands Staff
(see all)