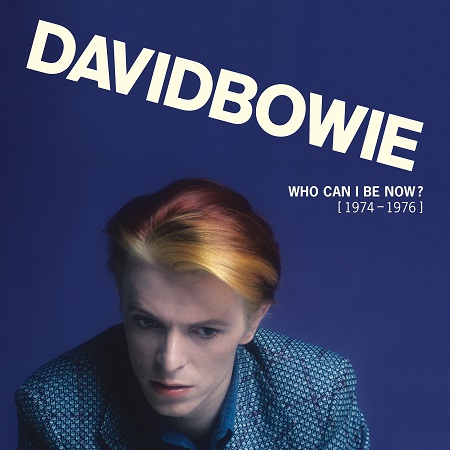 Our newest contest features all of the material officially released by David Bowie during what's been called the "American" phase of his career.
David Bowie Who Can I Be Now? (1974-1976) was just released on September 23, 2016 by Rhino Entertainment, in association with Parlophone Records, as the second in a series of boxed sets spanning his career from 1969. The followup to the award-winning, critically acclaimed David Bowie Five Years 1969-1973 also contains the previously unreleased album from 1974 called The Gouster.
The collection includes such studio favorites as "Young Americans," "Diamond Dogs," "Rebel Rebel" and "Fame."
One Best Classic Bands reader will win the 12-CD box – also available as a 13-LP vinyl set here and digital download – which includes Diamond Dogs, David Live (in original and 2005 mixes), Young Americans and Station to Station (in original and 2010 mixes), as well as The Gouster, Live Nassau Coliseum '76 and a new compilation entitled Re:Call 2, a collection of single versions and non-album B-sides. 
(The vinyl boxed set has the same content as the CD set and is pressed on audiophile-quality 180 gram vinyl.) The sets' accompanying book, 128 pages in the CD box and 84 in the vinyl set, features rarely seen and previously unpublished photos.
Complete details, including song listings are available here.
DAVID BOWIE WHO CAN I BE NOW? (1974-1976) Boxed Set Lineup:
CD Boxed Set
128 Page hardback book
Diamond Dogs (Remastered) (1 CD)
David Live (Original Mix) (Remastered) (2 CD) *
David Live (2005 mix) (Remastered) (2 CD)
The Gouster (Previously Unreleased As An Album) (1 CD) *
Young Americans (Remastered) (1 CD)
Station to Station (Remastered) (1 CD)
Station to Station (Harry Maslin 2010 mix) (1 CD) *
Live Nassau Coliseum '76 (2 CD)
Re:Call 2 (Single Versions and Non Album B-sides) (Remastered) (1 CD) *
* Exclusive to WHO CAN I BE NOW? (1974-1976)
Watch the official unboxing video for the collection…
So what are you waiting for? Enter our contest stat! Since only one of you will win, we'll understand if you can't wait and want to buy one of the versions right away via the links below…
No purchase necessary. Deadline for entries is 11:45PM Eastern time on October 2, 2016. For complete Best Classic Bands contest rules, click here.
[wcc_contest id=28833]

Latest posts by Best Classic Bands Staff
(see all)