Music industry veteran Dave Morrell continues to chronicle his charmed record label career with Run-Out Groove: Inside Capitol's 1980s Hits & Stiffs, published on May 26. Morrell's stories are ripped from the headlines of the 1980s, with accounts of Bob Seger, Bonnie Raitt, Duran Duran, Crowded House, MC Hammer, Michael Jackson, Great White and other key artists of that decade. In this fourth title of his series, Morrell depicts a culture rife with abusive bosses, payola, and more.
After a job interview unimaginable today – "Do you smoke pot?" "Yeah? You're hired." – the 26-year-old Morrell finds himself helming Capitol Records' East Coast FM radio promotion efforts and rubbing shoulders with John, Paul, George, Ringo, Yoko and Linda. It seems like a dream gig for the young Beatle fan, who had become a friend of Lennon's.
Growing up in Kearny, NJ, in the early 1970s, Morrell amassed a collection of Beatles memorabilia so unique that when Lennon heard about it, he promptly asked to meet the teen.
Related: Morrell's memorable first meeting with John Lennon
Thanks to a tip from a friend, Morrell landed a job as the assistant stock boy in the 8-track tape department at the Warner/Elektra/Atlantic warehouse distribution center in New Jersey and began his journey from mega-fan to promo man, as told in volumes one and two of his archives, Horse-Doggin' and 1974 The Promotion Man New York City. The saga continued with volume three, 45 RPM (Recollections Per Minute).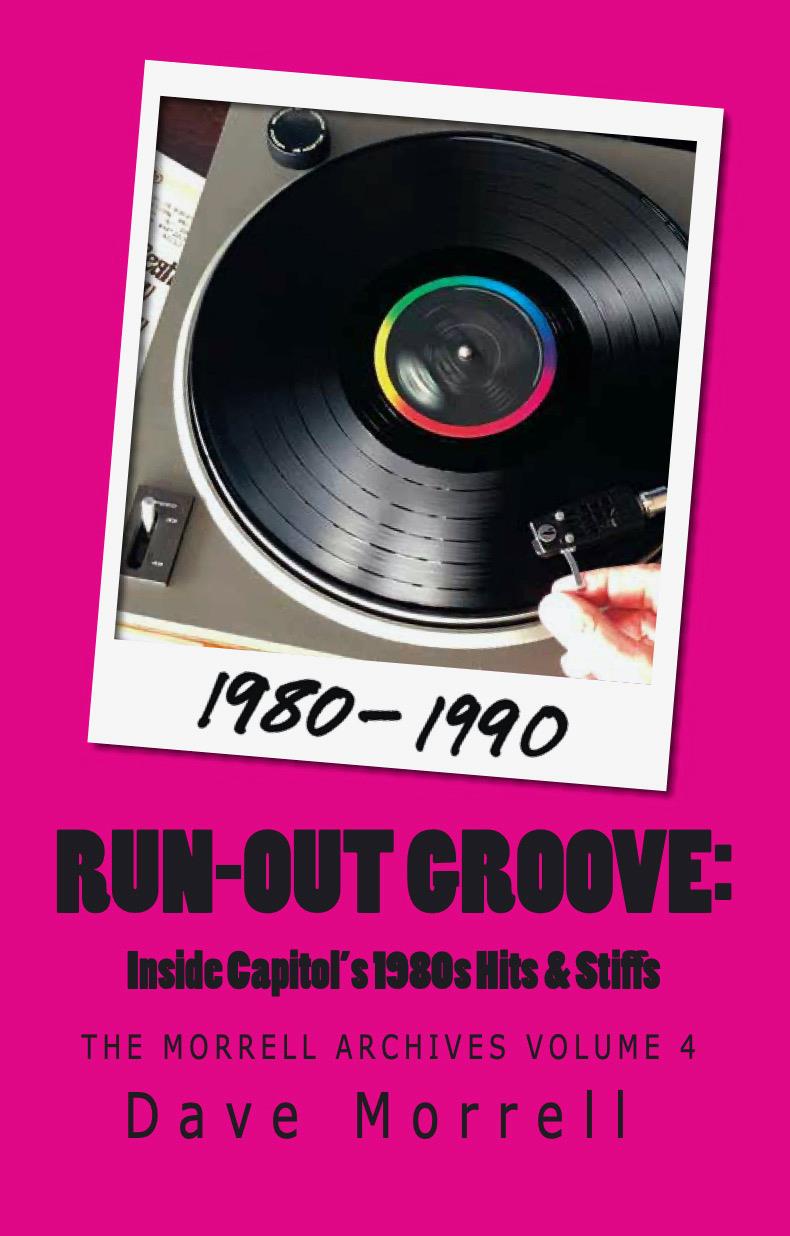 In the new book, Morrell reveals a label struggling to adapt to changing musical tastes by pouring big bucks into independent promotion firms (Payola 2.0) to work singles that ultimately tank. A succession of promo chiefs that he dubs "rumpdogs" relegate newcomers like Duran Duran and Crowded House to the bottom of the label staff's priority list. One boss keeps a cattle prod in his office. Another favors sledgehammers.
Run-Out Groove tells the stories behind the hits and stiffs through a series of demeaning, demoralizing "rumpdog"-led conference calls. In this pre-Zoom era, the bosses bark clear directions: "Bring in the kneepads, bring in a baseball bat! We need stations on this record." "Give away all the Beatles records you need to get the job done!" "Go sell your soul to the Devil! I don't care. We have to have 10 adds [to radio station playlists]!" The staff takes the weekly beatdowns and reaches for a bump up. It's the 80's – decades before bigwigs have to worry about the fallout of a toxic work culture.
Moments of joy offset the madness – a chance encounter with Lennon, who was energized by the Double Fantasy sessions, shopping in the women's department at Parachute with Duran Duran, working Bonnie Raitt's GRAMMY®-winning, breakthrough album, Nick of Time, chilling at a Shea Stadium ballgame with Iron Maiden and surviving the riot at the band's 1987 New Jersey Meadowlands show, taking an unsigned Cyndi Lauper to CBGB, giving Michael Jackson tips on Beatles sightseeing in Liverpool and more.
Decades later, Morrell runs into old friends (Seger, Heart's Ann Wilson, Hammer) and the new guard (Katy Perry, Beck, Halsey) at Capitol's 75th anniversary party. Later, he watches the "Butcher" album cover that Lennon had given him, which included a small illustration that John sketched as they spoke, go up for auction. (The album, which has passed through several hands since Morrell owned it, sold at auction for a record $234,000 in 2019.)
Morrell's 109-song Run-Out Groove playlist on Spotify gives a hint of the book's scope. Stream it here.
Since moving to Los Angeles in 2005, Morrell has worked for a number of prominent independent labels and won acclaim as an author. He was a featured speaker at 2014's Beatlefest in Los Angeles, served as panelist at several GRAMMY Museum events, and co-hosted United Stations Radio Networks' "Fabcast," a Beatles podcast.

Latest posts by Best Classic Bands Staff
(see all)