Beatles Fan's Memorable Meeting With John Lennon
by Dave Morrell
Before Dave Morrell became a successful record label promotion man, working countless records at radio and helping to establish the careers of scores of recording acts, he was a music fan, like all of us.
But unlike the rest of us, he has a one-of-a-kind story to tell. As a recent high school grad living in New Jersey in the summer of 1971, it was, as he says, "a great time to be 18 years old." He listened to rock music on FM radio during the day and went to the Fillmore East in New York City as often as he could at night.
The following is excerpted from Morrell's book, Horse-Doggin': The Morrell Archives, Volume 1, chronicling his rise from music fan to a music distributor warehouse job to his first record label gig. It is reprinted here with his permission (with a wild postscript)…
I saw an ad in the back of Rolling Stone from a mail order company called Godzilla. They had a Beatle album they were calling Yellow Matter Custard and it had songs on it I had never heard of: "I Got a Woman," "I Just Don't Understand," "To Know Her is to Love Her," and so on. The only song I knew was "Slow Down."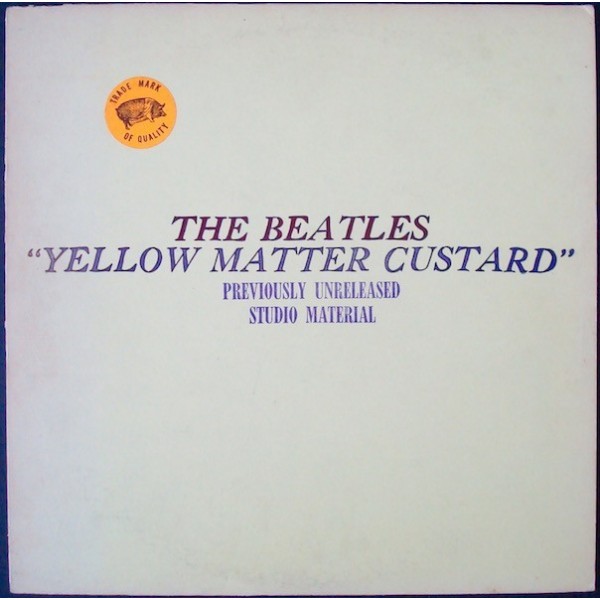 I sent the money and the record came with Godzilla's list of bootleg albums. The disc was red vinyl with no song titles. I jacked up the volume and began to listen. "I Got a Woman" was the first track and John Lennon started singing. But was it the Beatles? Yes! There was no doubt in my mind.
This was too good to be true. I was listening to a brand new Beatles album that I never heard about and it was thrilling. I wondered if this was original material or a cover. I knew the only way to find out was to try to find someone to ask John Lennon and that man was Howard Smith, who often had written about John and Yoko and had them up to his radio show on WPLJ-FM.
The Newark Star Ledger ran a story on John and Yoko on November 7, 1971. "The Lennons have been living in New York now for several months, in a suite at the St. Regis Hotel. Their room contains a complete 16 mm editing room, a powerful stereo system, Chuck Berry albums everywhere you look… plus a rare copy of a withdrawn Beatles album cover of the boys dressed as butchers and holding bloody, decapitated dolls and slabs of meat."
I was salivating when I read that. To me, the Beatles Butcher cover was a holy grail. Thirty days later, on December 7, 1971, I was holding it in my hands.
I got home… and there was a message for me from Howard Smith. "Dave, I showed your letter to John and he wants to meet you!"
We arrived [at the Record Plant East], one of the great recording studios, and saw John Lennon standing there to greet us. He said: "We're recording now, sit yourself down, and we'll talk at the break." I sat down in front of the recording console and peered into the studio.
They were working on a song called "The Ballad of New York City/John Lennon-Yoko Ono." I must have heard it ten times.
Everyone behind the console stood up to stretch and John said to me: "What have you got tonight?" I handed him the Yellow Matter Custard bootleg and gave him the catalog and told him it was where I found the record and some other great bootlegs. I was hoping he wouldn't be mad and start screaming about people who rip off artists this way, but he was just the opposite, and wanted to know all about the Dylan and Rolling Stones bootlegs.
John was looking over the song titles I had written out. Without hearing it, he said he couldn't be sure, but he knew the songs and said they were from 10 years ago and looked like they could be the Decca audition tape.
We spoke about the Beatles doing their version of "Slow Down" and John went bonkers teaching me all about Larry Williams, one of the greatest rock & roll singers, who he loved as much as Chuck Berry.
As we were talking, I pulled out the Savage Young Beatles album and he screamed: "We were Savages!" I told him that "Savage" was the name of the record company. So it was like saying "The Vee-Jay Young Beatles." He shrugged and said he loved it and wanted it, so I gave him the album.
John was in such a playful mood. He was sarcastic and witty and enjoyed seeing all the Beatle goodies. This was the same week Capitol Records released "Happy Christmas (War is Over)." At first he said he was miffed Capitol got it out so late, but was relieved it was finally on the radio.
[Morrell continued to show Lennon various items in his collection including photos he had taken of the Beatles at Shea Stadium.]
In 1965 and 1966 when I saw them, they didn't do "I Want to Hold Your Hand" or "She Loves You." In 1966, "Yellow Submarine" was the big hit at the time but they didn't play that either.
John said they were always busy and couldn't rehearse, and it was too hard to include the newer songs because he couldn't remember the words and besides, they were too complicated to play live.
John then asked me what I was looking for and I told him the Beatles' Butcher album cover. John picked up the phone, called his apartment and spoke to someone and told him where to find it and to bring it over to the studio. The guy brought it over and John showed us. He handed it to me to look at. I held it in my hands for a moment and gazed at it. The very record I read about a month ago was in my hands.
John was a Beatles fan and encouraged me to look for more rarities. It was time to pack up the show and tell. I didn't want to ask for a photograph or an autograph. Things went so well, I just had a feeling we'd meet again and we did.
As I packed up and got ready to leave, John took a pen to the Butcher cover. He drew a big bubble above his head and wrote: "To Dave, From John Lennon, Dec. 7, '71" then he smiled and handed me his own personal copy of the Beatles' Butcher cover.
[Morrell has published four volumes in his series, writing about his music industry career, with more to come.]
Through the years, Morrell also got Paul McCartney and Ringo Starr to sign the cover.
The story doesn't end here. Sadly, Morrell no longer owns the album. His signed copy of the Beatles Butcher cover was part of a 2017 auction of Entertainment & Music Memorabilia via Heritage Auctions, who identified the seller as Beatles collector Stan Panenka.
On the listing page, Heritage quotes another Beatles collection, Gary Hein: "There is no Beatles album in the world that compares with this one, in my professional opinion, in terms of both Rarity and Value."
And on May 9, 2019, it went on the, er, block again as part of a Beatles auction in Liverpool via Julien's Auctions.
Listen to this exchange between Lennon and Morrell. You'll have to read Volume 1 in the series to understand its meaning.
Related: One year later, Lennon and Ono appeared on Jerry Lewis' telethon

Latest posts by Dave Morrell
(see all)