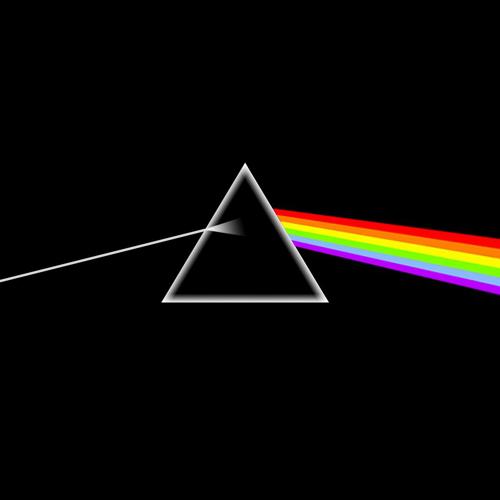 The original artwork for Pink Floyd's Dark Side of the Moon, will be exhibited and available for acquisition at the San Francisco Art Exchange (SFAE) gallery September 15 to October 20. A press release calls the piece "the single most valuable artwork in rock history…valued at a multi-million-dollar figure."
The original artwork from Dark Side of the Moon, released 45 years ago, was designed by the creative team of Aubrey Powell and Storm Thorgerson, whose other album cover creations include Led Zeppelin's Houses of the Holy. When Dark Side of the Moon was released, there was no mention of the band's name or album title on the cover. The album went on to sell 50 million copies, remaining on the Billboard charts for 741 weeks "while the cover art became a visual icon, symbolizing the band itself and helping turn Pink Floyd into one of the biggest bands in the world," notes the announcement.
Dark Side of the Moon will be accompanied in the exhibition by nearly 100 original works utilized for the covers of iconic albums such as Floyd's Wish You Were Here, The Wall and Ummagumma, the Beatles' Abbey Road, Rubber Soul and Meet the Beatles, the Rolling Stones' Beggars Banquet, the Cars' Candy-O, the Hair cast album, The Best of the Doors, Bob Dylan's Blonde on Blonde, Johnny Cash's At Folsom Prison, and Yes' Relayer and Yesshows, "along with scores of other of the most memorable and revered popular images of the 20th century."
Related: 11 "weird" songs heard on Dark Side of the Moon
Bands represented by the art in this collection include Pink Floyd, The Beatles, The Rolling Stones, The Who, Bob Dylan, Grateful Dead, Yes, The Doors, Eric Clapton, David Bowie, Johnny Cash, Jimi Hendrix, Black Sabbath, Blind Faith, Cream, Led Zeppelin, Allman Brothers, Lou Reed, Queen, Crosby Stills and Nash, Jethro Tull and many more," says the release.
Continues the announcement, "The unlikelihood of mounting an exhibition of this kind and scope again may make this a once in a lifetime collection to view in person. These original works come from many private, corporate, and artists' collections from around the world, all gathered together in one place by SFAE co-founders Theron Kabrich and Jim Hartley, whose 20-years of experience with pop culture artists and photographers has allowed for this exhibit's existence."
Listen to "Time" from Dark Side of the Moon

Latest posts by Best Classic Bands Staff
(see all)