Cynthia Plaster Caster, Groupie Who Made Art From Rockers' Genitals, Dead at 74
by Jeff Tamarkin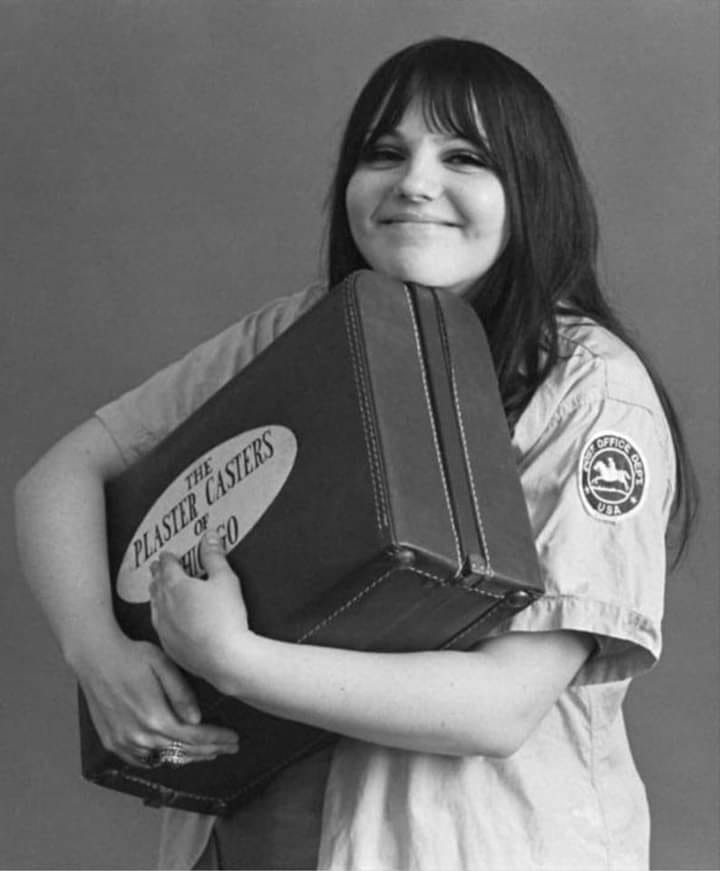 You can be sure that nowhere else among the millions of entries in Wikipedia is there another biography whose subject is depicted as an "American artist and self-described 'recovering groupie' who gained fame for creating plaster casts of famous persons' erect penises." Cynthia Albritton, better known in rock lore as Cynthia Plaster Caster, died at a care facility in Chicago on April 21, 2022, of cerebrovascular disease. She was 74.
Albritton was best known, as the Wiki description points out, for making plaster molds of rock stars' penises. (Not as well known is that she later cast some women's breasts as well.) Among her most famous subjects were Jimi Hendrix and Noel Redding of the Jimi Hendrix Experience (two of the first to pose for her, in 1968), Eric Burdon of the Animals, Dennis Thompson and Wayne Kramer of the MC5, Eddie Brigati of the Rascals, Zal Yanovsky of the Lovin' Spoonful, guitarist Harvey Mandel, and drummer Aynsley Dunbar. She quit making casts from 1971-80, then returned to it in the punk era, casting Dead Kenendys' Jello Biafra, the Mekons' Jon Langford, the Buzzcocks' Pete Shelley and many others.
Not all of her clients were rockers: British actor/singer Anthony Newley was one mainstream artist who agreed to be cast.
Cynthia Albritton was born in Chicago on May 24, 1947. While in college, she was given an assignment in an art class to cast an object in plaster. As a rock fan since her youth, she decided after leaving school to take the concept further, approaching musicians with the prospect of leaving a lasting impression in a mold made of alginate, a substance used to make dental molds. Taking on the name Cynthia Plaster Caster, Albritton was most active in the late '60s, after finding a patron in Frank Zappa, who moved her to Los Angeles. Zappa did not submit his own "junk" for a cast but was apparently instrumental in convincing others to do so.
Albritton worked at first with a partner, a former high school friend known as Dianne Plaster Caster, and together they were often billed as the Plaster Casters of Chicago. After Dianne quit the practice, Cynthia employed other assistants but she is considered the primary proponent of the art form.
At one point in the 1990s, she found herself immersed in a courtroom drama involving Zappa's former manager Herb Cohen, who had acquired many of the casts and refused to return them. Albritton prevailed in court and all but three of the bronze casts she made were returned to her (the original plasters were not retrieved). In 2000 she held her first exhibition of casts in New York. A year later, she was the subject of a documentary titled Plaster Caster–The Rock & Roll Adventures Of A Super-Groupie.
Related: Our story on Sally Mann, another friend of many rock stars
Kiss immortalized Albritton in a song, "Plaster Caster," on their 1977 Love Gun album. The chorus went, "The plaster's getting' harder/And my love is perfection/A token of my love for her collection." Listen to it below.
According to the same Wikipedia entry, "In 2010, Albritton ran unsuccessfully for mayor of Chicago, Illinois, on the Hard Party ticket."
Listen to "Plaster Caster" by Kiss.
Related: Musicians and other celebrities we've lost in 2022

Latest posts by Jeff Tamarkin
(see all)