The arrival of Creedence Clearwater Revival's 50th anniversary brings an unprecedented celebration of everything the band contributed in their brief but remarkable time together (1968 – 1972). To commemorate this milestone, Craft Recordings is releasing a deluxe box set comprising the band's complete seven-album studio output with The Studio Albums Collection, on November 30.
The band members – John Fogerty, Tom Fogerty, Stu Cook and Doug Clifford – were together for only four years as CCR, yet sold over 30 million records in the U.S. alone, releasing an astounding 14 Top 10 hits, and six Platinum albums (two of which went to #1). They played over 150 tour dates around the world, including a headlining spot at 1969's Woodstock festival.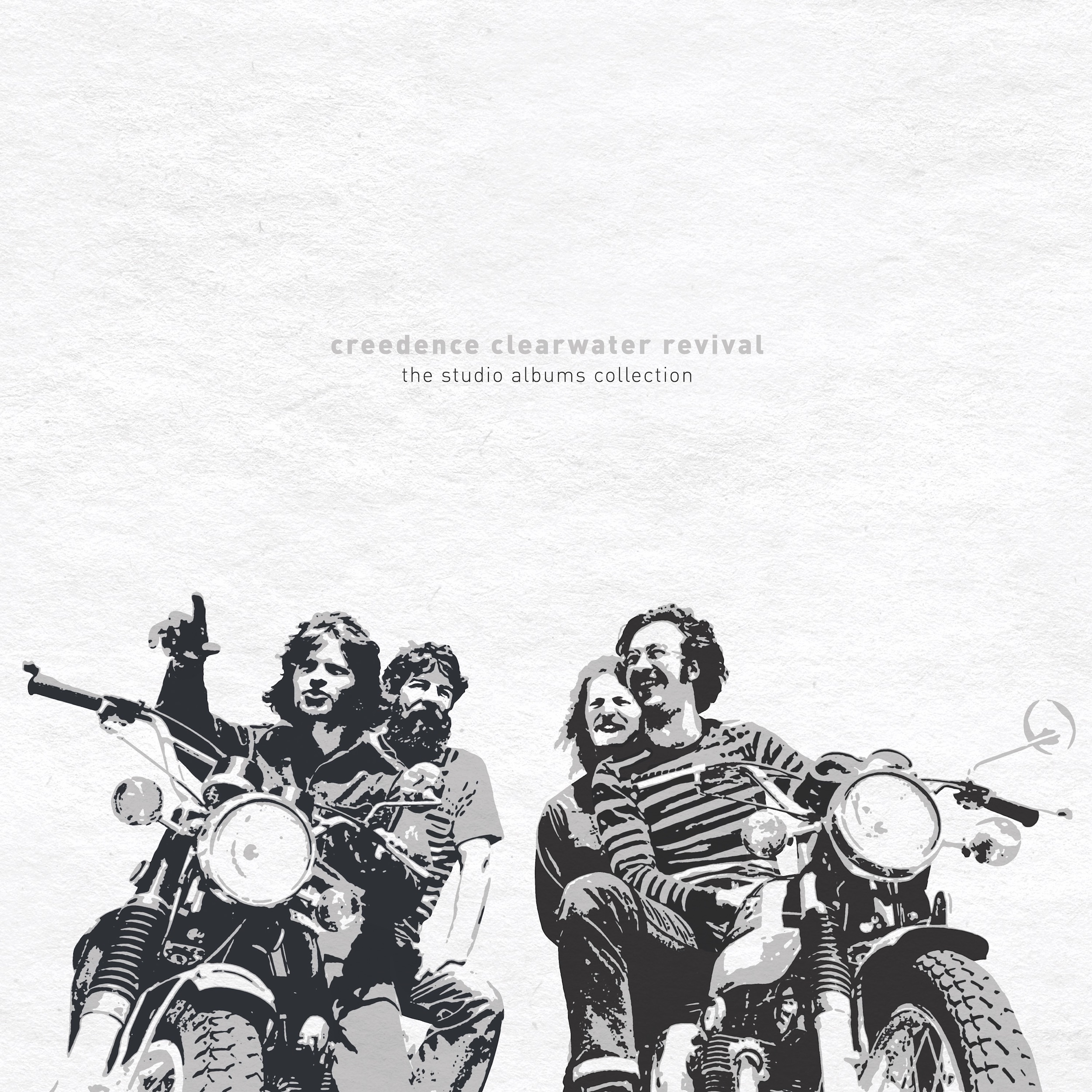 From the October 4 announcement: Each album in this collection – Creedence Clearwater Revival, Bayou Country, Green River, Willy and the Poor Boys, Cosmo's Factory, Pendulum and Mardi Gras –  has been mastered at half-speed at Abbey Road Studios, benefiting from an exacting process that allows for an exceptional level of sonic clarity and punch, bringing these classic recordings a new vibrancy. The 180-gram LPs come housed in handsome tip-on jackets replicating the packaging of the original pressings. The set comes with an 80-page book featuring new liner notes from music journalist Roy Trakin, archival photos and reproductions of band ephemera. Pre-order is available here.
[The collection is one of several ambitious releases for the 2018 holiday season, including the 50th Anniversary edition of The Beatles' White Album, an Eagles box set, and Bob Dylan's next release in his Bootleg series, More Blood More Tracks.]
Over the last 50 years, Creedence Clearwater Revival's canon has included such classic rock favorites as "Bad Moon Rising," "Down on the Corner," "Fortunate Son," "Have You Ever Seen the Rain?," "Proud Mary," "Born on the Bayou," "Travelin' Band" and "Up Around the Bend." Their catalog also delivered such gems as "Run Through the Jungle," "Who'll Stop the Rain" and "Fortunate Son."
Watch the official unboxing video
Related: John Fogerty promises a 50th anniversary world tour in 2019
CCR were inducted into the Rock and Roll Hall of Fame in 1993. During his speech honoring the band, Bruce Springsteen noted, "I stand here tonight still envious of that music's power and its simplicity. They were hits filled with beauty and poetry and a sense of the darkness of events, of history. An American tradition shot through with pride, fear and paranoia. They rocked and played great together… they weren't the hippest band in the world, just the best."
Watch John Fogerty perform "Born on the Bayou" at the band's Rock Hall induction with some memorable guests
Creedence also transformed other musicians' songs in their own image with impressive covers from Screamin' Jay Hawkins' ("I Put a Spell on You"), Dale Hawkins ("Susie Q"), Little Richard ("Good Golly Miss Molly") to the Leadbelly–popularized, blues-gospel evergreen "Midnight Special" and the Marvin Gaye-popularized Motown hit "I Heard It Through the Grapevine."
Using high-res transfers from the original analog tapes, the collection's half-speed mastering process involves playing back audio at half its recorded speed while the cutting lathe is turned at half the desired playback speed. The technique allows more time to cut a micro-precise groove, allowing more accuracy with frequency extremes and dynamic contrasts.
Watch engineer Miles Showell discuss the mastering process

Latest posts by Best Classic Bands Staff
(see all)