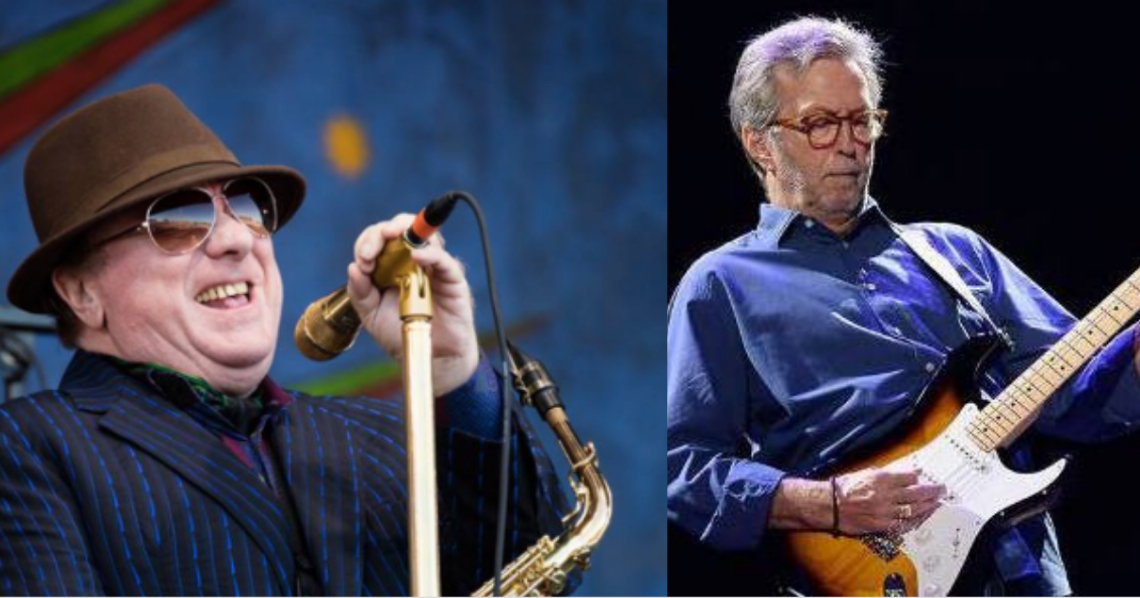 Eric Clapton and Van Morrison have released their new song collaboration, "Stand and Deliver." The track, to protest the British government's latest decision to lockdown the country, officially arrived on December 18.
Morrison posted an announcement on his social media platforms on Dec. 2 that the song, though originally planned for a Dec. 4 release, was being delayed until Dec. 18. (On Dec. 4, it had been mistakenly uploaded to Clapton's YouTube channel. By 3 p.m. ET that same day, it had been removed.)
Listen to it below. (It's also available for purchase via the Amazon links.)
A brief clip of the song, written by Morrison and sung by Clapton, was first teased on Nov. 27. The pair of classic rock legends have taken heat for their stance.
The track is the latest in a series of anti-lockdown songs that Morrison has written and recorded as part of his "Save Live Music" campaign. In September and October, he released three songs to protest the ongoing restrictions.
"Take a look in the mirror," Clapton sings. "Do you wanna be a free man? Do you wanna be a slave? Do you want to be a king, or just remain a knave?
"Magna Carta, Bill of Rights. Constitution, what's it worth?
You know they gonna grind us down 'til it really hurts,
"Is this a sovereign nation or just a fascist state? You better look out, people, before it gets too late.
"Do you want to make it better? Or do you want to make it worse?"
Listen to "Stand and Deliver"
Variety quotes Clapton as saying, "There are many of us who support Van and his endeavors to save live music; he is an inspiration. We must stand up and be counted because we need to find a way out of this mess. The alternative is not worth thinking about. Live music might never recover."
Remember, those who are shutting down our economy haven't missed a paycheck since lockdown began. We are not in this together.

— Van Morrison (@vanmorrison) December 21, 2020
"Eric's recording is fantastic and will clearly resonate with the many who share our frustrations," said Morrison. "It is heart-breaking to see so many talented musicians lack any meaningful support from the government, but we want to reassure them that we are working hard every day to lobby for the return of live music, and to save our industry."
Listen to the brief clip of "Stand and Deliver," first released on Nov. 27
💥 NEW TRACK RELEASE 💥

In a bid to save live venues and support musicians, @vanmorrison and @EricClapton are releasing a new single, 'Stand and Deliver'

Download the exclusive track on December 4th to #SaveLiveMusic

Available on @AppleMusic @AmazonMusicUK @Deezer @Spotify pic.twitter.com/ehDdKGhoL0

— Save Live Music (@Save_LiveMusic) November 27, 2020
Morrison performed the first of several socially distanced concerts for 2020 on Sept. 3 in Newcastle, U.K., and then two more in the London borough of Camden, on Sept. 5-6. The dates followed his Aug. 25 statement in which he railed upon the "pseudo-science" associated with the Covid-19 pandemic.
"I call on my fellow singers, musicians, writers, producers, promoters and others in the industry to fight with me on this," he wrote. "Come forward, stand up, fight the pseudo-science and speak up." He turned 75 on August 31. Tickets for Morrison's 2021 concerts are available here and here.
Clapton is a few months older than Morrison, having turned 75 last March 30. Tickets for his 2021 concerts are available here and here.
On March 3, 2020, just prior to the closing down of much of the concert industry for the year, the classic rock legends performed together at a charity event.
At that Music For the Marsden concert, Clapton joined Morrison on the latter's recent, "Three Chords and the Truth."

Latest posts by Best Classic Bands Staff
(see all)