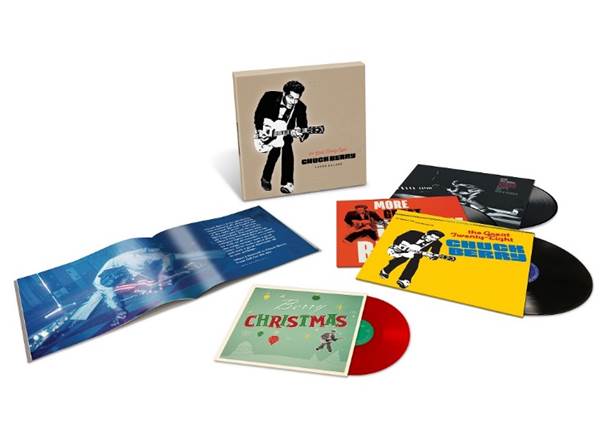 Geffen/UMe will pay tribute to the late Chuck Berry with The Great Twenty-Eight: Super Deluxe Edition, a new, expanded vinyl version of his landmark greatest hits compilation, The Great Twenty-Eight.
Available today, the five-disc vinyl box set, housed in a textured box, complements the original two-LP, 28-song compilation with an additional LP, More Great Chuck Berry, containing 14 more hits, rarities and B-sides missing from the original, as well as a rare live album, Oh Yeah! Live in Detroit, available on vinyl for the first time. The collection also include a newly created bonus 10-inch EP, Berry Christmas, featuring four holiday-themed classics on red vinyl, with one song on vinyl for the first time as well. A limited edition version on blue vinyl, limited to 500 copies, is also available.
Pre-order the 5-LP set here.
This Sunday, the 60th Annual Grammy Awards will celebrate Berry, recipient of the Recording Academy Lifetime Achievement Award in 1984, with a tribute performance by Gary Clark Jr. and Jon Batiste.
For those interested in the original 28-track edition of The Great Twenty-Eight, it is now back in print in its original two-LP format for the first time since its initial release in 1982.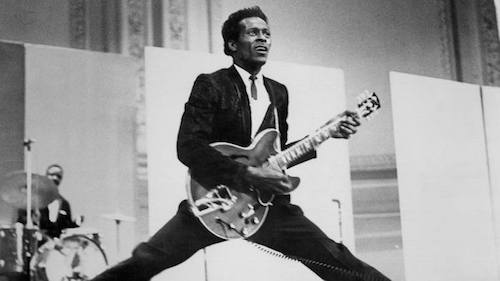 The Great Twenty-Eight: Super Deluxe Edition also includes a 12″ x 12″ book featuring a special introductory essay by Keith Richards, a new essay by Alan Light, complementing Michael Lydon's liner notes from the original version of The Great Twenty-Eight, and reminiscences from DJ Lee Alan, plus complete U.S. single, album and EP discographies. The text is enhanced by reproductions of Berry's original LP cover art and rarely seen photographs.
Related: Classic Chuck Berry cover songs
More Great Chuck Berry comprises 14 classic Berry tunes not included on The Great Twenty-Eight, including the "Wee Wee Hours," the original flip side of "Maybellene"; "My Ding-A-Ling," Berry's only #1 pop single; "Too Pooped To Pop (Casey)," the top 20 R&B A-side of "Let It Rock"; the Top 10 R&B hit "No Money Down"; "Promised Land" and "You Never Can Tell," which earned cinematic immortality as the accompaniment to John Travolta and Uma Thurman's twist in the film Pulp Fiction.
Oh Yeah! Live In Detroit is a rare concert performance from October 1963, celebrating Berry's return to the stage after a break from performing. With support from local DJ and TV host Lee Alan, Berry, backed by Motown's Funk Brothers rhythm section and horn players, recorded the live album during a series of performances at Detroit's Walled Lake Casino.
The Great Twenty-Eight Super Deluxe Edition Track List
LP 1 & 2: The Great Twenty-Eight
The original classic 2-LP compilation
Side 1
1. Maybellene
2. Thirty Days (To Come Back Home)
3. You Can't Catch Me
4. Too Much Monkey Business
5. Brown-Eyed Handsome Man
6. Roll Over Beethoven
7. Havana Moon
Side 2
1. School Day (Ring! Ring! Goes The Bell)
2. Rock And Roll Music
3. Oh Baby Doll
4. Reelin' And Rockin'
5. Sweet Little Sixteen
6. Johnny B. Goode
7. Around And Around
Side 3
1. Carol
2. Beautiful Delilah
3. Memphis, Tennessee
4. Sweet Little Rock And Roller
5. Little Queenie
6. Almost Grown
7. Back In The U.S.A.
Side 4
1. Let It Rock
2. Bye Bye Johnny
3. I'm Talking About You
4. Come On
5. Nadine (Is It You?)
6. No Particular Place To Go
7. I Want To Be Your Driver
LP 3: More Great Chuck Berry
Side 1
1. Wee Wee Hours
2. No Money Down
3. Drifting Heart
4. La Jaunda (Español)
5. Blue Feeling
6. Vacation Time
7. Joe Joe Gun
Side 2
1. Too Pooped To Pop "Casey"
2. Our Little Rendezvous
3. You Never Can Tell
4. Promised Land
5. Little Marie
6. Dear Dad
7. My Ding-A-Ling (live single version)
LP 4: Oh Yeah! Live In Detroit
Recorded at the Walled Lake Casino, October 25 & 26, 1963
First time on vinyl
*First U.S. release
Side 1
1. Guitar Boogie
2. Let It Rock
3. Almost Grown
4. Chuck Berry Dialogue 1
5. Too Much Monkey Business*
6. Johnny B. Goode
7. Introduction / Instrumental
8. Sweet Little Sixteen
Side 2
1. Wee Wee Hours
2. Chuck Berry Dialogue 2
3. Maybellene
4. Medley: Goodnite Sweetheart Goodnite/Johnny B. Goode/Let It Rock/School Day
Bonus: Berry Christmas EP
Side 1
1. Run Rudolph Run
2. Merry Christmas Baby
Side 2
1. Spending Christmas (first time on vinyl)
2. Christmas

Latest posts by Best Classic Bands Staff
(see all)