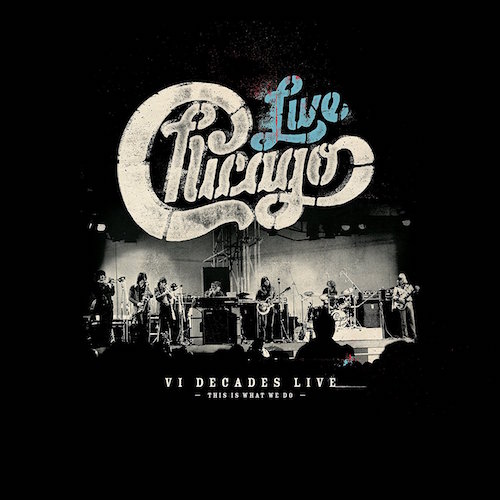 Rhino will release a 5-disc collection, Chicago VI Decades Live–using the band's signature Roman numerals and the subtitle "This Is What We Do"–on April 6.
Best Classic Bands is pleased to present an exclusive premiere of the track "Goodbye" from the boxed set. The song, written by keyboardist Robert Lamm and sung by Peter Cetera, was recorded at the John F. Kennedy Center for the Performing Arts in Washington, D.C., on September 16, 1971.
Scroll down to hear the track.
Just days after the D.C. concert, the band would record the studio version of "Goodbye," which would be released the following summer on Chicago V, the group's fourth studio album.
The collection, including 4 CDs and 1 DVD, is available now for pre-order here. Chicago VI Decades Live  features previously unreleased concert recordings, including several deep cuts that have never appeared on any of the band's live albums.
Related: Chicago will tour North America this summer with REO Speedwagon
The lineup of Chicago at the time of the 1971 concert was Terry Kath (guitar), Robert Lamm (keyboards), Peter Cetera (bass), Lee Loughnane (trumpet), Walt Parazaider (saxophone/flute), James Pankow (trombone) and Danny Seraphine (drums).
Listen to the previously unreleased "Goodbye" live from 1971
The songs in the collection were recorded between 1969 and 2014, including the band's entire performance at England's Isle of Wight Festival in August 1970. The DVD features a concert that was originally broadcast on the German music television show Rockpalast (a WDR production) in 1977. The set comes with a 24-page booklet illustrated with rare images selected from the band's vast archive.
The performances, selected from six decades, start with a trio of songs recorded in Paris in 1969: "Poem For The People," "25 Or 6 To 4" and "Liberation." Other highlights include tracks like "A Hit By Varèse" (1973), "Takin' It On Uptown" (1977) and "Forever" (1987), in addition to songs from Chicago's 1994 big band tour: "In The Mood" and "Don't Get Around Much Anymore."
Bonus track: Listen to the blistering version of "25 or 6 To 4" from 1969
Chicago VI Decades Live Track Listing
Disc 1 (Isle of Wight Festival 8/28/70)
Introduction
South California Purples
Beginnings
In The Country
Does Anybody Really Know What Time It Is? (Free Form Intro)
Does Anybody Really Know What Time It Is?
Mother
Disc 2 (Isle of Wight Festival 8/28/70)
It Better End Soon
Ballet For a Girl in Buchannon
25 Or 6 To 4
I'm a Man
Disc 3
Poem For The People (Paris, France 12/8/69)
25 Or 6 To 4 (Paris, France 12/8/69)
Liberation (Paris, France 12/8/69)
Goodbye (John F. Kennedy Center for the Perf. Arts, Washington, DC 9/16/71)
Now That You've Gone (Hordern Pavilion, Sydney, Australia 6/26/72)
A Hit By Varese (Chicago Stadium, Chicago, IL 8/13/73)
If You Leave Me Now (Oakland Coliseum, Oakland, CA 12/1/77)
Takin' It On Uptown (Oakland Coliseum, Oakland, CA 12/1/77)
Disc 4
Hot Streets (Greek Theater, Los Angeles, CA 8/11/78)
Little One (Greek Theater, Los Angeles, CA 8/11/78)
Forever (Pensacola Civic Center, Pensacola, FL 3/21/87)
Medley: In the Midnight Hour, Knock on Wood, I'm a Man, Get Away (Pensacola Civic Center, Pensacola, FL 3/21/87)
You're Not Alone (Starplex Amphitheatre, Dallas, TX 5/30/92)
The Pull (Caesar's Palace, Las Vegas, NV 3/20/94)
In The Mood (Caesar's Palace, Atlantic City, NJ 7/28/94)
Don't Get Around Much Anymore (Caesar's Palace, Atlantic City, NJ 7/28/94)
Look Away (Acoustic) (A&E Network, Live by Request 9/5/02)
America (WHYY, The Grand, Wilmington, DE 5/7/14)
Disc 5 (DVD) (Rockpalast – Grugahalle, Essen, Germany 2/12/77)
Anyway You Want
Saturday in the Park
Skin Tight
Just You 'N' Me
Hope For Love
You Are On My Mind
Does Anybody Really Know What Time It Is?
Ballet For a Girl in Buchannon
Beginnings
Scrapbook
A Hit By Varese
Call on Me
Takin' It On Uptown
If You Leave Me Now
Once or Twice
(I've Been) Searchin' So Long
25 Or 6 To 4
Got to Get You Into My Life
I'm a Man

Latest posts by Best Classic Bands Staff
(see all)