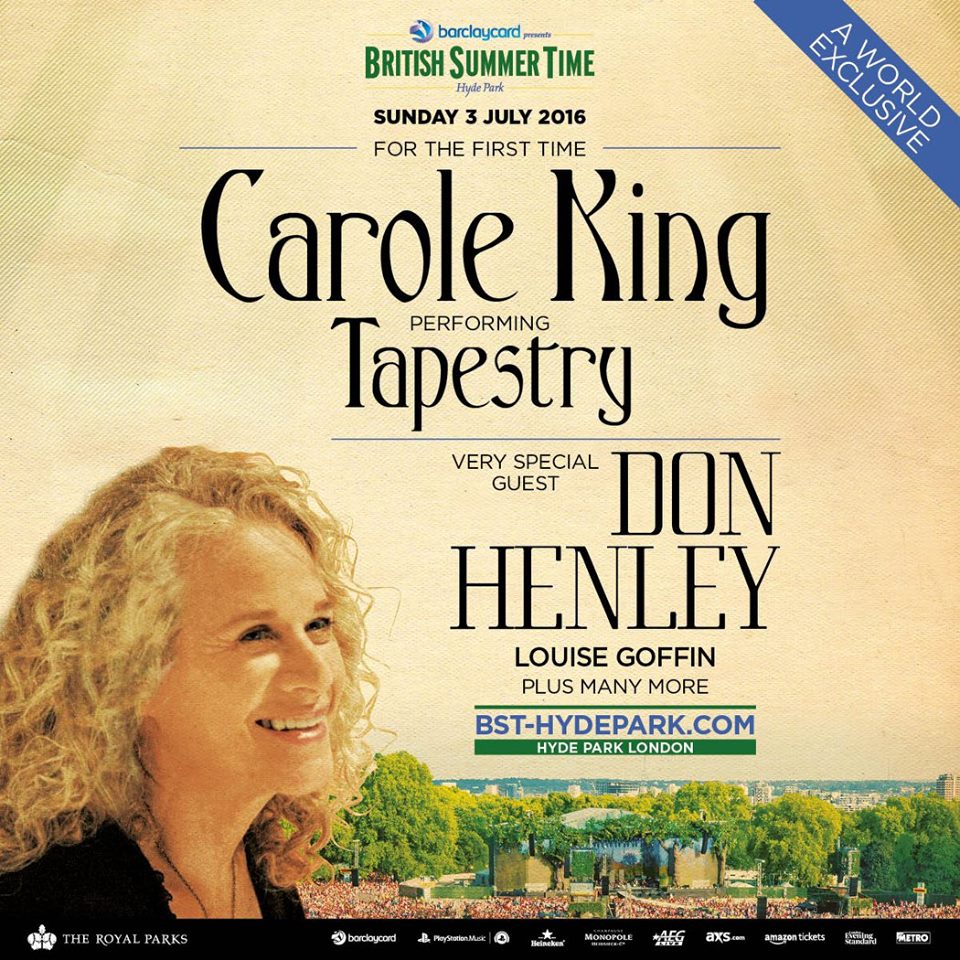 If you were on the fence about booking a summer vacation to England, we've got an event that may convince you to do just that. Carole King has announced that she will be headlining a concert at London's Hyde Park on July 3rd, performing her masterpiece Tapestry in its entirety for the first time. The singer-songwriting legend will be joined by Don Henley as well as her daughter Louise Goffin (plus more acts to be announced).
Tickets are on sale here. It's King's first London concert in nearly 30 years. Concerts in Hyde Park typically attract over 50,000 attendees including recent performances by The Who and Jeff Lynne's ELO.
Related: Henley has announced his 2016 tour
King wrote on her Facebook page: ""I want to begin by thanking Londoners for making Beautiful The Carole King Musical so successful. And now I'm coming to London and can't wait to perform Tapestry from beginning to end for the first time ever! How perfect to be doing that in the heart of one of my favourite cities.
Don't miss a post! Sign up for Best Classic Bands' Newsletter; form is on every page.
"I know I'm not alone in considering Don Henley one of the greatest songwriters of our time. I'm looking forward to hearing classic Eagles songs and other hits from Don and his band. And, as a lifelong fan of Louise Goffin I can only say that there's nowhere else I'd rather be on 3 July 2016 than Hyde Park in the great city of London."
Related: Henley said recently they the Eagles won't be performing again.
Tapestry just celebrated its 45th anniversary. Powered by the double-sided #1 hit single "It's Too Late"/"I Feel the Earth Move," the classic rock masterpiece was #1 on the Billboard 200 for 15 consecutive weeks – a record the album held for most weeks at number one by a female solo artist for over 20 years. It remained on the album charts for over six years, also setting a record for longest run on the charts until 1980. It has sold over 25 million copies and was the best selling album ever until 1976. Read Best Classic Bands' full tribute here.
PBS' American Masters program Carole King: Natural Woman premiered February 19th.

Latest posts by Best Classic Bands Staff
(see all)